People are often surprised when they see how much information we give out for free, and they think, "How does LLC University make money?"
It's a great and common question. In short, yes, we do give out 100%, completely free, step-by-step guides on how to form an LLC in all 50 states.
However, we still make money in one of three ways:
1. People hire us
2. People use our Registered Agent services
3. People click our affiliate links (explanation below)
Our Approach to Business:
Rather than being "transactional" and trying to figure out how to convert you, upsell you, or charge as much money as possible, we just want to help you and give you the most accurate and helpful information.
Maybe you'll want to do business with us; maybe you won't. We're not attached either way; we just want to help you on your entrepreneurial and business journey.
And more important than giving us money: if you share the word, or pass our website onto someone else, that means the world to us!
Disclosure on how affiliate links work:
A handful of clickable links on our website are affiliate links. The way these links work is that we are paid a small commission anytime someone clicks through to that website and makes a purchase. It doesn't cost the customer any more money; the prices are still the same.
I hope this paints a better picture of how LLC University makes money, and of our approach to doing business.
Thank you for reading.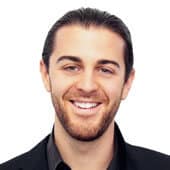 Matt Horwitz
Founder & Educator
LLCuniversity.com
4 Comments