Inc Authority is an online business formation service and Registered Agent service. They have been in business for over 30 years and have consistently high reviews from customers.
Inc Authority helps you prepare the necessary documents to register a limited liability company in your state. Then they will file your Articles of Organization with the Secretary of State.

Additionally, Inc Authority can be your LLC's Registered Agent. This means that Inc Authority will receive legal documents for your LLC and forward them to you. This service is helpful for people who do not have an office and do not want to use their residential address as their business' address. It is also an essential service for people who do not have a physical address in the state where they are forming an LLC.
Our Inc Authority review looks at their pricing model and what services they offer.
LLC Filing Services
Inc Authority has 4 LLC formation packages – and they don't charge anything for their basic LLC formation service. Inc Authority's free service includes generating your LLC formation document (usually called the Articles of Organization) and filing it with the state. All you have to pay is the state filing fee.
Inc Authority's pricing is an unusual model. Most other LLC formation service companies charge a fee for their basic packages on top of the state filing fees.
Additionally, one year of free Registered Agent service is included if you form your LLC with Inc Authority.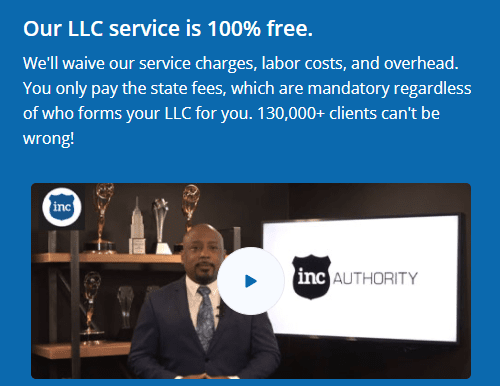 However, Inc Authority does offer upgraded packages with extra features, as well as optional services that aren't included with the basic service package and can be purchased individually.
First, we'll talk about the Optional Extras that can be added to the Basic Package.
Optional Extras
Inc Authority offers these additional services, for an extra fee:
EIN filing service is $49. Inc Authority recommends this service because all LLCs should get an EIN (employer identification number) from the IRS. The EIN filing service isn't included in the basic package, but is included with all 3 premium packages.
However, an EIN is free and you can get one online from the Internal Revenue Service (IRS) in under 10 minutes. It's important to have one so you can open a business checking account and get a business credit card.
Operating Agreement drafting is $89. Inc Authority will generate an Operating Agreement for your LLC based on information you provide. The Operating Agreement drafting service isn't included in the basic package, but is included with all 3 premium packages.
Competitors who offer customized Operating Agreements generally charge around the same as Inc Authority does. And almost all of these are templates that they simply fill in with your LLC's information. However, we provide completely free Operating Agreement templates that you can DIY at home.
Express Processing costs $49, plus state fees. If you choose the basic Inc Authority filing package and want your LLC formed right away, they charge $49 extra. This fee strictly covers Inc Authority expediting their processing of your LLC formation documents.
You'll also pay the state filing fee, and the state expedited fee (which varies). This express processing service is included with the top (Tycoon) package level, but you can pay an additional fee if you'd like this added to another package.
Upgraded Packages
Starter Business Bundle
The Starter Business Bundle costs $399. Inc Authority will:
Create your Articles of Organization document
File your Articles of Organization with the state
Get an EIN from the IRS for your LLC
Generate an Operating Agreement for your LLC
You can pay extra for the express processing service.
Executive Business Bundle
Inc Authority's Executive service package costs $499. You get all of the LLC formation services in the Starter bundle, plus Inc Authority will do a business license search for your LLC.
Many businesses need a license or permit to operate based on location or industry. Sometimes this is a state license, or a permit issued by the city or county where your LLC is located.
Instead of having to research this yourself, Inc Authority will ask you for details about your business and then generate a business license report for your LLC.
Tycoon Business Bundle
The Tycoon service package costs $799. You get all of the LLC formation services in the Executive bundle, plus the business license report, and Inc Authority will form your LLC with expedited filing included.
Inc Authority's Tycoon bundle also offers credit bureau registration through D&B. Like the EIN, this is something you can do yourself for free.
If you don't want to deal with inputting your information yourself (like business hours and location), then this might be a good option for you. However, it's not a major perk with this upsell.
Business Operations Extras with the Upgraded Packages
If you purchase any of Inc Authority's 3 upgraded packages (Starter, Executive, or Tycoon), you also get these extras:
Record book and company seal
Meeting minutes and resolutions for the LLC formation process
Ownership/membership certificates
However, you can get free meeting minutes templates online. LLC University® has a free LLC Membership Certificate template you can download and complete at home.
And if you want to order a business seal or other stationery items, we recommend Moo.com. You can design and fully customize everything you order from Moo.com, unlike the bundled items through Inc Authority.
The Executive and Tycoon packages also give you some business credit building resources in addition to the business formation services. Basically these are suggested financial products (like business credit cards or loans) that Inc Authority pairs with a business credit coach and monitoring services to help build your business credit rating.
Inc Authority partners with GoDaddy, and if you purchase the Executive or Tycoon package they waive some of the fees when you buy a web domain for your business.

Business Funding Analysis
One of Inc Authority's services is the "Business Funding Analysis." This service is included with all 3 of the upgraded packages.
Inc Authority connects your business with potential sources of funding, such as banks that offer business loans. This service can be helpful for those who have no idea how to get start-up capital for their business. However, you should keep in mind that Inc Authority is promoting their business partners rather than providing you with unbiased information.
Tax Planning Consultation
Inc Authority also offers a tax planning consultation. This is free and included in both their basic services package and all 3 premium packages. The free consultation is only one hour long, but it can be helpful for initial questions. You might discuss how your LLC should be taxed.
Inc Success Advisor
This service assigns an Inc Authority employee to your business. The advisor can help you with common new business questions and direct you to resources. While the advisor isn't an attorney or an accountant, they can tell you who to ask for help with legal or tax questions. The Inc Success Advisor can also help you identify financial products for your business.
If you need to register your LLC in another state, or make an amendment to the documents you filed, your Inc Success Advisor can help you find the right forms.
Registered Agent Service
The first year is free if you form your LLC with Inc Authority. It costs $99 per year after that. Read more about Inc Authority's Registered Agent service.
Turnaround Time
Many reviews about Inc Authority complain about the slow turnaround times. It can take up to a week for the company to send your paperwork to the state. Considering it takes most states between two to three weeks to process the paperwork, this could mean that your business will not actually be registered for up to a month. If you pay for the expedited filing option, Inc Authority will send your paperwork to the state by the next business day.
Find out more about LLC filing times.
Upsells and Honesty
Inc Authority makes a big deal out of offering LLC filing for free. That's true – the basic LLC formation package is free, and the LLC formation process on Inc Authority is pretty straightforward. However, Inc Authority hides the fact that some services that other competitors offer for free (like an Operating Agreement or EIN), are pricey optional extras.
Inc Authority also makes it hard to find out what their standard filing time is for people who don't choose the expedited filing option. This is likely because their standard filing times can be as long as a week, on top of the state's own approval time.
Customer Service
Inc Authority offers decent customer service. Unlike many of its competitors, it does not offer live chat. However, it does offer phone-based customer support during normal business hours (6am to 5pm Pacific Time, Monday to Friday).
Customer service reps are knowledgeable and professional, but when we called, we found that they don't go the extra mile to provide truly exceptional customer service.
Overall, Inc Authority has pretty positive reviews on TrustPilot and Google.
Some negative customer reviews focused on upsells from pushy representatives, delayed filings, and issues making changes to information the customer submitted to Inc Authority.
Positive Inc Authority reviews talked about helpful customer service reps who provided thorough explanations and personalized attention. Other reviewers like the easy, clear processes on the Inc Authority website.
User Experience
Inc Authority's services are very easy to use on their website. They walk you through the process step-by-step. They do try to upsell various optional services throughout the process, but we didn't find these sales pitches overly intrusive.
On the other hand, pricing and timing information is somewhat difficult to find. Some of the information is only available in downloadable PDFs, instead of accessible on the webpage.
Registered Agent Service
Inc Authority also offers Registered Agent service. You don't have to hire a company to be your LLC's registered agent. (Check out Can I be my Own Registered Agent? for more info) But you might want to keep your address off public records.
Registered Agents will receive all of the legal documents for your business and forward them to your address. This means that you will not have to use your residential address for legal purposes if you run your business from home or don't yet have an office location.
Learn more: What's an LLC Registered Agent?
Price
Inc Authority's Registered Agent service is free for the first year with all their service packages. It costs $99 per year after that. This price is pretty normal for the industry.
Mail Forwarding
If Inc Authority is your Registered Agent, they will forward legal documents your LLC receives. Inc Authority will forward you the hard copies of these mail items, and they will also scan and email you digital copies of these documents. This is helpful if you travel frequently, or if there is an urgent notice from the state.

Other Business Services
Inc Authority offers other services that aren't part of the LLC formation process.
Inc Authority offers several different business financial services products/packages. They can suggest business credit providers, and help you build your business's credit rating.
Inc Authority offers a service to develop a business plan. This can be useful when approaching investors and potential partners for your business. Lots of companies can suggest financial solutions from banks they partner with, but the business plan is a unique offering.
Inc Authority works with GoDaddy to get your business a domain name, but can also help you design a website, work on SEO, and improve your marketing with essentials like a logo. Inc Authority also has a service that can help you get a trademark for your business's logo or name.
These marketing, design and trademark services are unusual for LLC formation companies and might be a good value for new entrepreneurs who don't have experience creating these things.
Is Inc Authority a Good Choice for Registered Agent & LLC Services?
Overall, Inc Authority is a decent choice for Registered Agent and LLC formation services. They offer a truly free basic LLC formation service. And even better, this bare-bones LLC filing service includes a free year of Registered Agent service.
However, Inc Authority also offers several optional services, including drafting your LLC Operating Agreement and getting an EIN, which cost extra. In our opinion, their 3 premium service packages are very expensive and do not offer much extra value over Inc Authority's free service package.
All things considered, Inc Authority is a good option if you already have your LLC Operating Agreement drafted and you just want the cheapest possible filing service. If you want a premium package of LLC filing services, there are alternatives that offer more value and more useful extras.