Are you deciding between Northwest Registered Agent and ZenBusiness for your LLC formation company? We know, it can be confusing. But don't worry! Read our helpful comparison guide below, to learn which company is the best for you.
LLC service providers all seem to offer the same services, but is price the only thing you should consider? We think user experience, including friendliness of website language and customer support, are really important too. That's why we tried out their websites to see what it's like to start your LLC with Northwest Registered Agent or ZenBusiness, and we called their customer support teams multiple times to help you select the best company to form your LLC.
It can help to look at the values of each company: Northwest focuses on protecting customer privacy, while ZenBusiness focuses on a smooth and pleasant website experience. We compared Northwest Registered Agent vs. ZenBusiness on 10 different features of their business formation services.
Winner: Northwest Registered Agent is the clear winner over ZenBusiness. With their simple pricing, privacy protection, and top quality customer support, Northwest is the best choice for small business owners starting a Limited Liability Company (LLC).
About Northwest Registered Agent

Northwest Registered Agent is a well-established business that has been in operation for over 20 years. Besides being one of the largest Registered Agent service and business formation companies, Northwest also offers LLC formation services and other business document filing help.
Northwest has offices in all 50 states, so they can help you with your business needs no matter where you're located. Best of all, Northwest has a dedicated team of subject matter experts that genuinely care about their customers.
About ZenBusiness

ZenBusiness is a filing company that offers LLC formation along with many other services. ZenBusiness can help you set up a Limited Liability Company in any state. In addition to their business entity formation services, they also offer Registered Agent service and a collection of legal forms.
LLC Formation Services: ZenBusiness vs. LegalZoom
The Basic LLC Package: What do you get?
We compared the features offered in the basic LLC formation package at each company. What else do you get besides the actual Articles of Organization filing with the state?
Northwest Registered Agent
The basic package includes access to the best customer service in the business, plus:
one year of free Registered Agent service
free Annual Report reminders service
an Operating Agreement template
a bank account resolution
LLC Membership Certificates
and a free trial of VoIP phone service.
ZenBusiness
The basic package (called "Starter") includes:
one year of free Registered Agent services
one free year of Worry Free Compliance Service
an Operating Agreement template
an Accounting Consultation
and a Google Ads credit match.
Winner: Northwest offers more free extras in their LLC formation package.
Pricing
Northwest Registered Agent
Northwest offers LLC formation for $100 – but LLC University® users get a discounted rate of $39! Click here to get our special offer.

Northwest decided to keep things simple and not offer several different LLC formation packages. Many competitors' packages have unnecessary items bundled with the formation services. Often the extra services they include can be done at home for free, or are just plain unnecessary. Sometimes we wonder if the competitors add these extra items to justify charging more for the packages.
Northwest also lets you pay for your LLC formation in monthly installments, instead of all at once. If you choose to pay monthly instead of upfront, you'll pay $47 when you order and then Northwest will spread out their service fee and the state filing fee over monthly payments.
Plus, with the monthly payment option, Northwest will get an EIN number for your business for free. You still get all the other services like an Operating Agreement and free year of Registered Agent service.
ZenBusiness
ZenBusiness offers the Starter package for $49, the Pro package for $199, and the Premium package for $299.

The Starter package is good value for an LLC service. But be careful: it contains an annual compliance service subscription that renews at $119 per year. Plus, it signs you up for ZenBusiness's Registered Agent service that renews at $199 per year.
The Pro package has expedited filing and a few extras, but isn't worth $199. The only upgrade in the Premium package is web hosting, which we don't think is worth $100 extra.
To learn all of the details of the ZenBusiness packages, read our ZenBusiness Review.
Winner: Northwest's simple, straightforward pricing makes things easy. And our LLC University® deal gives you better value for your money.
LLC Service Turnaround Time
Northwest Registered Agent
Northwest says they process your order the same day you submit it. They will call to confirm the details of your submission – that call might be the next business day, if you submit your information on a weekend or in the evening.
Like their competitors, Northwest can help you pay for expedited filing through the state for faster approval if you pay the state expedited fee.
ZenBusiness
Usually it takes 2 business days for ZenBusiness to send your documents to the state. That's pretty quick compared to their competitors.
Pro and Premium packages include expedited processing times. This means ZenBusiness will get your paperwork sent to the state right away. And, for an extra fee, the state will expedite your LLC's approval time.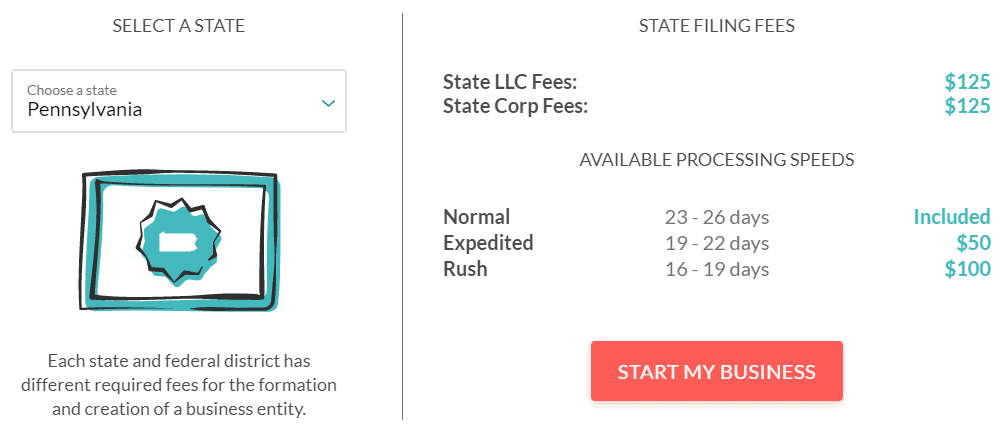 Winner: Northwest has faster turnaround times.
Helpful Upsells
Northwest Registered Agent
Northwest has a few upsells, but they're never intrusive or annoying with these offers.
Some of the additional products are things you can do yourself at home, like requesting an EIN for your LLC.
Northwest also offers special business document services for transportation (trucking) and telecommunications registration. These are a unique offering and if you're in those industries, these filings are essential.
ZenBusiness
ZenBusiness offers many upsells with their LLC formation packages, but not in a distracting way. Although many of these upsells are things you can do yourself at home, for free, we appreciate that ZenBusiness isn't aggressive about them.
Winner: Northwest's no-pressure list of extras is friendlier and their services are more useful.
Language: Clear and Helpful
Northwest Registered Agent
Northwest keeps the language on their website clear, concise and friendly. They have helpful tips to explain the LLC formation service they offer. But, it can be difficult to find the prices for some of Northwest's services until you're in a checkout flow.
ZenBusiness
ZenBusiness makes sure every product is clearly explained and easy to understand – even for people new to starting a business. However, some of their service costs aren't super clear and it can be confusing to figure out which items are annual subscriptions and which aren't.
Winner: This was a tie: both companies have helpful, clear language.
Customer Service
Northwest Registered Agent
Northwest offers chat or phone support, and both are excellent.
Unlike some competitors, Northwest representatives are subject matter experts who can answer any questions you have. We consistently found that Northwest reps gave extra details and advice, making sure to explain everything thoroughly.
ZenBusiness
ZenBusiness's customer service is reliable. And they can be reached by phone or online chat. We were also happy that they didn't use pushy sales techniques.
However, they didn't go out of their way to provide additional guidance. They instead just answered what we asked. That isn't bad, but other companies offered more helpful suggestions.
Winner: Northwest wins for the best customer service.
Website and User Experience
Northwest Registered Agent
Northwest's website is calm and pleasant. There aren't lots of menus and options to click through. Since their website is focused on LLC formation and Registered Agent Services, there aren't a lot of distractions and you can easily find the service you want.
And after forming your LLC, the user dashboard is well-designed and engaging. You can see your approved LLC documents, as well as mail for your LLC received by Northwest Registered Agent.
ZenBusiness
ZenBusiness excels at providing a simple, pleasing user experience. Their website uses an automated chat to walk you through the steps. This is helpful because it gives an explanation of each item in the LLC formation process.
After you form your company, ZenBusiness offers a user-friendly dashboard for your compliance needs. This is useful for filing annual reports and managing your Registered Agent service.
Winner: This was a tie: both companies have excellent website design.
Additional Features: Freebies and Extra Services
Northwest Registered Agent
Northwest automatically gives you a free trial with a VoIP phone service. This means you don't need to purchase a separate cell phone or landline for your business.
Northwest can also help you figure out what e-commerce sites work best for your LLC.
These extras don't cost you anything up front (the phone service is $9 per month after the trial ends).
ZenBusiness
ZenBusiness offers several features not directly related to the business formation filing. We like their Google Ads credit match, but don't think the website hosting package is a good value.
ZenBusiness also offers an accounting "consultation". However, we don't recommend this service. This is often a way for companies to make more money (they sell your information to the accounting company). And more often than not, your "consultation" is really just a sales pitch.
Instead, we recommend you hire your own accountant for your LLC. That way you have a trusted advisor for your business.
Winner: Northwest offers more useful features and doesn't charge you anything to try them out.
ZenBusiness vs LegalZoom: Registered Agent Services
Price Per Year
Northwest Registered Agent
Northwest charges $125 per year for Registered Agent services.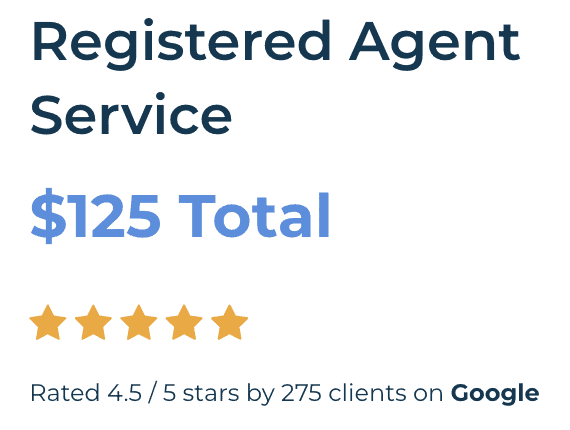 Plus, Northwest has taken special care to place their offices in strategic locations to save you money on publication requirements and other state fees.
Privacy Protection. Northwest lets you use their address on state filings to protect your privacy. Some companies do this for a fee, but Northwest includes it for free as part of your Registered Agent service.
An address is required to form an LLC with the state, so Northwest lets you use their address instead of your home or office address. This helps keep your address off of public records and online searches. It'll also reduce the amount of spam and junk mail you'll receive.
ZenBusiness
ZenBusiness offers Registered Agent service for $199 per year.
Note: The difference is that "Complete Coverage" includes the Worry-Free Compliance service (where ZenBusiness will file your LLC's Annual Report for you).
However, be careful. If you choose the Pro or Premium LLC package, they already come with Worry-Free Compliance. So you just select "Standard Coverage" (so you don't pay for Worry-Free Compliance twice).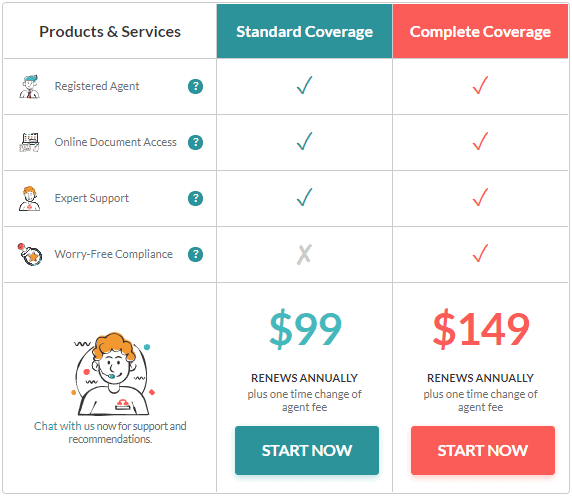 Winner: Northwest offers more features to Registered Agent service customers.
Mail Forwarding
Northwest Registered Agent
Northwest scans and uploads legal mail sent to your LLC. You access these uploads on the same dashboard as your other Northwest documents (like the LLC approval letter).
ZenBusiness
ZenBusiness scans and uploads legal mail sent to your LLC (including service of process). You use the same dashboard to access these as you do for other ZenBusiness features.
Winner: This was a tie, since both companies offer the same type of service.
Northwest Registered Agent vs LegalZoom: Who's the winner?
When you compare ZenBusiness vs Northwest Registered Agent, Northwest is the winner.
Here's why:
Northwest Registered Agent has excellent customer service and they are industry experts. They focus on LLC formation and registered agent service, so there aren't a lot of distractions or confusing options on their website.
Northwest really values customers' privacy, so they keep your address off public records and don't sell your data to third parties.
We liked ZenBusiness's customer service and believe that their chat-based LLC formation process is easy for people to understand. While ZenBusiness's formation packages give you lots of features at reasonable prices, we recommend doing some things yourself to avoid the upsell cost. Watch out for subscription services that start out free but renew at high annual prices.
Overall, Northwest Registered Agent is our favorite company and they're also a better option if you're on a tight budget.
We've been using Northwest for our own LLCs for many years and we highly recommend them.
File yourself with our free LLC guides
If neither Northwest Registered Agent or ZenBusiness seems like the right fit, and you want to save money, you can form your LLC yourself. And we can help!
At LLC University®, we offer step-by-step guides that teach you how to form your LLC yourself. You just pay the state filing fee.
Get started here: How to start an LLC in all 50 states
The Hybrid Approach: Hire Northwest and DIY the little things
And even if you do hire Northwest Registered Agent or ZenBusiness to file your LLC, you can still save money in other ways. There are several upsells that you can skip and DIY instead:
Instead of paying for an LLC Operating Agreement, you can download our free LLC Operating Agreement template.
If you see an upsell for LLC Membership Certificates, you can skip it. We provide free LLC Membership Certificates here.
If you see an upsell for a Banking Resolution (aka financial account authorization letter), you can ignore it. This document isn't actually needed to open an LLC business bank account. Banks will provide their own form.
If you'd rather not pay for someone to file your LLC Annual Report, you can do that yourself. Go to our LLC Annual Report page and select your state.
And you don't have to hire someone to be your LLC's Registered Agent. Instead, you can be the Registered Agent for your LLC. Check out our Registered Agent page for more details. All you need is a physical address in the state where you form your LLC. Being your own Registered Agent can save you more than $100 per year.