If you're ready to start a limited liability company (LLC), an online LLC formation service is a great option to help you file the required business documents with the state.
Choosing the best LLC services depends on your business needs. Do you just need your documents filed with the state? Do you need LLC Registered Agent services?
Whether you're looking for the lowest prices, a great LLC service that will also be your Registered Agent, or one that will file Annual Reports on your behalf, we compare and broke down the top five best LLC services for you.
Who's the best?
Bottom line: We recommend Northwest Registered Agent. While other business formation service companies below may have a cheaper upfront cost, there are often confusing upsells and hidden renewal fees. And some companies even sell your personal data.
Northwest, on the other hand, has simple pricing and has extra features to prioritize and protect your privacy.
Best LLC Services:
Northwest Registered Agent
Our #1 Pick

Details:
$100 + state fees
SPECIAL OFFER: $39 + state fees when you use the LLC University discount
Address privacy feature: Free
4.5/5 Stars Customer Support
$125 per year Registered Agent service
Pros: No hidden fees or upsells. They don't sell your personal data. Address privacy. And excellent customer service from LLC experts.
Cons: Only one LLC package.
Simple Business Formation Services
Why just one package? Northwest decided to keep things simple and not offer LLC formation packages. Many competitors' packages have unnecessary items bundled with the formation services. Often the extra services they include can be done at home for free, or are just plain unnecessary. Sometimes we wonder if the competitors add these extra items to justify charging more for the packages.
Best for Privacy
Northwest is the only LLC formation service that lets you use their address on your LLC paperwork, which keeps your address off public records. An address is required to form an LLC with the state. Instead of using your home address, Northwest lets you use their address instead (they have offices in all 50 states).
This helps keep your address off of public records and online searches. It'll also reduce the amount of spam and junk mail you'll receive. If privacy is important to you, then we definitely recommend Northwest.
Streamlined Website
Northwest Registered Agent has a well-designed, modern website that uses a streamlined interface so you don't get lost. The LLC formation process is simple and easy to understand. We like that Northwest uses honest, clear language everywhere on their site.

Best LLC Formation Service
Overall, we think Northwest Registered Agent is the best LLC service out there. They don't have confusing packages or a long list of upsells. We love that Northwest doesn't sell your information to other companies (unlike many competitors).
Best of all, they let you use their address on your Articles of Organization to protect your privacy. You also get LLC Annual Report reminders, and an online document dashboard.
Best Customer Service
Northwest has excellent customer support and lots of experience with LLC formation. We like that Northwest's customer service representatives are all subject matter experts and available to help, rather than focusing on selling you something.
Bottom line, we feel Northwest is the best LLC service on the market.
MyCompanyWorks
Our pick for extra LLC services

Details:
$59 + state fees for basic package
3.5/5 Stars Customer Support
$99 per year Registered Agent service
$99 per year MyCompanyWorks Premium compliance tools
Pros: Include more business formation services and extras than competitors. Helpful advice.
Cons: Some expensive upsells.
Good Value
We like that the MyCompanyWorks Basic LLC formation package includes a lot of free documents and services (where competitors charge extra).
MyCompanyWorks also has very fast turnaround times when compared to other LLC formation services companies, which is important for small business owners.
Easy to Use Website
MyCompanyWorks uses clear, easy to understand language on their website. They explain everything thoroughly and are straightforward. The MyCompanyWorks website is informative and easy to navigate.
While their order process isn't as sophisticated as the competition, it's very easy to use. We like that MyCompanyWorks offers high quality explainers and other resources to their customers, including information tailored to non-US residents.
Good LLC Service Value for Money
We like that MyCompanyWorks gives you good value for your money and doesn't have any pushy sales tactics.
They also keep things simple, without offering a lot of extra features you don't need. MyCompanyWorks also has affordable Registered Agent services.
Helpful Extras
MyCompanyWorks offers quality advice in articles and explainers throughout their site. Because they offer a wide variety of LLC services, MyCompanyWorks is one of the best LLC services if your business needs help after filing your LLC.
ZenBusiness
Our Pick for Hands-off Entity Management

Details:
$49+ state fees for basic package
3.75/5 Stars Customer Support
$199 per year Registered Agent service
$119 per year Worry-Free Compliance Service
Pros: Lots of resources for new businesses.
Cons: Confusing packages and auto-renewing services.
ZenBusiness is a good LLC service if you want an interactive chat-based process. They also offer many LLC services that can help your business stay compliant with state law.
ZenBusiness has a convenient user dashboard for business compliance documents and Registered Agent services.
New Chat-Based Business Formation Service
Recently, ZenBusiness introduced a formation process that uses an automated "chat" where you have a simulated conversation with a robot. It's meant to gather all the information needed for your Articles of Organization.
We found this version very slow and time-consuming compared to just filling out a form. But it does still give helpful explanations for the different topics, and it is a user-friendly interface.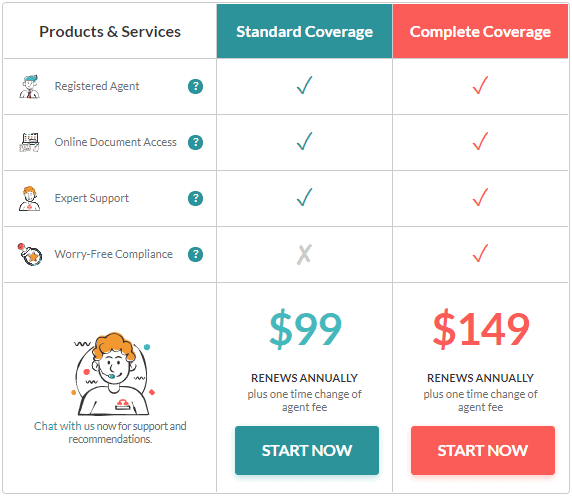 LLC Service Website
ZenBusiness has a simple, well-designed website. We like that ZenBusiness has clear, helpful language when explaining their LLC service options. However, it can be a little difficult to figure out which prices are auto-renewing subscriptions versus one-time fees. Overall, their website is very informative.
The ZenBusiness LLC packages give you many business services and features at reasonable prices.

They also offer a Worry-free Compliance Package. If you purchase this, ZenBusiness will file your LLC Annual Report for you each year. This is a great feature if you want someone else to handle the annual LLC filings with the state.
However, watch out for subscription services that start out free but renew at a higher annual price. Overall, ZenBusiness offers good value for money and their website makes for a pleasant business formation service experience.
IncFile

Details:
$0 + state fees for basic package
3/5 Stars Customer Support
$119 per year Registered Agent service
$99 Business License Research
Pros: Basic package is free. Reliable business license & permit research.
Cons: Lots of upsells and a confusing refund policy. Customer support can be hard to reach.
$0 Service Fee
We believe that IncFile's Silver plan is a unique LLC formation package in the industry. Other companies also offer a free LLC service, but they don't give you the extra services that IncFile does.
You don't pay any service fees (just the state filing fee) and you still get a year of free Registered Agent service if you use them as your LLC formation service. This is a way to get a company's help filing your documents without spending a lot of money upfront.
The IncFile Silver package is a good fit for someone who just wants a company to file their LLC documents with the state. If you need customer service to help you figure out the process, they aren't necessarily a good choice. If you want to purchase extra services, they also aren't the best choice.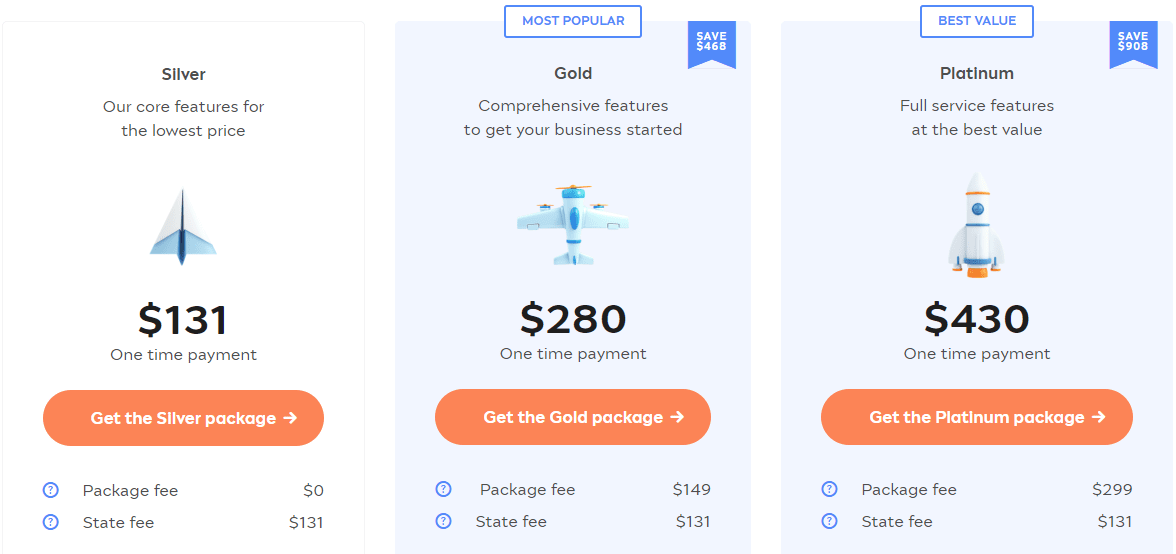 Business License Research
Your business may need licenses and permits to operate. Sometimes figuring out exactly which business licenses you need can be confusing. If you hire IncFile to form your LLC, you can add their business license research service during checkout.
If you decide to hire another company, or form your LLC yourself, you can also purchase IncFile's stand-alone business license research service.
Their business license research service is competitively priced, and we like that you can order the business license research as a separate item. Some competitors only offer the business license service in an LLC service bundle.
Confusing Language but Simple Website
Some of the language on IncFile's website can be confusing. We had trouble figuring out their refund policy, and identifying exactly who provides the services they advertise.
IncFile provides the LLC formation services, but other things are outsourced to other companies (including Registered Agent service).
However, the IncFile website itself is well-designed and easy to use. The LLC formation process is streamlined and simple, while still having many useful features.
Rocket Lawyer

Details:
$100 + state fees (or $0 + state fees if you're a subscriber)
3.75/5 Stars Customer Support
$150 per year Registered Agent service ($112 per year if you're a subscriber)
Note: It costs $40 per month to become a Rocket Lawyer subscriber.
Pros: A big brand LLC service with extra legal services.
Cons: Pricey Registered Agent service. Many features require you to pay a base-price of $40 per month in order to get discounts on other services.

Who is it good for?
We only recommend Rocket Lawyer's LLC formation services to people who already subscribe to Rocket Lawyer for their legal services – like document templates and consultations with attorneys.
Among the "big" legal services companies, Rocket Lawyer has a good combination of expertise, a variety of legal services, and solid customer reviews. They're not the best LLC service, but they do offer extra features that can be appealing.
Slick Professional Website for LLC Services
The Rocket Lawyer website uses plain and honest language. This matches their "simplicity" philosophy: everything is clear and easy to follow. As you'd expect from a big company, Rocket Lawyer's website is very robust. It's easy to find the information or LLC services you need.
The LLC formation process is structured to be simple and intuitive. It asks you questions instead of presenting you with a complicated form.
Do you really need legal services?
Rocket Lawyer can be a good resource for small business owners that need contracts and other legal forms. They can also give you (limited) access to business attorneys. However, if you don't need the extra legal services and are just looking to open your business, we encourage you to consider using a different company that specializes in LLC formation services.
Conclusion
We think Northwest Registered Agent is the best LLC service out there and it's who we use ourselves.
Their Registered Agent services allow you to use their address throughout your paperwork in all 50 states to protect your privacy (no other LLC formation service offers that for free). They also keep things simple, and have the best customer support in the industry.
We like IncFile's free formation package for just the bare bones of LLC formation.
And our pick for extra LLC services, like a DBA filing, is MyCompanyWorks.
RocketLawyer is the best choice if you want to subscribe to a full-service legal support company.
And ZenBusiness offers a sophisticated but easy-to-use website for their LLC formation services.
But we still choose Northwest for the overall best LLC service company.
Form your LLC yourself
If you've read all of these best LLC services and feel like you'd be comfortable with a DIY approach, then you're in luck! Instead of hiring a company to form your LLC, you can just file your LLC yourself.
Check out our free step-by-step guides for all 50 states on How to start an LLC.
You can easily form an LLC yourself, and you'll only pay the state filing fee. We walk you through every step of the process and explain everything you need to know. You can also be your own Registered Agent, as there's no requirement that you hire a Registered Agent service.
LLC Formation FAQs
What about LegalZoom?

You may have seen other "best LLC services" articles that include LegalZoom. However, they didn't make our top 5. Although they are a big brand and spend a lot of money on advertising, we don't think LegalZoom is a good LLC service for small business owners.

Read our full LegalZoom LLC Review to get the whole story.

In summary:

Their LLC service prices are expensive.
Their LLC approval time is slow (unless you pay more).
Their Registered Agent services are expensive (and hard to cancel).
Customer support isn't always helpful (in fact, you're often speaking with sales agents).
There are a lot of upsells.
What is the best state to start an LLC?

The best state to start a limited liability company is the one where you'll be doing business. For most people, this will be the state where you live.

If you don't live or do business in the state where you form your LLC, you'll need to register your LLC as a Foreign LLC in your home state. This means you'll need to maintain two LLC filings, pay two state filing fees, and maintain two Registered Agents.

Please see Best State to Start an LLC to make sure you're forming an LLC in the right state.
Do I need an EIN number for an LLC?

Yes, you should get an EIN number for your LLC. Although you can technically operate a Single-Member LLC using your Social Security Number, we don't recommend this.

Most banks require an EIN in order to open an LLC bank account.

And having an EIN for an LLC helps keep your business and personal assets separate. This helps ensure you have personal asset protection – the main benefit of starting an LLC.
Does an LLC save me money on taxes?

No, having an LLC doesn't save you money on taxes.

LLCs have Pass-through Taxation. This means that the taxes on the LLC's profits pass through the company and are paid by you, on your personal tax return (Form 1040).

Said another way, paying taxes on an LLC works the same way as it would for a Sole Proprietorship or General Partnership. Meaning, you don't have to pay separate business taxes.

The exception to this is if you elect to have your LLC taxed as an S-Corporation. Depending on your LLC's net income, this may save you money on self-employment taxes.

To learn more about LLC taxes, please see How are LLCs taxed.
Do I have to hire an LLC Formation company?

No, you don't have to hire an LLC Formation service. And no, you don't have to hire an attorney to start your LLC.

The state doesn't care who files the paperwork to form an LLC. If you'd like to save money and time, you can file your LLC yourself!

Read our free and easy-to-understand guides on How to Start an LLC in all 50 states!
How much does an LLC cost?

The one-time cost to start an LLC varies by state. The average LLC filing cost is $132.

There are also LLC Annual Fees to maintain your business that vary by state. The average LLC Annual Fee is $91.
Best LLC Services for Each State
For recommendations specific to the state where you do business (where you'll start your LLC), use the list below.
Best LLC Service in Nebraska
Best LLC Service in Nevada
Best LLC Service in New Hampshire
Best LLC Service in New Jersey
Best LLC Service in New Mexico
Best LLC Service in New York
Best LLC Service in North Carolina
Best LLC Service in North Dakota
Best LLC Service in Ohio
Best LLC Service in Oklahoma
Best LLC Service in Oregon
Best LLC Service in Pennsylvania
Best LLC Service in Rhode Island
Best LLC Service in South Carolina
Best LLC Service in South Dakota
Best LLC Service in Tennessee
Best LLC Service in Texas
Best LLC Service in Utah
Best LLC Service in Vermont
Best LLC Service in Virginia
Best LLC Service in Washington
Best LLC Service in Washington DC
Best LLC Service in West Virginia
Best LLC Service in Wisconsin
Best LLC Service in Wyoming