LegalZoom is an online legal technology company seeking to reshape the legal industry by offering convenient, affordable, high quality legal solutions.
Legal services legal services legal services legal services. Online legal services. Registered agent services registered agent services registered agent services.
According to their website, LegalZoom was founded in 1999 and has launched over 4 million businesses. LegalZoom is well-known as an LLC formation services provider, offering LLC formation packages that include various legal documents as well as other LLC services.

For those looking to start a new business, like a Limited Liability Company (LLC), LegalZoom's reputation and simple filing processes make using their LLC formation service seem like a no-brainer.
But should you form your LLC with LegalZoom?
There are some important factors to think about before you choose LegalZoom to help launch your business. The LLC University® team tested the LegalZoom website, talked to several customer service representatives, and read all the terms and conditions so you don't have to.
Our LegalZoom LLC review will look at the features and LLC services LegalZoom offers. But we recommend you check out several LegalZoom reviews and read about other LLC filing companies before choosing a service provider.

LegalZoom LLC Formation Services
According to the LegalZoom website, their LLC formation process is as simple as:
Answering a few easy questions, which will take a few minutes.
Paying the state filing fees and LegalZoom's charges.
Waiting for LegalZoom staff to assemble all necessary documents and file them.
Receiving a complete LLC package either uploaded to your account or by mail.
Though all customers follow these 4 basic steps, the final product you receive depends on the specific LLC formation services package you purchase.
Does LegalZoom mail or email my LLC approval documents?
It depends. When we asked, LegalZoom said that depending on the document you ask them to file, and which state you're filing in, they will either send your approved documents to you in the mail or you will be able to download them online.
LegalZoom LLC Formation Prices
Note: The LegalZoom LLC formation prices discussed below can change, as they frequently test different pricing models. The features of each package usually stay the same, however.

The most affordable LegalZoom LLC package is the Basic package. The Basic package costs $0 plus state fees.
(For more information on LLC state fees, check out our page on LLC Costs.)
In the Basic package, LegalZoom will:
Check to be sure your LLC name is available
File your state LLC formation documents
Give you a digital welcome packet
There are two upgraded LegalZoom LLC packages: Pro ($249 + state fees) and Premium ($299 + state fees).
LegalZoom LLC Formation Packages
The LegalZoom LLC packages really aren't that different from each other. For instance, Pro just adds paperwork and phone call extras to what you get with Basic.
Premium is LegalZoom's most expensive business formation service ($299 + state filing fees), but offers the same extra features as Pro, plus a subscription for attorney consultations. These 30-minute attorney consultations are limited to business basics (and your 30-day subscription auto-renews at $49 per month).
Both Pro and Premium packages provide everything in the Basic package we listed above, plus additions such as a customized company seal and document folder, and membership certificates.

Honestly… We don't think those extras are worth the steep price difference from Basic at $0 to Pro at $249.
Plus, you can make membership certificates for your LLC at home: Download our free LLC Membership Certificate template.
And if you want to order a business seal or other stationery items, we recommend Moo.com. You can design and customize everything you order from Moo.com, unlike the bundled items through LegalZoom.
What about customer support?
All of LegalZoom's LLC formation packages come with customer support that is available by online chat or phone 7 days a week.
However, the LegalZoom representatives we talked to online and by phone had to ask for information about our business before they would answer our questions.
And they seemed much more focused on funneling us into the LLC formation questionnaire (and convincing us to purchase a product) than answering the questions we asked.
If customer support is important to you, here's something to think about: LegalZoom makes quite a bit of money by upselling you to their "call a lawyer" programs. So how good is the basic, free customer support going to be?
How much are you willing to pay?
LegalZoom's total fees for forming your LLC can get quite expensive (especially with the upsells and additional products).
Speaking of fees, one of the top complaints about services like LegalZoom is the use of upselling. Many LegalZoom reviews talk about the number of upsells, as well as the comparatively high cost of the products and services offered.
Beyond the features included in the Basic, Pro, or Premium packages, LegalZoom gives users multiple opportunities to sign up for additional services.
If you signed up for every upsell product LegalZoom offers, you would be spending around $1,500. Yikes!
We break down each service and product below.
LegalZoom Review: Other LLC Services

Operating Agreement Packages
$99: LegalZoom will generate an LLC Operating Agreement.
LLC University® Analysis: LegalZoom asks you some questions about your business and gives you a pre-filled Operating Agreement. If you don't want to pay $99 for that, we provide a free LLC Operating Agreement template. You can fill out our template to create your own Operating Agreement. Plus you can easily update it when details of your business change.
$79: LegalZoom will get your LLC an EIN number.
LLC University® Analysis: You can complete your LLC Operating Agreement at home for free. And you can request an Employer Identification Number (EIN number) from the IRS online for free. Learn more about getting an EIN for an LLC.
$99: LegalZoom will create a business license report.
LLC University® Analysis: LegalZoom hires another company to research whether your business requires a license or permit to operate. Then, they send you a report that tells you what applications you need to file (if any), but don't help you complete them or cover any of the fees as part of this package.
If you need help with this license and permit research, we recommend IncFile, where you can get this same feature for just $99.
Registered Agent Services
$199 per year: LegalZoom will be your LLC Registered Agent. This fee automatically renews every year.
Learn more: What's an LLC Registered Agent?
LLC University® Analysis: There are many Registered Agent service providers on the market, and they all offer pretty much the same thing. You can get the same service, plus better privacy protection, from Northwest Registered Agent for a lot less.
Annual Report
$99 plus state fees each year: LegalZoom will file your LLC Annual Report. What's an LLC Annual Report?
LLC University® Analysis: Annual Reports are usually sent to you by the state and easy to file – you just verify your LLC information (business address and Registered Agent information), pay the fee, and you're done. Why pay LegalZoom an extra $99 every year to do that?
Compliance Calendar
$69 per year: LegalZoom creates a Compliance Calendar for your LLC.
LLC University® Analysis: LegalZoom claims the Compliance Calendar is "Loaded with information and deadlines specific to the filing requirements for your type of business". But the only deadlines for an LLC are the LLC Annual Report and your federal, state and local taxes. It doesn't make sense to pay $69 for a calendar that tracks 3 or 4 dates. Plus, you have to refer to a different calendar system instead of using your existing calendar.
Minutes Manager
$99 per year: LegalZoom gives you access to the Minutes Manager program, which contains templates and procedures for running business meetings.
LLC University® Analysis: Formal meetings are a required part of corporate governance. But the law doesn't require you to keep minutes of LLC meetings because LLCs are not corporations. The meetings for an LLC can be simple and informal – like a group video call or email chain. And meeting minutes don't have to be kept in any specific format. Recording changes in control or structure are important, but can be done in a simple document as long as you are diligent.
Tax Return Filing and Advice
$119 per month: LegalZoom will help you with tax information when it's time to file your annual tax return.
LLC University® Analysis: The fees on this one add up pretty quickly. The $119 is part of an annual plan that is billed at $119 per month. And at $119 per month, you're looking at over $1400 per year.
Legal Forms
One of the most popular other services LegalZoom offers is their library of legal forms. Once you select a document, LegalZoom asks you questions in order to auto-complete the form. Then, you can pay for either the single document (usually $99 each) or purchase a monthly subscription ($99 per month) that allows you to generate and download multiple documents as you need them.
LLC University® Analysis: LegalZoom doesn't sell templates or blank forms. You complete the questionnaire, pay their fees, and they generate a document already completed with your information. The documents are always PDFs, never a Word document or other editable format.This means if you need the document again later with different information, you have to fill out the questionnaire again and pay the fee again. You can't just make changes to the document you already have.
LegalZoom Review: Upsells
During the LLC formation process on LegalZoom, you will be offered two LLC service packages. They both have enticing but vague names, so we did some extra research to figure out what you really get in each one.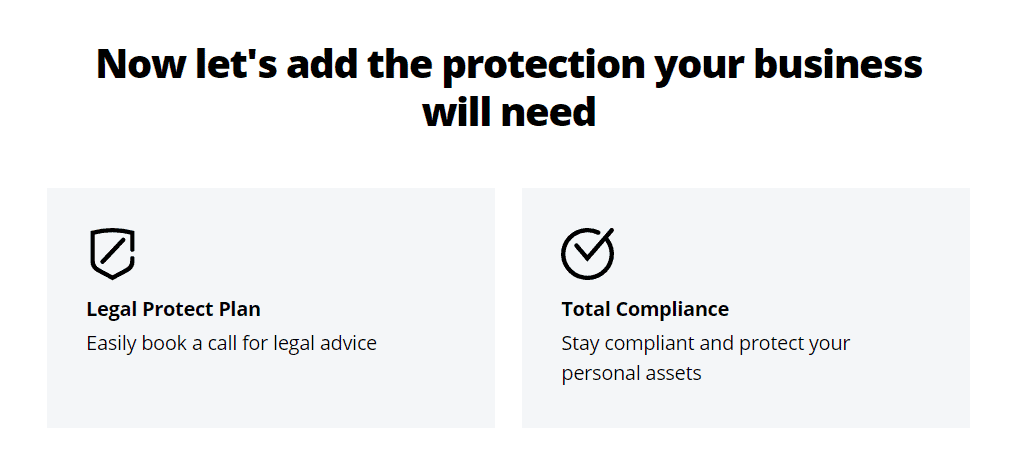 Legal Protect Plan
LegalZoom offers a "Legal Protect Plan" during the LLC formation process, but they make declining the product confusing. You have to scroll down past the offer to find the "No thanks" link below the big "sign up" button.
The Legal Protect Plan is free for the first 10 days (which is pointless, because your LLC won't be approved and formed for at least 10 business days, even if you use LegalZoom's Premium LLC formation service). After that, it's $40 per month.
What is the Legal Protect Plan?
LegalZoom's Legal Protect Plan offers two things:
30-minute calls with an attorney
documents like HR policies, legal forms, etc. from LegalZoom's library

But, there are limits. The Legal Protect Plan contract says your calls with an attorney can't discuss taxes or your business operations. You have to buy a different upgraded plan in order to get advice about your business. Basically you can discuss general legal issues like contract law or liability, and employment law concerns.
And you only get one free 30-minute call for each issue – so if you have further questions about something you called about already, you can't use the Legal Protect Plan. You would have to pay to get another attorney to help you.
As for the "Legal and HR Documents" included in the Legal Protect Plan, we discuss the LegalZoom library of forms and documents in more detail below.
Total Compliance
Another upsell – and again LegalZoom makes it confusing how to evade it (you have to scroll past the offer to find the "No thanks" link below the big "sign up" button).

The Total Compliance package is $149 per year.
What is the Total Compliance package?
Overpriced! Basically, Total Compliance is a package that gets you 3 LegalZoom services in a bundle. Usually bundles come with a discount, but we can't find any extra value in the Total Compliance package.
LegalZoom's description of the Total Compliance product is pretty vague, and is written to make it sound like it's important for your new business. We called LegalZoom to get all the details on what's included, and here's what we found out:
You get LegalZoom's Annual Report, Minutes Manager, and Compliance Calendar services. Purchasing them separately would cost less than the Total Compliance package ($149 per year).
So even if you were thinking of purchasing these other LegalZoom services, you don't save any money by falling for the scary language on this Total Compliance screen.
Note: None of the Total Compliance package products are legal services. These LLC services don't give you legal advice or any relationship with an attorney.
Banking Offers
LegalZoom partners with various financial institutions and financial services providers. The last phase of upsells is usually offered from those partners.
In order to offer these deals, LegalZoom sells your contact information to these companies. And often, the financial institutions and service providers also sell your information. So signing up for these deals is potentially a privacy nightmare.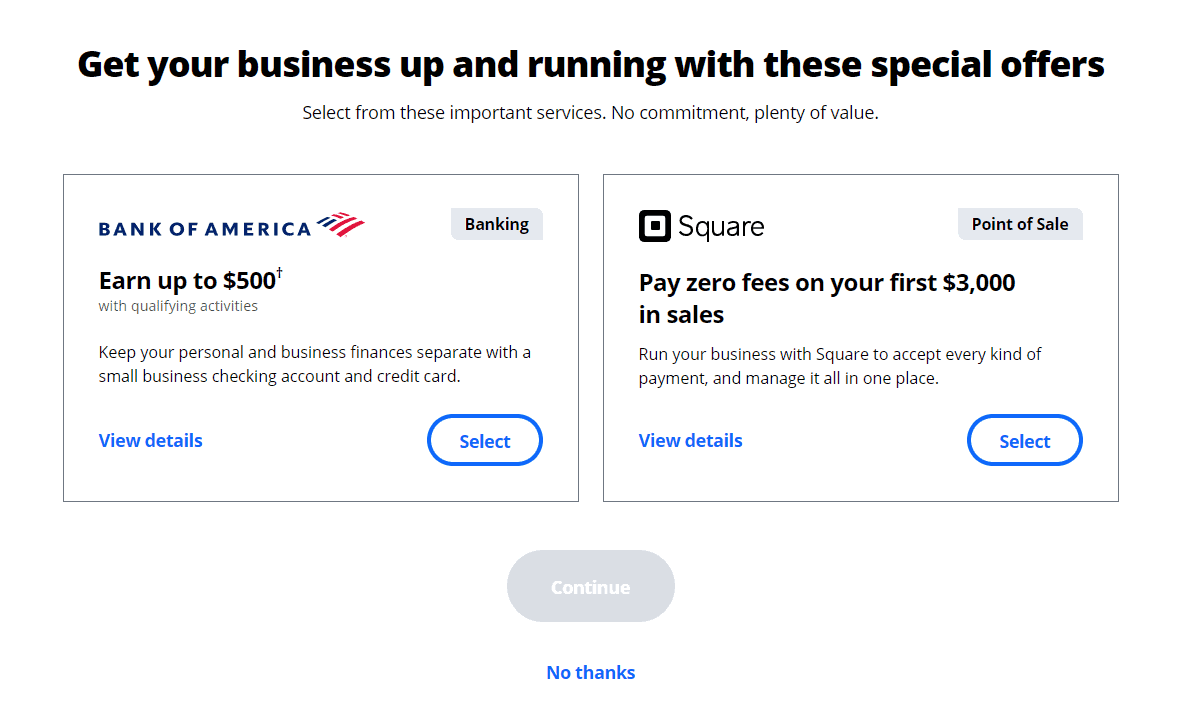 In this example image, the first offer is a promotion (potentially up to $500 in statement credits, not cash) when you open a business bank account and a business credit card at the specific bank.
The other offer waives some fees when you sign up to process customers' payments through the specific payment processor.
How quickly do you need your LLC?
Processing times for paperwork at state offices can vary from a day to a few months. Most states offer a "rush filing" option that sometimes requires walk-in, hand delivery.
For those in a hurry to get their LLC up and running but who don't live close to the Secretary of State office, LegalZoom has a courier located nearby that is able to submit the rush filing and have the legal forms processed more quickly. But you will have to pay extra for the courier, and the fee is nonrefundable even if your filing doesn't get approved as fast as you hoped. (Read more in Satisfaction Guarantee below)
Premium Package
LegalZoom's Premium package offers the same 5-14-day turnaround as the other plans. That said, just like the other plans, you can pay an extra $99 for 1-day business day turnaround with LegalZoom (+ expedited filing with the state). If you need to form an LLC right away, this might be worth it. But first, you should check to see whether your state offers expedited filing.
Then think about whether it's worth paying LegalZoom $299 plus the state filing fee plus the state expedited fee.
Premium LLC Filing: How much does it really cost?
For example: What if you used LegalZoom to file an LLC in North Carolina?
File your own LLC: In North Carolina, the LLC filing fee is $125. And you can get 24-hour processing for an extra $99. If you filed your LLC yourself and expedited the filing, you would pay $224 total online. You would get your LLC documents filed the next business day if you filed online.
File with LegalZoom: If you purchase LegalZoom's Premium package in North Carolina, you will pay the $125 state LLC filing fee, plus the $99 state expedited filing fee, plus the $299 Premium LegalZoom fees. So you would pay $423 total. And you will get your approved LLC documents back in 10-15 business days – not the next day. You do also get the extra features LegalZoom adds to their upgraded packages, but as we mentioned – these aren't really worth it.
Does LegalZoom provide legal forms?
Not exactly. LegalZoom uses an interactive questionnaire to help you form an LLC. They don't give you the Articles of Organization form directly. Similarly, LegalZoom asks you questions in order to generate the Operating Agreement for your LLC. They don't directly provide you with legal forms that you can re-use later or modify.

Is using LegalZoom like having an attorney?
It can be, if you pay to hire one of LegalZoom's attorneys. If the company you are trying to create is so complicated that you couldn't complete the paperwork yourself, LegalZoom's template documents are likely too simple to do the job well, anyway. LegalZoom does provide more sophisticated customer support by connecting you with their staff attorneys, but this – of course – costs extra.
But LegalZoom gives legal advice, right?
No, they don't. Unless you pay for an attorney's advice, LegalZoom emphatically does not provide legal or tax advice.
LegalZoom tries to make it sound like they offer legal advice, while explicitly disclaiming it at the same time. Let's look at LegalZoom's Peace of Mind Review™ program. This might sound like a service where a business attorney will look over your documents and evaluate them.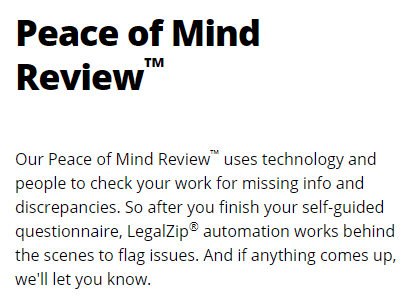 Unfortunately, it's just an automated computer program that looks for typographical or completion errors.
It's basically the same feature on most websites where it will warn you that you forgot to put in the City in your address. Or that you typed "Rodriguez" in one place and "Rodrigues" in another. No live person – definitely not a licensed attorney – is looking at your filing before they send it to the state. You are still responsible for the accuracy (or any errors) of your filing.
What's the Financial Account Authorization Letter?
The Pro and Premium LLC Formation Packages from LegalZoom include a financial account authorization letter. This is just a document that indicates who is authorized to open a bank account for the LLC.
That's nice, but you don't need to have it in order to open a bank account for your LLC.
Check out our instructions here: LLC bank account.
Basically, the financial account authorization letter would replace the Operating Agreement to tell the bank that the person opening the account is allowed to do so. LegalZoom charges $99 to make an Operating Agreement for your LLC if you select the Basic Package.
LegalZoom's own article on opening a business bank account confirms that the financial account authorization letter isn't necessary. All you need to open a bank account for your LLC is:
What questions do you have about forming an LLC?
Though the LegalZoom website has an extensive area dedicated to "Common Questions," the answers provided are general and mostly focus on getting you to use different parts of LegalZoom's site and features.
LegalZoom has plenty of articles on LLC formation topics too, but they are written by LegalZoom staff that may or may not be attorneys.
These resources are okay if you just want to know more about the costs of LegalZoom, or if you're wondering whether LegalZoom offers specific services.
However, for the aspiring business owner with tougher questions like, "Is an LLC the best business structure option for my needs?" or "How do I minimize my risks as an employer?" LegalZoom suggests seeking a licensed and independent attorney. So even if you have a basic question about LLC formation, LegalZoom wants you to pay an attorney for an answer.
LLC University® offers a variety of articles on LLC formation in our Knowledge Library.
Satisfaction Guarantee
LegalZoom does offer a satisfaction guarantee on their business formation services. If you pay for the LegalZoom LLC formation service and are unhappy with the results – maybe a clerical mistake was made, or documents were filed later than you wanted – you can request a refund.
But LegalZoom will only refund you the amount you paid for the LegalZoom services, not the amount you paid to LegalZoom for state filing fees.
For example, if you bought the LegalZoom Economy LLC Formation Package, you paid LegalZoom $79 for its services, and then the filing fee required by the state where you formed your LLC. Under the Satisfaction Guarantee, LegalZoom will refund the $79.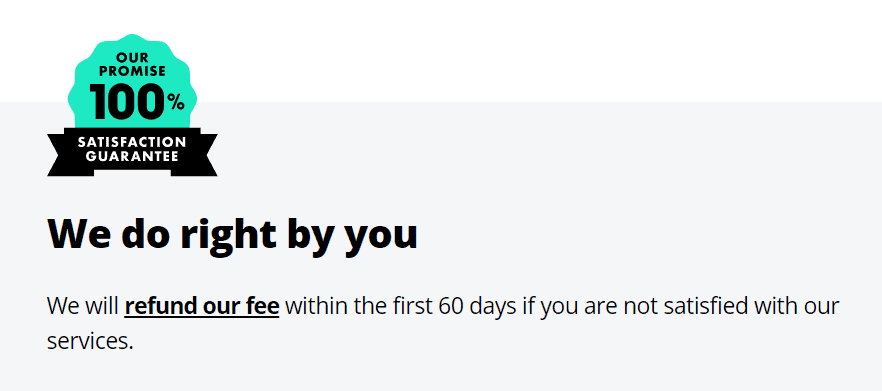 The bottom line
Using LegalZoom saves aspiring business owners lots of time spent completing paperwork, and could potentially save them money.
As a company, LegalZoom has a stellar 20 year history of success with clients. The website is user friendly, and customer service reviews are generally very positive.
However, LegalZoom is not an adequate substitute for legal representation and cannot offer the same protections provided by an authorized business attorney.
Note: Check out our Northwest Registered Agent review to compare some LegalZoom alternatives.
LegalZoom LLC Review FAQs
Is LegalZoom better than IncFile?

We compared the LegalZoom versus IncFile in 2023 based on their LLC formation packages, Registered Agent services, customer support, upsells, extras, and pricing.

While both companies are popular options with a lot in common, our favorite of the two was IncFile. To see why, check out our IncFile vs LegalZoom review.

Alternatively, our ultimate favorite – and the service we use ourselves – is Northwest Registered Agent. Northwest has the best customer service agents who are LLC experts, excellent package pricing, and useful extras. They also offer address privacy.

Check out our Northwest Registered Agent review for more about why they're our favorite.
What is the difference between LegalZoom and Rocket Lawyer?

LegalZoom and Rocket Lawyer both offer LLC formation services as well as legal forms.

However, while LegalZoom focuses more on business formation services, Rocket Lawyer is more of a legal services company that also offers LLC formation services.

Check out our Rocket Lawyer vs LegalZoom review for more details.
What is the best LLC formation service?

We've reviewed the top LLC formation services in the industry and think the best are:

Our #1 recommendation for privacy

To learn more about how these companies compare against each other, check out Best LLC Services.

Note: If you want to save money, you can start your LLC yourself using our free step-by-step guides.