MyCorporation is a business services company that has been in operation since the early 2000s. They offer a wide variety of business services, including limited liability company formation services and Registered Agent service.
MyCorporation has an extensive track record for helping launch new businesses, claiming to have started more than 1 million companies. MyCorporation prides itself on its ease of use and on its customer service, as well as its business formation services.
MyCorporation's LLC Services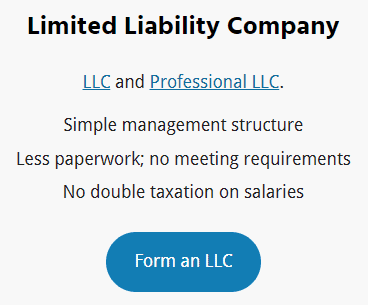 Price Points
While most competitors offer three LLC formation service levels, MyCorporation offers four: the Basic, Standard, Premium, and Deluxe packages.
All the packages offer online document filing services, but then MyCorporation charges you to ship the documents back to you. There is an unavoidable $34 extra shipping charge on anything you order (plus an additional $50 on top of that if you live outside the US).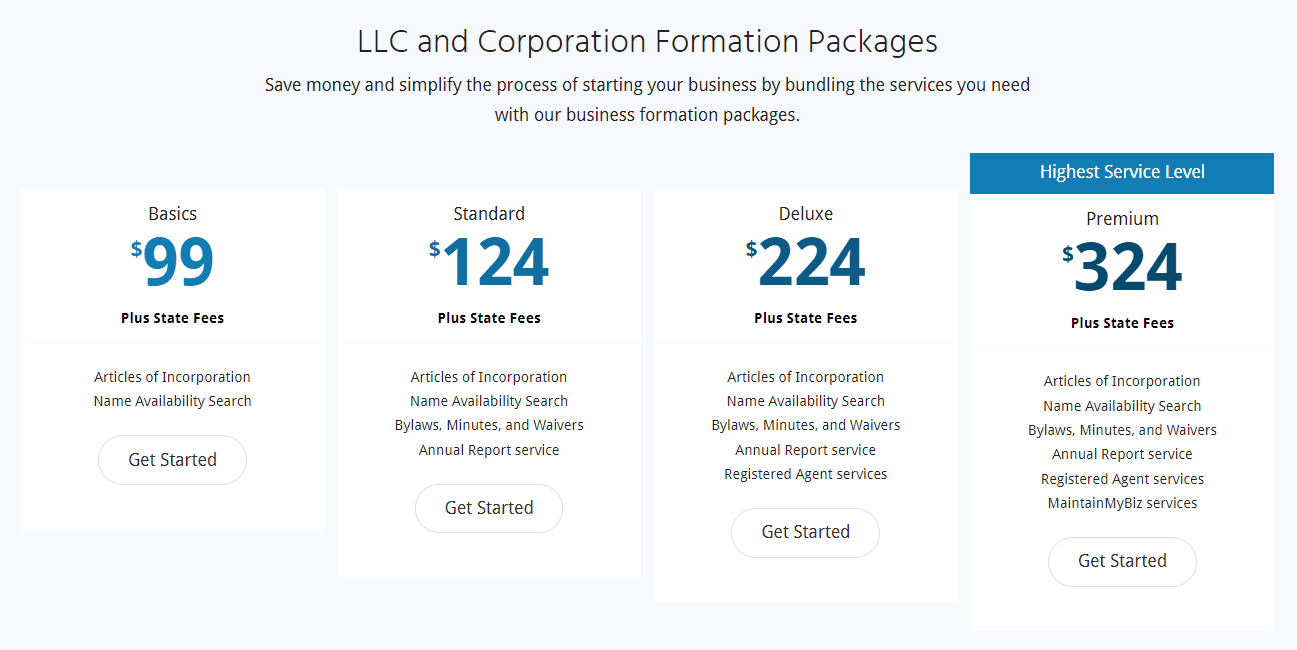 Basic Package
The Basic package is priced at $99 plus state fees (see the Confusing Language section for details on MyCorporation's inflated state fees). The Basic package includes a business name availability check and the preparation and filing of your articles of organization.
This package isn't a good value, as many competitors' entry-level LLC formation packages include more services (such as a year of free Registered Agent service) at the same price.
Standard Package
MyCorporation's Standard package is priced at $124 plus state fees. It includes everything in the Basic package plus a one-year subscription to their annual report service. After one year, the annual report filing service automatically renews at a price of $99 per year.
The Standard package doesn't offer good value for the money, especially when you consider the ongoing cost of the annual report service.
Deluxe Package
The next level up is the Deluxe package, which costs $224 plus state fees. This package contains the same business formation services as the Standard package and adds one year of free Registered Agent service. After the first year, the registered agent service will renew at a price of $120 per year.
Premium Package
MyCorporation's most expensive LLC formation service package is known as the Premium package. This document filing services package costs $324 plus state fees.
The Premium package basically the same as the Deluxe package, with the only major difference being the addition of MaintainMyBiz (click for more details). You get one year for free, and then MaintainMyBiz automatically renews at $250 per year after that.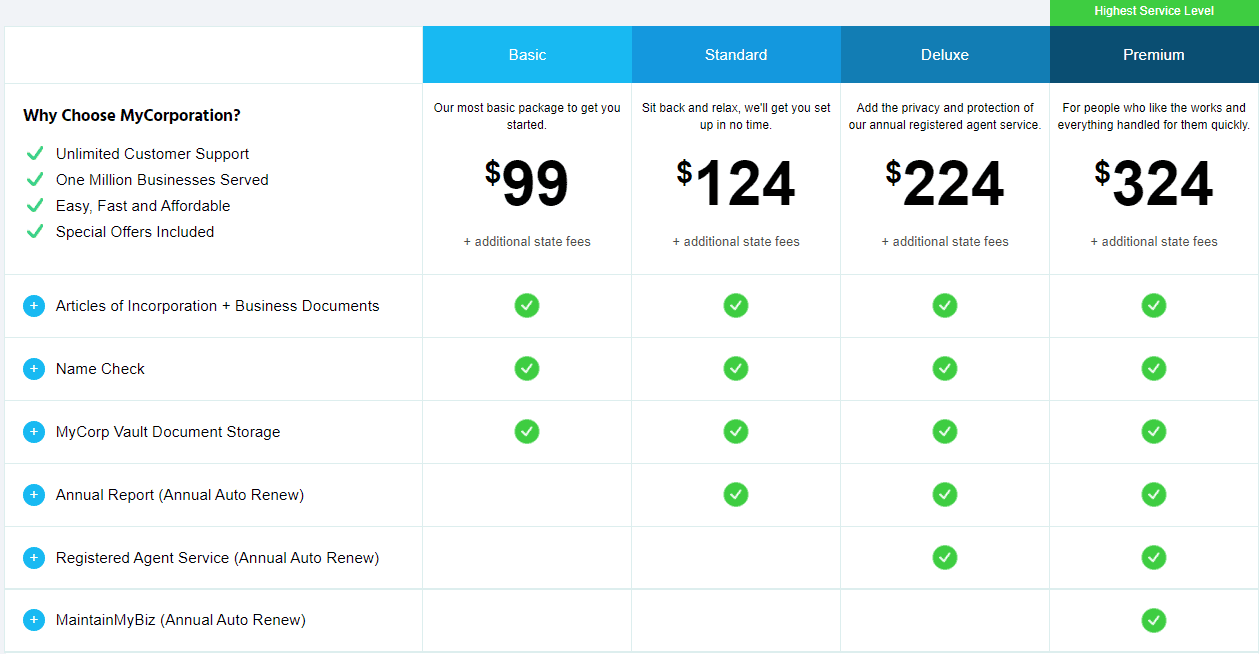 Turnaround Time
Disappointingly, MyCorporation is very vague about their turnaround times. While they claim to have "fast" processing times for their LLC formation services, they don't provide specifics.
MyCorporation does offer rush processing for $100 but, again, they don't give details about the rush service. We cannot recommend that you pay extra for a rush processing service if you don't know what you're getting in return for your $100.
Upsells
Like most LLC services companies, MyCorporation offers many optional services. They administer some of these services themselves, while some are offered through partner companies.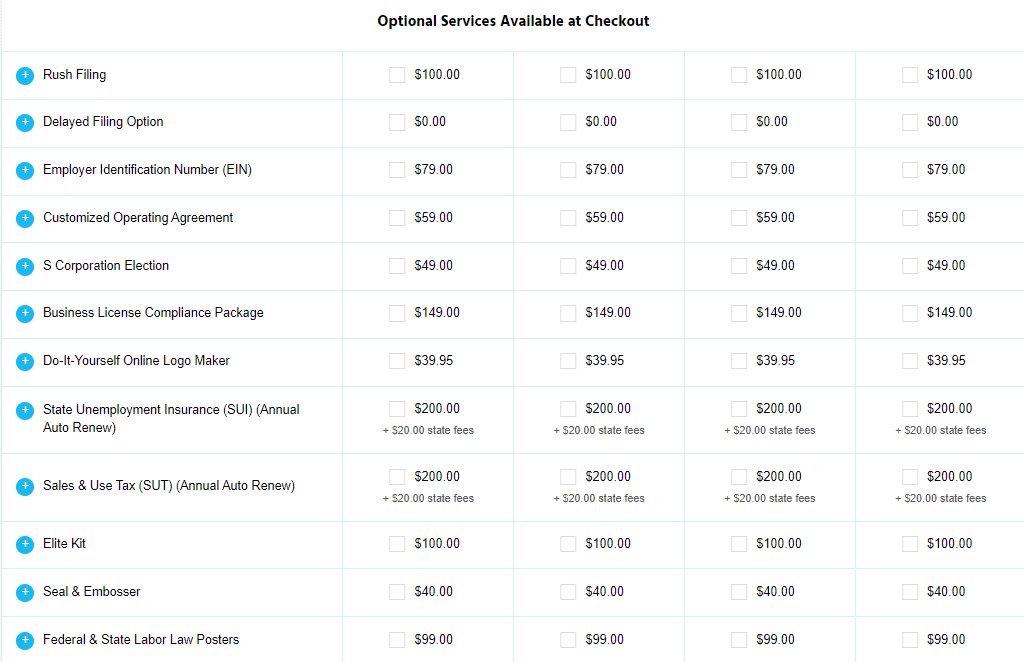 Some of MyCorporation's upsells include:
Annual report service ($99 plus state fees): MyCorporation will prepare and file your LLC's Annual Report. This is about the average price for this service. However, the LLC Annual Report is a simple form that you complete and pay each year. You can just file it yourself without paying the extra $99.
Employer Identification Number (EIN) filing ($79): This price is about average for the industry, though you can easily obtain an EIN for your LLC by filing a simple form online. And an EIN is free from the IRS.
Custom operating agreement ($59): MyCorporation will prepare an Operating Agreement for your LLC based on the information you provide. Many competitors offer this for free in their service packages.
However, you can also do this for free at home. We offer free templates to make your own LLC Operating Agreement.
Business license compliance package ($129): MyCorporation will figure out what licenses your business needs to operate legally. This is an important step to make sure your business is operating legally.
If you need help with license or permit research, we recommend using IncFile, where you can get the same service for just $99.
MaintainMyBiz
MyCorporation's biggest upsell is their compliance service, MaintainMyBiz. This service package includes four free filings per year. You can choose any four filings from their list, which includes things like your LLC annual report, a DBA (fictitious name), amendments, certificate of good standing, etc.
If you plan to actually submit four filings per year, this is a good value. But that's very rare. Most people that form an LLC don't make changes that have to be filed with the state or dissolve (close) their LLC every year. And things like apostille (certified copies for international use) are only needed for very specific cases.
Plus, lots of the items on this list can be done for free with online templates, like LLC Membership Certificates.

Confusing Language
We were disappointed with the lack of clarity on the MyCorporation site. One specific example: the refund policy used confusing and seemingly contradictory language. Also, MyCorporation uses vague language when describing its turnaround times, including the turnaround times for customers who order the rush processing service.
One major issue we found was that state filings fees are always over-quoted. We found this on the LLC formation screen, where MyCorporation lists the state fees under the package prices. On average, they inflate the state fee by 31%. Most states are inflated 10%-15%, but some are overstated by more than double.
For example, the filing fee in Florida is $125, but MyCorporation claims it's $165. And in Maryland, the filing fee is $100 (by mail) or $150 (online) but MyCorporation charges you $235.
In particular, Arizona is hugely over-quoted. The filing fee in Arizona is $50 (by mail) or $85 (online), but MyCorporation claims it's $409. That's almost 8x more than it actually costs.

And we couldn't find any explanation for the inflated fees on MyCorporation's site. Some state fees may contain charge for faster processing or certified copies, but we can't be sure. Other MyCorporation reviews we read suggest this is a shipping charge that they hide in the 'state fees'. But if you look at the checkout screen closely, they separately charge you between $34 and $39 in shipping fees: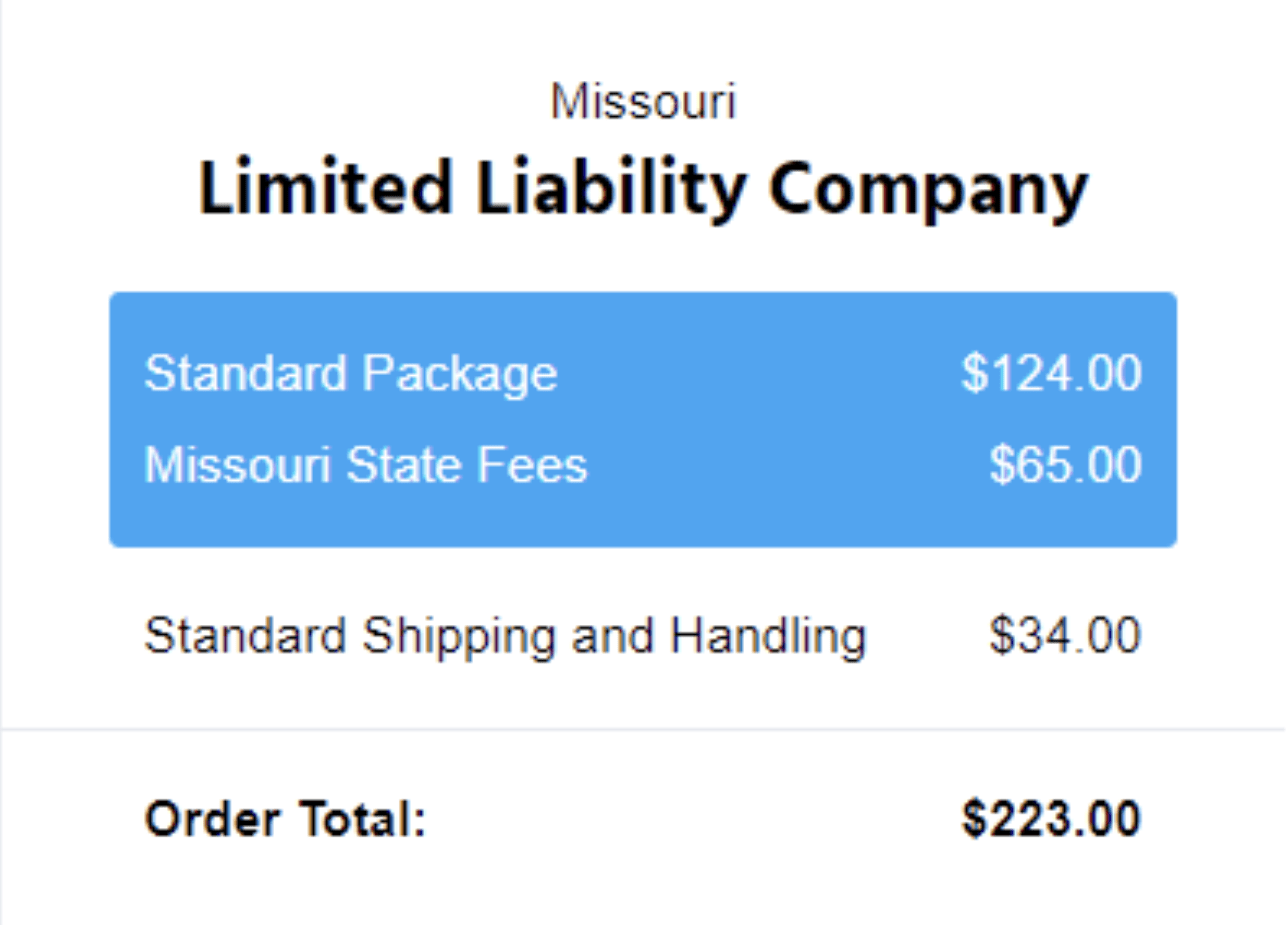 We also noticed that state fees for other individual items (like filing DBAs) are inflated.
Worse, MyCorporation charges "state fees" for things that don't have a state fee. For example, obtaining a sales tax registration for your business is free in Pennsylvania. But MyCorporation charges a $20 "state fee" on top of the $200 service charge for completing the form. Since the form is submitted online, and – again – is free to file, we have no idea where that $20 fee comes from.

Customer Service
MyCorporation has received lots of positive feedback in online customer reviews about their customer service. We decided to try it out for ourselves and report on our experience. MyCorporation doesn't offer chat support, only phone-based customer support. And keep in mind that MyCorporation is a California-based company, so their customer service hours are on Pacific Time.
The customer service rep that we spoke to was very friendly and helpful. They accurately answered all of the questions we had. They even gave us specific advice on the services we would need for starting a business in our state. Also, the rep offered us the number for their direct line so we could get in contact more easily.
User Experience
MyCorporation offers a decent user experience. The order process is relatively quick and straightforward. However, MyCorporation does push their optional services a little too aggressively for our liking.
One feature we like on MyCorporation's website is the Entity Choice Wizard. This tool asks you a series of questions about the business you want to start, and provides live feedback on which entity type is best suited to your needs: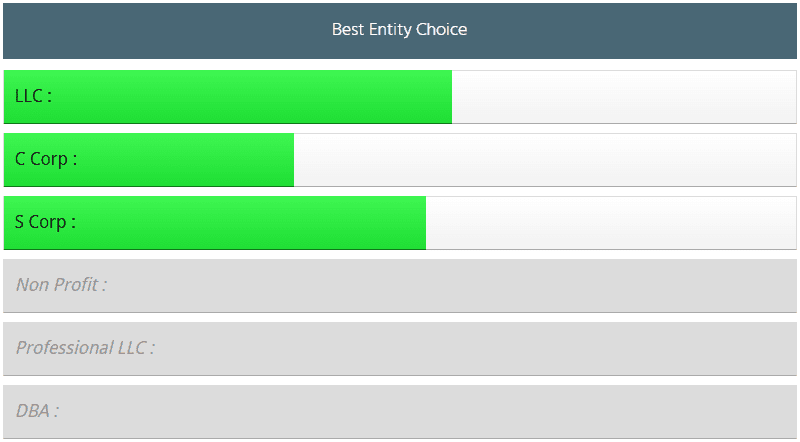 Additional Services & Features
MyCorporation offers multiple additional services and features that aren't directly related to forming a business.
They offer a simple logo-making service for $39.95. This can come in handy if you don't have much graphic design expertise and you are fine with a fairly generic logo. We prefer to hire a professional from a service like Fiverr so we can choose the style and design elements.
MyCorporation also offers an "Elite Kit" for $100. This includes a customized business binder and a customized seal. Or you can get the seal by itself for $40. None of these items are needed to open a business, and honestly they're just flashy extras.
If you want to order a business seal or other stationery items, we recommend Moo.com. You can design and fully customize everything you order from Moo.com, unlike the bundled items through MyCorporation.
Registered Agent Service
Price
MyCorporation also offers Registered Agent services (through partner company Legal, Inc.) for $120 per year. If you purchase Registered Agent services from MyCorporation, Legal, Inc. will accept government and legal mail sent to your LLC.
Mail Forwarding
Legal, Inc. normally scans any mail they receive on your business' behalf and uploads the scan to their online dashboard. They will send you an email when you have a new piece of mail to view. Legal, Inc. may physically forward mail to you if necessary, but we couldn't get clear information on when that might happen.
MyCorporation LLC Review Verdict
In conclusion, MyCorporation isn't a great choice for LLC services and online incorporation services. Their service packages are overpriced and don't include as many services as many competitors' packages. MyCorporation also isn't a good choice for registered agent services, as they outsource this and you will have to enter into a service agreement with a different company.
But the biggest issue with MyCorporation is the confusing prices. We are still puzzled by the inflated state fees. It just feels dishonest to misrepresent a fee set by state governments that users can easily research for themselves.