An Overview of Rocket Lawyer
Rocket Lawyer has been an online legal services provider since 2008. Beyond LLC formation assistance, Rocket Lawyer also offers a wide variety of affordable business and legal services for small business owners.
This means that Rocket Lawyer does a lot more than just work with new LLCs. And the fact that they don't specialize in LLC filings could be an advantage if you want to explore other options (like incorporation) and get legal services for your business all in one place. But it could be a disadvantage if you need sophisticated LLC-specific help.
Rocket Lawyer offers a collection of templated legal documents and other quality legal services from licensed attorneys. If you pay for membership, you can access their online legal service and get legal advice from licensed attorneys who work in many different practice areas.
Some of Rocket Lawyer's legal services – like LLC formation filings – are available to non-subscribers. So if you don't want to pay for a legal services subscription, you can still use Rocket Lawyer to form your LLC.
Rocket Lawyer LLC Services Review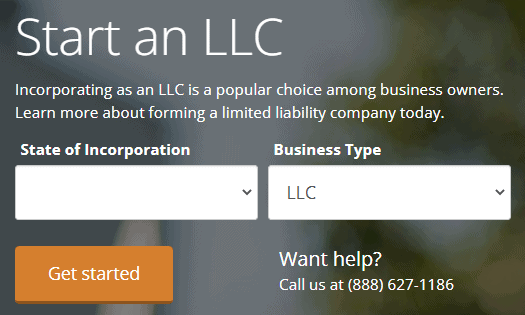 Rocket Lawyer Pricing
Because Rocket Lawyer is a subscription service, their pricing is different from the standard LLC formation companies. Instead of offering several different formation packages, Rocket Lawyer simply offers two different prices for business formation services: one for subscribers, and one for non-subscribers.
Subscriber Pricing
A subscription to Rocket Lawyer costs $39.99 per month. They do offer a free one-week trial, but the trial automatically becomes a monthly subscription if you don't cancel it. We analyze the Rocket Lawyer free trial and the pros and cons of the subscription below.
If you have a Rocket Lawyer subscription, there is no additional fee for the first LLC that you form with Rocket Lawyer. And of course, subscribers get access to all the other legal services Rocket Lawyer offers.
If you want to form more than one LLC, you get a 25% discount on the Rocket Lawyer LLC formation fees as long as you remain a subscriber. This means that forming another LLC later using Rocket Lawyer will cost you $74.99, plus the state fee.

Note: These prices don't include the state fees.
Non-Subscriber Pricing
If you aren't a subscriber, the basic Rocket Lawyer LLC formation service costs $99.99. You don't get access to any of Rocket Lawyer's other online legal services, or any of the additional upsell items. The $99.99 price just covers the formation filing, and you'll still pay the state filing fee.
Turnaround Time
Rocket Lawyer offers quick turnaround times. Most Rocket Lawyer customer reviews report that Rocket Lawyer filed their documents with the state within two business days.
Rocket Lawyer also offers expedited processing times if your chosen state offers an expedited processing option. These expedited processing times vary from state to state.
Find out how long an LLC takes in your state and whether expedited filing is available on our How Long Does it Take? pages.
States will charge a higher fee for expedited processing, and Rocket Lawyer will pass this fee onto you, as well as charging their own administrative fee.


Upsells
Some LLC formation companies bombard you with expensive optional services during the business formation process. These optional services often offer little value, though they can be useful.
Thankfully, Rocket Lawyer is not one of the companies that pushes upsells throughout the order process. But instead, they focus on enticing you to purchase the monthly subscription.
Rocket Lawyer does offer a few LLC formation extras like an EIN service and corporate seal kit. They don't offer as many optional extras as other LLC formation services, because they focus on their legal advice and legal forms in their subscription.
EIN Number
Rocket Lawyer encourages you to purchase their EIN filing service during the LLC formation order process. At only $59.99, this service may seem like a good value.
However, you don't necessarily need to pay for the Rocket Lawyer service. You can get a free EIN for an LLC from the IRS, and it only takes 10 minutes.
All you have to do is fill out a simple digital form on the IRS website. The IRS doesn't charge anything, so it doesn't make sense to pay $59.99 to Rocket Lawyer for this service.
Corporate Kit
Rocket Lawyer's other common upsell during business formations is a corporate kit. The complete kit costs $99.99 and includes:
corporate seal
personalized binder
membership certificates
generic business forms
As you probably already know, none of this is required to run a business. And the corporate kit doesn't come with any legal services – just the papers and accessories. Rocket Lawyer's prices for the corporate kit are pretty steep, so it may be a good idea to put this money toward items that your business really needs.
User-Friendly Language
One of the biggest benefits of using Rocket Lawyer to form an LLC for your business is the clarity of the information on their website. Our Rocket Lawyer LLC review found their website much clearer and straightforward than other LLC formation companies.
Many of Rocket Lawyer's competitors have confusing and misleading language on their websites, especially when it comes to their pricing. However, Rocket Lawyer seeks to make legal services and business formation as simple as possible.
Rocket Lawyer's philosophy of simplicity shines throughout their website. The language used to describe the company's services and prices is clear and easy to follow.
You won't have to comb through the fine print to find out how much Rocket Lawyer's LLC services or Registered Agent services will really cost you.
Free Trial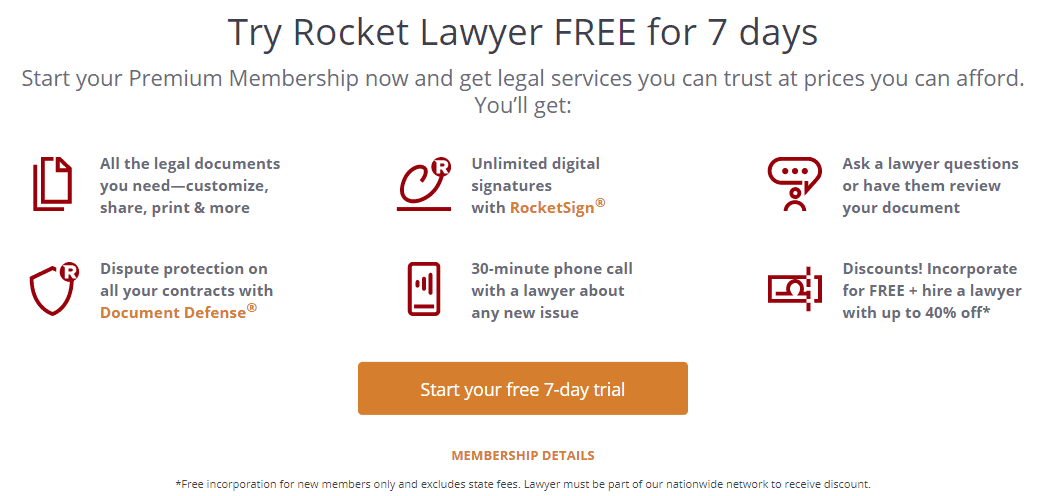 One area where Rocket Lawyer's website language is misleading is regarding the seven-day free trial. The reality is that Rocket Lawyer's free trial only provides limited access to their legal services and documents.
Limited Access: The Rocket Lawyer website seems to imply that this free trial grants the same access to Rocket Lawyer's services that a full subscription would. However, this is not the case.
First, a free LLC formation is not included in the free trial, though it is included in a full membership. Although this seems misleading, it also makes sense. Otherwise, you could just get the free trial, order an LLC formation for nothing, and then cancel the free trial without paying Rocket Lawyer anything for the LLC formation.
Second, only 3 legal documents can be downloaded for free during the seven-day free trial. There are many legal documents that are vital to forming an LLC, including the Operating Agreement.
If you pay for a full subscription, you can complete and download as many legal documents as you want at no additional charge. But the free-trial limits you to 3.
Finally, you can only ask an attorney one legal question during your trial period. On the other hand, if you pay for a full subscription, you can ask Rocket Lawyer's attorneys any legal questions you have, without limitation.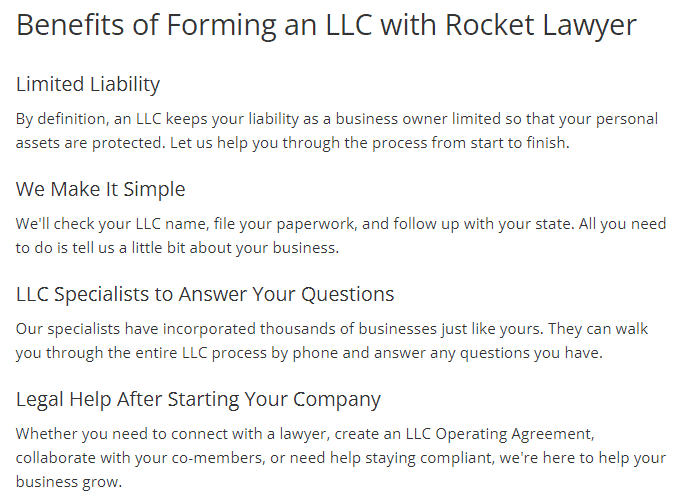 Customer Service
As with many companies we review, Rocket Lawyer claims to offer great customer service. The main drawback with Rocket Lawyer's customer support was their online chat feature. We were otherwise very satisfied with the customer support from Rocket Lawyer.
When you open the online chat, it directs you to a knowledge base instead of a customer service rep. From there, you can access a chat window with a real person. However, once you get a live person they are mostly tech support.
When we asked them questions about features Rocket Lawyer offers, they directed us to call the business department. So the online chat is not helpful unless you're wanting to cancel your membership or troubleshoot issues with the site.
Rocket Lawyer does offer very good phone support. When we spoke to one of their customer support representatives, we were impressed by their knowledge and friendliness. The rep was also very honest about the limitations of the free trial when we asked them about this issue.
While we would prefer that Rocket Lawyer was this up-front about the free trial on their website, the rep's honesty was refreshing in an industry where many customer service reps are not so straightforward.
Rocket Lawyer Reviews by Customers
Rocket Lawyer customer reviews on Trustpilot and the Better Business Bureau are overall great.
Rocket Lawyer scored a 4.7 out of 5 on Trustpilot. Forming a Rocket Lawyer LLC seems to be easy, and most people are satisfied with the experience.
Rocket Lawyer has been accredited through the Better Business Bureau since 2006 and has an A+ rating. The Rocket Lawyer customer review rating on the BBB website is 4.5 out of 5 stars.
Our research into customer complaints on the BBB site shows that Rocket Lawyer has excellent customer service. They also offer a full refund if you aren't completely satisfied with your LLC formation.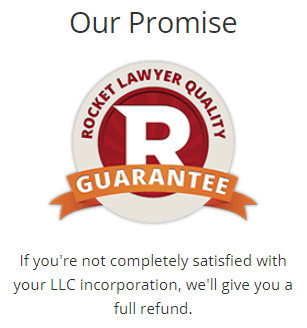 Rocket Lawyer even fully refunded several people who didn't read their terms of service and failed to cancel the automatic subscription following the 7-day free trial.
User Experience

Rocket Lawyer's overall user experience is very positive and emphasizes simplicity. Their website is very easy to use, and ordering an LLC formation service does not take very long.
Also, Rocket Lawyer does not bombard you with upsells while you are trying to complete your order, other than offers to subscribe. This is an annoying problem that we have experienced when using many competitor's services.
The way Rocket Lawyer structures their order process is simple and intuitive. Most LLC formation companies will have you fill out so many digital forms that you may feel like you should have just completed all the state forms yourself.
Pro tip: You can just fill out the forms yourself, and save money! Our free step-by-step LLC guides will help you easily navigate the process.
Instead of having you fill out digital forms, Rocket Lawyer asks you several questions about your business. These questions include basic info like your business name and the state in which you want to register it. After answering these questions, Rocket Lawyer will fill out the necessary forms for you.
An LLC formation order can be completed very quickly on Rocket Lawyer. If you are well-prepared, you can complete your order within 15-30 minutes.
Once you've submitted your information, all you have to do is wait for Rocket Lawyer to process it, and send it to the state. Then you wait for the state to process your paperwork and approve your LLC. Rocket Lawyer will notify you when this has happened.
Confusing Language
However, some of the language in Rocket Lawyer's questionnaire can be confusing. They use unusual terms and wording that can be hard to understand. For example, Rocket Lawyer asks for "Primary Contact" when what they mean is "Organizer".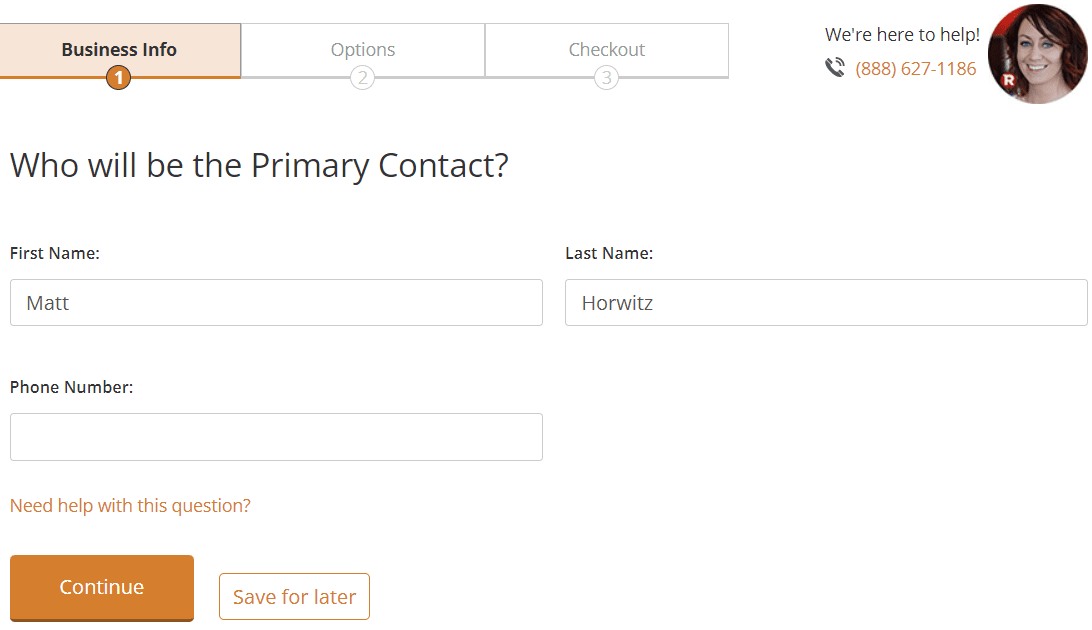 They ask for the Primary Contact in Step 1, and then later ask whether the Primary Contact is an Owner.

What they're really asking is whether the Organizer of the LLC is also a Member of the LLC.
Rocket Lawyer also has some programming issues.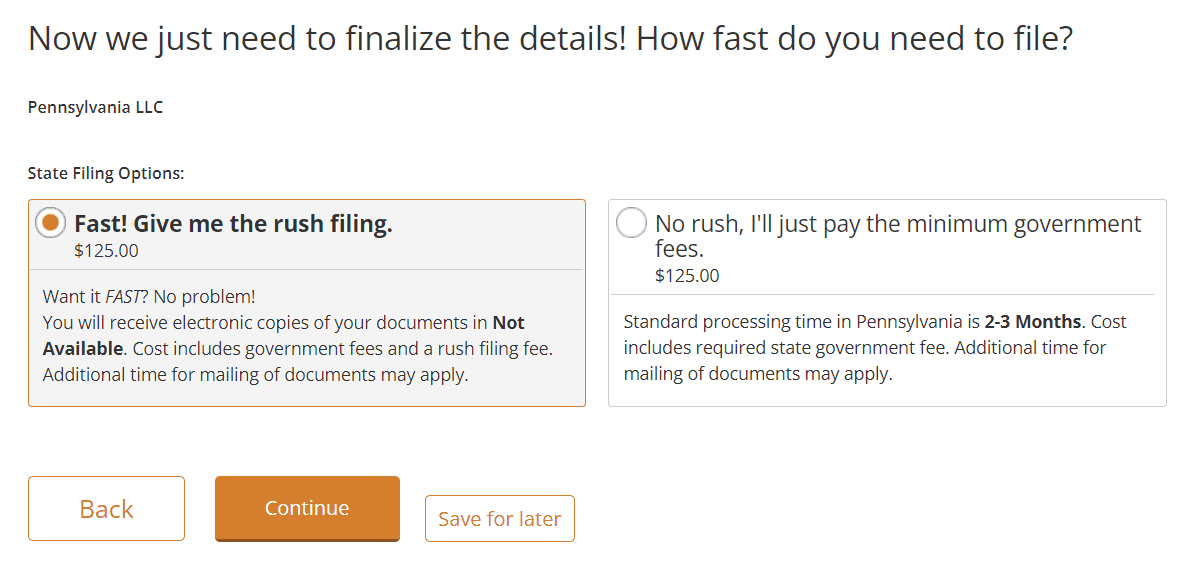 This checkout screen is confusing, because it seems like you get rush filing for free, when in fact, rush filing doesn't exist in Pennsylvania.
Legal Services
Rocket Lawyer offers more additional services and features than most other LLC formation companies. Of course, this is because Rocket Lawyer doesn't specialize in this area. The most important additional services that they offer include custom legal documents, and legal advice from attorneys.
Rocket Lawyer offers a variety of online legal services. If you want to have access to an unlimited supply of templated, high-quality legal documents for your business, a Rocket Lawyer subscription is a good idea.
Legal Forms
One of the most important legal forms that you can get for your LLC is an Operating Agreement. While Rocket Lawyer offers these for a fee, LLC University also offers Operating Agreement templates for free.
Rocket Lawyer sells a variety of other legal forms for your business, including contracts for employees. And while you can purchase single documents without subscribing, you won't be able to edit the document without a subscription.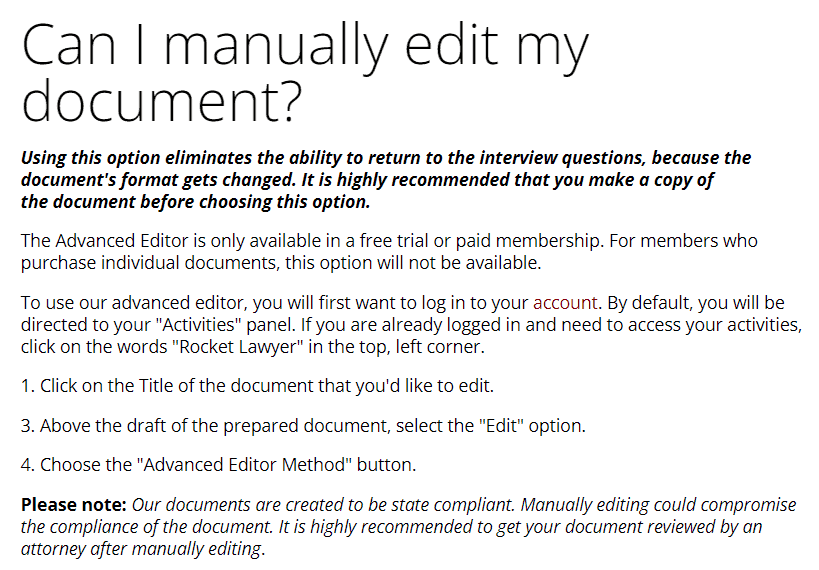 Legal Advice
A Rocket Lawyer subscription also includes unlimited legal advice from licensed attorneys. This could prove invaluable, as it can help your business navigate any legal issues that arise. Rocket Lawyer can also refer you to an attorney in your area if your legal issues need long-term attention.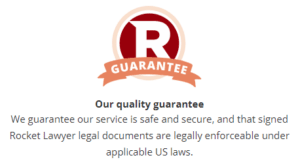 Rocket Lawyer Subscription
This subscription gives you discounted business formation as well as unlimited access to legal forms and legal services. And Rocket Lawyer is known for offering quality legal services.
But if you're in the market for online legal services bundled with your LLC formation, make sure you compare Rocket Lawyer vs LegalZoom and Nolo to make sure you're getting all the features and legal services you want for your business. We recommend you consider:
what forms they offer
whether the forms are editable after download
the terms of the attorney services agreement
Ask yourself if you – and your business – can really make use of the things in the subscription package.
Is it worth it?
We don't like that Rocket Lawyer pushes the subscription on the landing page, several times during the LLC formation process, and again at checkout.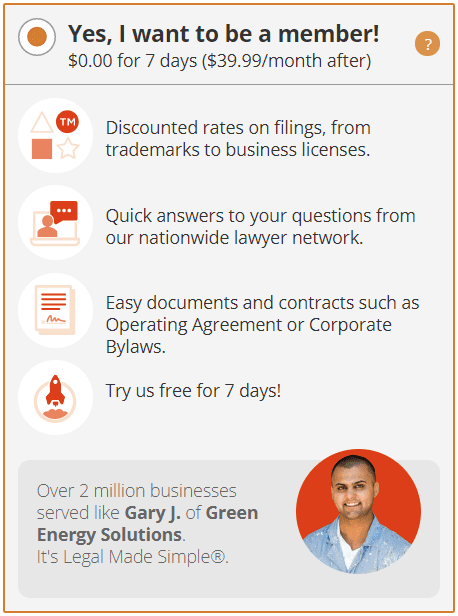 The bottom line is that many of the forms you can get from Rocket Lawyer are available for free either here on LLC University® or elsewhere online. And it's often better to hire an attorney that you can build a relationship with, rather than random consultations with one of Rocket Lawyer's many staff.
If all you need is help forming your LLC and want to save time, we recommend using another LLC filing company.
Rocket Lawyer's Registered Agent Service
Rocket Lawyer Pricing
In addition to its LLC services, Rocket Lawyer also offers Registered Agent service. However, these Registered Agent services are quite pricey.
If you are a non-subscriber, you will have to pay $149.99 per year for Registered Agent service.
If you are a subscriber, you will have to pay $111.99 per year (plus the $39.99 per month subscriber fee).
Learn more: What's an LLC Registered Agent?
Mail Forwarding
Rocket Lawyer will receive legal documents on your behalf and send you digital copies via email. If the email does not go through, then Rocket Lawyer will forward the hard copies to the address they have on file for your business.
Rocket Lawyer Review Verdict: Are They the Best Choice for LLC Services & Registered Agent Services?
All things considered, Rocket Lawyer is a good choice for some entrepreneurs looking to form an LLC and hire a Registered Agent.
If you are only interested in LLC formation services or Registered Agent services, then there are many competitors who charge less.
However, if you are already a Rocket Lawyer subscriber or you want access to legal advice and legal documents, Rocket Lawyer is a great choice for LLC formation services. Few competitors offer the additional legal services that Rocket Lawyer does.
Even if you go with Rocket Lawyer for LLC formation services, you may want to look elsewhere for Registered Agent services. Rocket Lawyer's Registered Agent service is expensive, even for subscribers.