BizFilings has been in the business entity formations business since 1996. In the past 25 years, they have helped form over 500,000 businesses. Bizfilings is now owned by a multinational business compliance corporation called Wolters Kluwer. Wolters Kluwer specializes in software and services for various industries like legal, business, and healthcare.

In addition to LLC and corporation filings, Bizfilings also offers Registered Agent services. Bizfilings' status as a subsidiary of a large corporation allows them to offer additional compliance and business services.
LLC Formation Services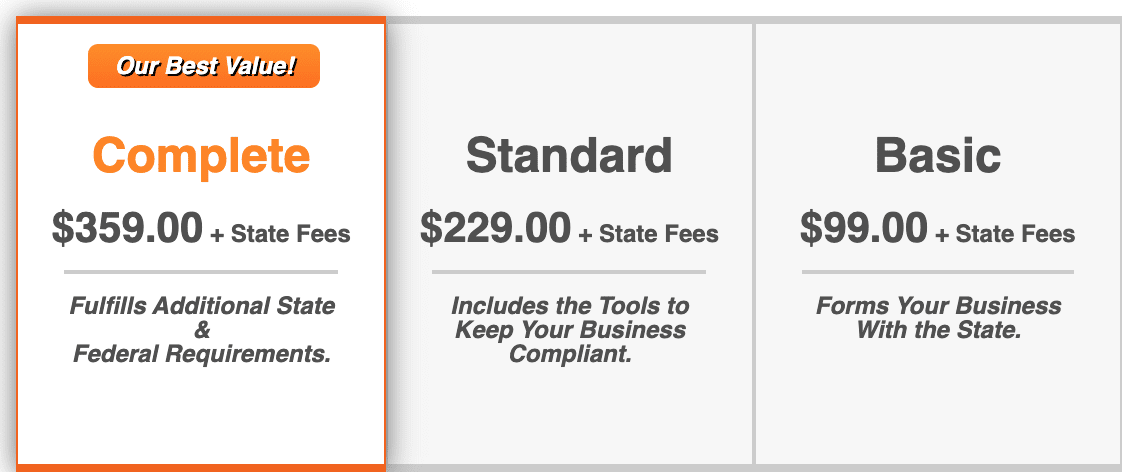 BizFilings Pricing
Like most LLC formation companies, BizFilings offers three LLC formation packages at varying price points. All the packages include filing the state documents to form your Limited Liability Company, and business name verification service. This is where BizFilings checks to make sure your business name is available in your state.
Basic Package
The Basic Package is $99 plus state fees (some states are more than $99 – we're not sure why). It includes a business name availability search, preparing and filing the Articles of Organization for your LLC, 6 free months of Registered Agent service, and the included compliance alert program called BizComply.
The BizFilings Basic Package is a good value because it includes 6 free months of Registered Agent service. And while this is a bare-bones LLC formation package, you can purchase additional items a la carte instead of paying extra for a bundle of things you don't need.
Standard Package
The Standard Package costs $229 plus state fees to form an LLC in most states. This price varies, however: Delaware is discounted to $159 plus state fees, and some states cost more than $229.
The Standard package includes everything from the Basic package, plus:
Expedited Processing by BizFilings

You will still have to pay extra state fees for expedited processing by the Secretary of State

LLC Kit

This LLC kit includes a corporate seal, binder, membership certificates, ledger, and sample documents (meeting minutes and other forms).
You can make membership certificates for your LLC and create templates for meeting minutes and other business documents at home using online resources at no charge. Download our free LLC Membership Certificate template.

Sample Operating Agreement and other forms

Most LLC services that sell you an Operating Agreement complete a templated form with your information, but BizFilings just gives you a blank template. You could easily use our free Operating Agreement templates without paying for this package.
We don't think the extras in the Standard Package justify the price for LLC formation services.
Complete Package
BizFilings's premium service package is called the "Complete" package. It includes everything in the Basic and Standard packages, as well as several additional products and services.
The Complete Package costs $359 plus state fees in most states. However, some states have different prices. For example, Delaware is only $199. And states where BizFilings files an annual report for you right away (like California and Alaska) are $434.
The products and services unique to this package include:
Employer Identification Number (EIN) filing
Certified copies of your state formation documents
Overnight shipping for your formation documents

This doesn't get your LLC approved faster, it only affects how quickly you get your documents back from BizFilings
BizFilings Review Recommendation: In our opinion, the Basic package is the best choice if you go with BizFilings for LLC formation services. You can easily DIY most of their additional extras for free.

Turnaround Time
One of the most important things to look for in an LLC formation service is the turnaround time for their business formation process. BizFilings doesn't post what their usual turnaround times are. However, they do offer expedited processing service.
If you choose the Basic Package, you can pay $60 for the BizFilings expedited processing service. Expedited processing is automatically included in the Complete and Standard Packages. You will still have to pay the state expedited fee no matter which package you select.
With this service, BizFilings will prioritize your filing over non-expedited filings. Usually this means they will process your paperwork in 24 hours and send it to the state.
Note that you will have to pay extra fees for the state to expedite your filing once it arrives, if you want your LLC faster. For more information on your state's expedited fees and options, check out How long does it take to get an LLC.
Upsells
As with most LLC services companies, BizFilings offers numerous upsells. BizFilings does try to get you to add these upsells to your order throughout the order process. However, they are not as pushy as some of their competitors.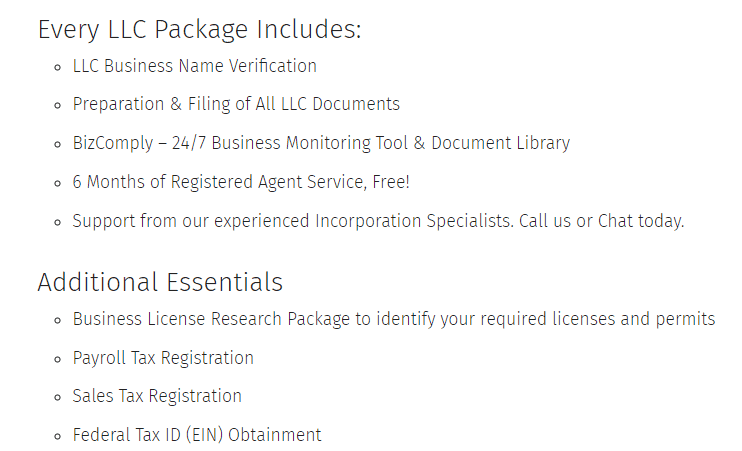 EIN Number
BizFilings will obtain an Employer Identification Number (also called an EIN, Federal Employer ID number, or Federal Tax ID) for your LLC for $79. This service is only included free with the Complete Package. $79 is about average for what business filings companies charge to obtain an EIN for you.
We don't think this is worth it, because you can get an EIN from the IRS for free in just 15 minutes.
LLC Kit
This $99 upsell includes a corporate seal, binder, membership certificates, ledger and sample documents (like meeting minutes). The LLC kit is included free with the Complete and Standard Packages.
You can DIY these business document templates, including membership certificates, at home for free. Download our free LLC Membership Certificate template.
And if you want to order a business seal or other stationery items, we recommend Moo.com. You can design and fully customize everything you order from Moo.com, unlike the bundled items through BizFilings.
Certified Copy
BizFilings charges $39 to request a certified copy of your LLC formation document, plus you'll pay the state fee for the copies. The BizFilings fee is included in the Complete Package, but you still pay the state's fee.
However, you don't need certified copies at all. You can use the stamped and approved Articles of Organization that you get back from the state to open a business bank account or apply for a business license.
There are some states that require a certified copy of your formation documents in order to foreign qualify your LLC, but you can always request a copy yourself instead of paying $39 for BizFilings to do it for you.
Sales Tax Registration
If your state has a sales tax registration requirement, BizFilings will file the required forms. The service costs $199, plus any state fee.
A sales tax registration lets your business collect sales tax. BizFilings doesn't provide legal advice on whether your business needs to have this registration. You can file this registration yourself after your LLC is approved, so we definitely wouldn't pay $199 for it.
Payroll Tax Registration
If your state has a payroll tax registration requirement, and your business has employees, BizFilings can file these forms for your business. This service costs $199, just like the sales tax registration. And you can also file this registration yourself for free.
Business License Application
BizFilings' business license application package is one of their more useful upsells. For $99, they will figure out which business licenses and permits your business needs and they will help you apply for them.
Other Services
Business Plan. For $99, BizFilings's partner company (Palo Alto) will walk you through creating a business plan and financial forecasts for your business. This service is not offered by most of their competitors.
If you do not have experience creating a business plan or financial forecasts, this service may come in handy. Note that BizFilings does not offer legal advice or business advice, and this service is limited to using the software from the service provider. If you want a live consultation, you will pay extra.
Payroll Management. BizFilings also offers a payroll management service through one of their partner companies (ADP). You have to contact BizFilings for a quote if you want to order this service.
Compliance DVD. This DVD contains explanations of your LLC compliance obligations, and is included with the Complete Package. You can purchase the DVD for $39 otherwise. We can't imagine what would be on this DVD that is worth $39 when LLC University® has an extensive Knowledge Library available for free.
Vague Language and User Experience
BizFilings does not offer much insight into their processing or operations on their website. We also don't like their policy of charging different fees for LLC formation services in different states.

BizFilings offers an excellent user experience. They walk you through the order process step by step. The actual formation process is well-designed and has explanations of each item. The interface isn't especially modern or aesthetically pleasing, but it works well.
Customer Service
One of BizFilings' strongest areas is customer service. BizFilings offers customer support through both phone and chat on their website. Unlike many competitors, their chat customer service is actually useful. We tried it out, and we received polite and informative answers to all of our questions.
BizFilings' phone-based customer service is also excellent. The rep we spoke to was very friendly and knowledgeable. She checked for understanding before continuing her explanations, and thoroughly discussed the 3 package options without making a sales pitch.
Both customer support representatives answered our questions thoroughly and skillfully. They also did not try any pushy sales tactics, which is a common problem with LLC formation services companies.
Registered Agent Service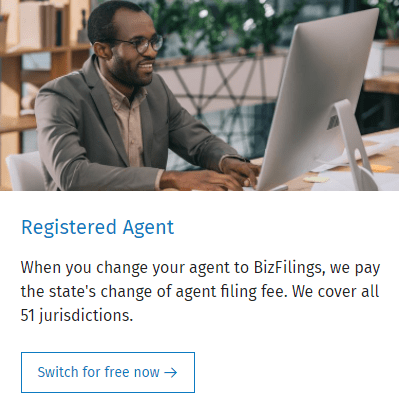 Price
All of BizFilings' packages include 6 months of free Registered Agent service. If you want to continue Registered Agent service with BizFilings after the first six months, you have to pay $164 per year.
This is far higher than the industry average of around $100 per year. And most other LLC formation companies offer 12 free months of Registered Agent service when you hire them to form your LLC.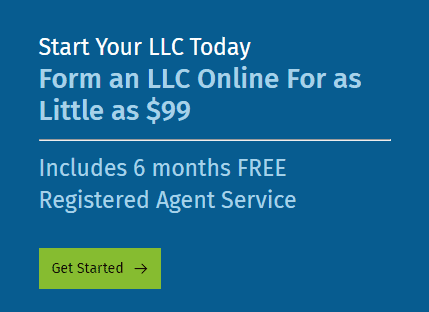 Mail Forwarding
If you hire them as your Registered Agent, BizFilings offers you the option of receiving your forwarded legal documents in the mail or by email. This means you can choose to have them emailed so you get the notifications quickly, but you can also have important things mailed (like Service of Process or state notices).
Learn more: What's an LLC Registered Agent?
BizComply
BizFilings offers an online compliance management dashboard called BizComply that alerts you to state deadlines for your business. BizComply mentions business forms, but really they are just fillable copies of the forms you get from the state.
BizComply costs $75 per year, but it is automatically included for free when you purchase BizFilings' Registered Agent service. We suspect BizFilings' Registered Agent service is more expensive than average because of this add-on.
But we don't think BizComply is worth $75, since LLCs don't have many compliance requirements. You can just set a calendar reminder for your Annual Report, and work with your accountant to make sure your taxes are filed on time.
BizFilings Review Verdict: Are They a Good Choice for LLC Services & Registered Agent Services?
Our BizFilings review concluded that they are an okay choice for LLC formation services. They offer some of the best customer service in the industry, and their Basic Package is a good deal.
But the other packages are too expensive for the value, and their upsells are also over-priced in our opinion. Other drawbacks of choosing BizFilings include unclear turnaround times, and the unpredictable fees depending on which state you choose to form your LLC.
We would not recommend choosing BizFilings for Registered Agent service, as their prices are well above the industry average and they don't offer any extra features like using their address to protect your privacy.