Corpnet is a small family owned company that advertises personalized service for their business formation customers. They specialize in LLC formations and Registered Agent services, instead of competitors that spread their focus across lots of document filing services. The company was established in 1997 and has helped form hundreds of thousands of businesses.
LLC Formation Services
Price Points
Like most other business formation services sites, Corpnet offers three levels of business entity formation service packages: Basic, Deluxe and Complete. Each of these offers LLC formation service as well as other extras.
Basic Package
The Basic package is priced at $79 plus state fees. This is slightly higher than the average price of competitors' entry-level packages. The most important service included in the Basic package is the preparation and filing of your business' articles of organization.
Also included in this package is a compliance alert service and 60 days of Corpnet Registered Agent service. Most competitors, even those with cheaper entry-level packages, include one free year of Registered Agent service.
Deluxe Package
The Deluxe package is Corpnet's intermediate LLC formation service package, and costs $199 plus state fees. The Deluxe package includes everything in the Basic package, as well as several additional services.
For $199, Corpnet gives you:
expedited processing, where they process your documents and send them to the state within 24 hours of your order
a printed copy of your Articles of Organization (instead of just a scanned version)
one year of free Registered Agent service
an EIN for your LLC
We don't think the Deluxe package is a good value. Other LLC formation services offer the free year of Registered Agent service and a physical copy of the Articles of Organization in their basic packages. And you can easily get an EIN for an LLC yourself in just a few minutes – and an EIN is free from the IRS.
Complete Package
Corpnet's Complete package is their premium option, priced at $249 plus state fees. This is about average for premium LLC formation packages. In addition to the services included in the Basic and Deluxe packages, the Complete package also includes a customized Operating Agreement and a corporate kit (a customized binder and corporate seal).
This definitely isn't worth the big price tag. You can make a customized LLC Operating Agreement at home with our free template. Plus, most competitors include an Operating Agreement in their cheapest packages, not just their most expensive.
And nothing in the corporate kit is needed to start your business, it's just fancy extra materials. If you want to order a business seal or other stationery items, we recommend Moo.com. You can design and fully customize everything you order from Moo.com, unlike the bundled items through Corpnet.
Turnaround Time
Corpnet offers processing in 24 hours if you select their Deluxe or Complete packages. This is in line with the expedited processing options offered by competitors. They don't specify an exact turnaround time for customers who select their Basic package. However, other Corpnet reviews from customers suggest that it is two or three business days.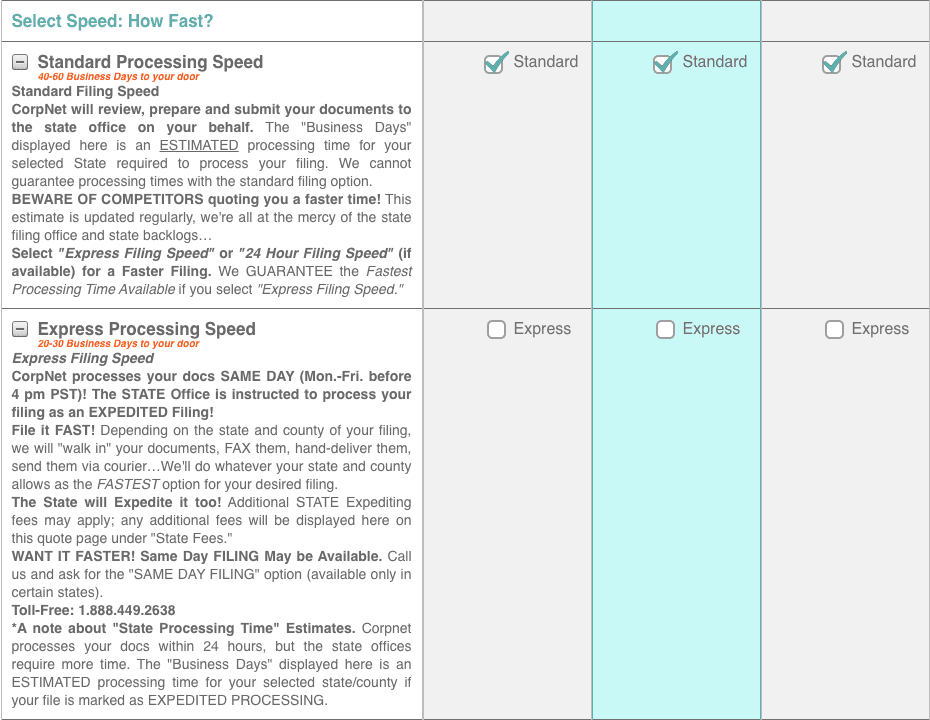 Keep in mind that these turnaround times reflect how long it will take Corpnet to process your LLC formation order and submit the necessary documents to the state. Once these documents have been submitted to your state, you will have to wait anywhere from a few days to a few weeks for them to be approved and your business to officially be formed.
For more information, check out How long does it take to get an LLC?
Upsells and Service Fees
As with most LLC services companies, Corpnet has numerous optional services that they try to entice their customers to buy. Many of these upsells are not included in the Basic package, but are included in the Deluxe or Complete packages. Corpnet doesn't bombard you with pop-ups like some competitors. Instead, you simply select the additional services you want in the initial order screen: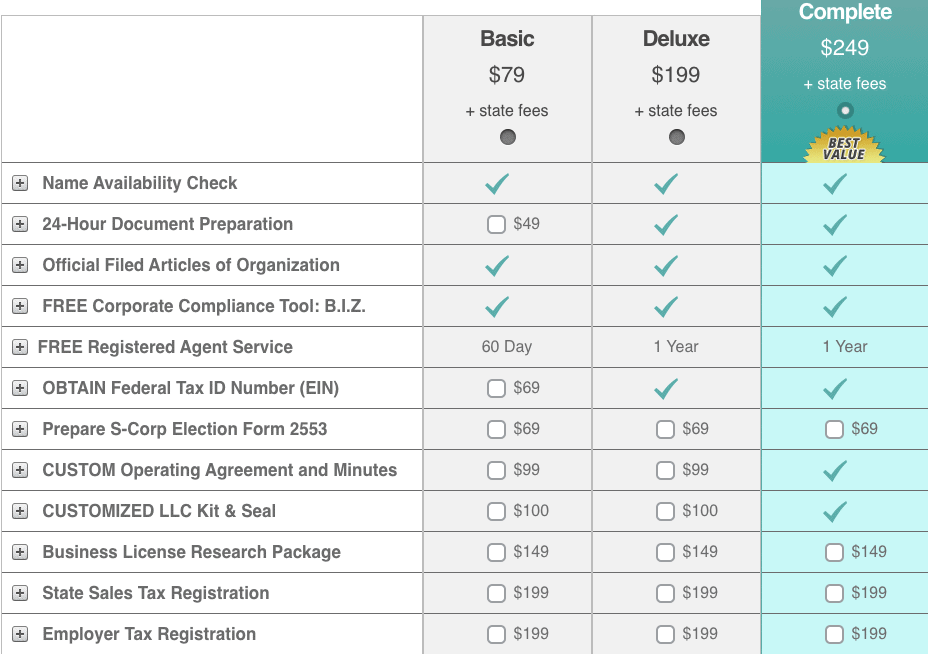 Some of Corpnet's upsells include:
Sales tax registration: A sales tax registration is necessary if you are going to sell goods directly to your customers. Corpnet's price of $199 is about average for the industry, and the process for sales tax varies widely between states. So it might be a good idea to hire a professional company like Corpnet to handle this for you.
Foreign qualification: This $199 service is necessary if you want to conduct business in a state other than the one your business was registered in. The price is about average for the industry.
Amendment: For $149, Corpnet will prepare and file amendments to your LLC's articles of organization. This service is overpriced, as most competitors will charge you around $100.
Business license search: Corpnet will help you determine what licenses your business may need for $149. The industry standard pricing is around $100, so this service is a bit overpriced. Licenses are important for keeping your business in good standing, so we recommend letting a professional help you.
Payroll tax registration: Corpnet will help your business register to pay payroll tax for $199. This price is about average, though you only need this service if your LLC has employees.
S-Corp tax filing: If you want your LLC to be taxed like an S-Corp, this $99 service is for you. The industry standard rate is around $50, so this service is overpriced.
Doing Business As (DBA) name: For $79, Corpnet will help your business obtain a license to operate under a fictitious name. This service is a good value, as most competitors will charge you around $100. Make sure you think carefully about whether you need a DBA for your LLC before purchasing this.
Trademark search and registration: Corpnet will help you register your business' trademark for $299. This is slightly overpriced, as most competitors will charge around $200. But it's definitely worth having a professional help you with this complicated process.
EIN filing: For $69, Corpnet will help your business obtain an EIN. This price is in line with the industry average, but you can easily get an EIN for your LLC yourself for free.
Operating agreement: Corpnet will provide you with a customized operating agreement for $99. The industry average is around $50, but you can download our free LLC Operating Agreement template and just do it yourself.
Annual report: Corpnet will file your business' annual report for $89. This is slightly lower than the industry average of around $100 for this service. But keep in mind this is an easy form to file on your own: LLC Annual Report Requirements.
Clear Language
Corpnet uses clear and easy to understand language on their website. They describe all the services they offer thoroughly. Also, they clearly list all of their prices. We had no complaints whatsoever with the language used in Corpnet's formation process or in other parts of the website.
Customer Service
We had a less than positive experience when we tried out Corpnet's customer service for ourselves. Note that Corpnet only offers phone-based customer support, and don't offer email or chat support like their competitors.
It took us five tries over a three-day period to finally get through to a customer service rep at Corpnet. The rep we finally spoke to was friendly, and provided us with basic information about their services. However, they seemed unsure about the answers to some of our questions. Also, they didn't take the time to explain their services thoroughly or offer any extra insight or advice.
If we were trying to start an LLC, we would have chosen a different service by the time we finally got in touch with a Corpnet employee.
User Experience
Corpnet offers a positive user experience. Their website is straightforward and easy to navigate. Their order process is quick and simple. Some competitors may have fancier design or slicker web interfaces, but Corpnet's site gets the job done.
Additional Services & Features
Corpnet doesn't offer many services that aren't directly related to forming a business. This isn't necessarily a bad thing, as these services are generally provided by third parties and are often overpriced.
One extra feature Corpnet offers is a couple of free business guides. These ebooks are full of tips and resources for new entrepreneurs.
Registered Agent Service
Corpnet offers Registered Agent services through their partner company, Registered Agents, Inc. They are a reputable company with good customer reviews. But it does mean that you will have to sign an agreement with Registered Agents, Inc., since they're a different company than Corpnet.
Price
For $149 per year, Registered Agents Inc. will accept legal mail and government mail sent to your LLC. This is higher than the industry average for a Registered Agent service of around $120 per year, but it's lower than the price for hiring Registered Agents Inc. directly (instead of through Corpnet).
Mail Forwarding
Like most modern Registered Agent services, Registered Agents, Inc. will scan your mail and upload a digital version to the online dashboard. You will get an email notification when a new piece of mail is available.
Should you form an LLC with Corpnet?
We didn't find anything particularly troubling or problematic about Corpnet. But, on the other hand, nothing about their service really stood out to us. The Basic package isn't a good value because it doesn't include the same business formation services offered by competitors in their cheapest LLC formation package. And the other packages have high service fees that aren't justified by the extras included.
While Corpnet does offer a long list of extra services that you can add to your LLC formation order, lots of those things can be done for free at home. And we don't like that they use a different company as their Registered Agent service, which means you have to sign another service agreement. Our biggest worry about Corpnet was how difficult it was to get a hold of their customer service representatives.