MyCompanyWorks is a business services company that specializes in business formation services and Registered Agent services. MyCompanyWorks was formed in 2001, and they have since helped form over 60,000 businesses.
MyCompanyWorks offers LLC formation services and several related small business services to help a new business owner with taxes, licenses and other tasks. Our MyCompanyWorks review will look at their pricing, additional services, and customer support.
Business Formation Services
Price Points
Most LLC services companies offer three service packages at entry-level, intermediate, and premium price points. MyCompanyWorks is no exception: they offer Basic, Entrepreneur, and Complete packages. As with other companies, MyCompanyWorks' package prices are in addition to the state filing fee.
Basic LLC Package
As the name suggests, the Basic package is MyCompanyWorks' most affordable offering. It costs $59 plus state fees. This is a pretty affordable price when compared to the entry level packages offered by competing LLC formation services.
However, MyCompanyWorks' Basic Package includes more than most entry-level packages. In addition to completing and filing the paperwork to form an LLC, the Basic Package also includes a personalized LLC Operating Agreement and same-day processing by MyCompanyWorks.
All of MyCompanyWorks' LLC formation packages include help checking your business name availability, a meeting minutes template, and a banking resolution (a document to help open a business bank account).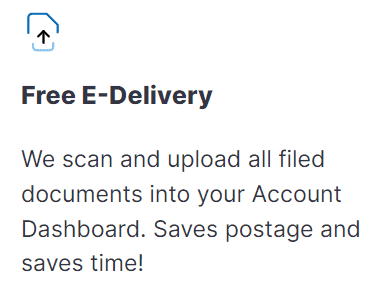 Plus, MyCompanyWorks offers electronic delivery of your LLC documents. Some competitors include expensive shipping fees that can't be waived, so using MyCompanyWorks instead can save you money. They also offer various shipping options if you prefer to have the paper copy of your approved LLC documents mailed to you.
Entrepreneur LLC Package
MyCompanyWorks' intermediate package is its Entrepreneur Package. This package costs $199 plus state fees and includes everything in the Basic Package.
The Entrepreneur Package also includes access to MyCompanyForms, which is a collection of legal document templates. If you purchase the Entrepreneur Package, MyCompanyWorks will also include a free year of Registered Agent service (which costs $99 per year otherwise), and obtain your LLC's Federal Tax ID number (EIN number).
The $199 price is a good deal, because you're getting a $266 value:
Basic Package ($59)
MyCompanyForms ($49)
one year of Registered Agent service ($99)
the EIN number service ($59)
Complete LLC Package
MyCompanyWorks' LLC premium offering is its Complete Package. The Complete Package is priced at $279 plus state fees. This comes with all the products and services in the Basic and Entrepreneur Packages. The only additional item you get with the Complete Package is one free year of their subscription service, MyCompanyWorks Premium (which costs $99 per year otherwise).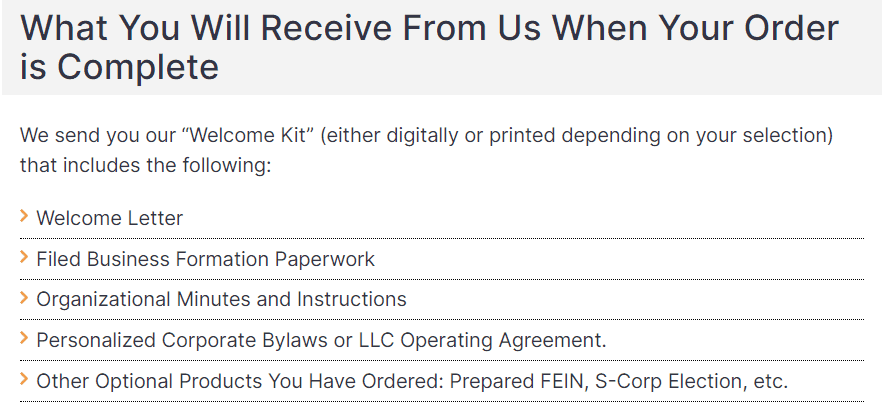 If you were already going to purchase the Entrepreneur Package and were interested in MyCompanyWorks Premium, this is a good deal because you only pay $80 for the first year of Premium instead of $99. If you don't want the extra features of Premium, there's no need to pay for this Package.
Turnaround Times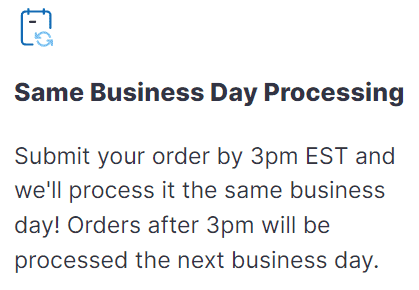 MyCompanyWorks offers some of the fastest turnaround times in the industry. All of its packages include standard same-day filing. If you submit your filing early in the day, they will process it and send it to the state that same day. If you submit your filing in the evening, MyCompanyWorks will file your documents with the state the next day.
Some competitors don't offer same-day filing at all, while those that do generally charge an additional $50 or more. MyCompanyWorks doesn't charge anything extra for their fast service.
Like their competitors, MyCompanyWorks also offers expedited filings options where you can pay extra for the state to approve your documents faster. If forming your business as quickly as possible is your priority, MyCompanyWorks may be a good choice.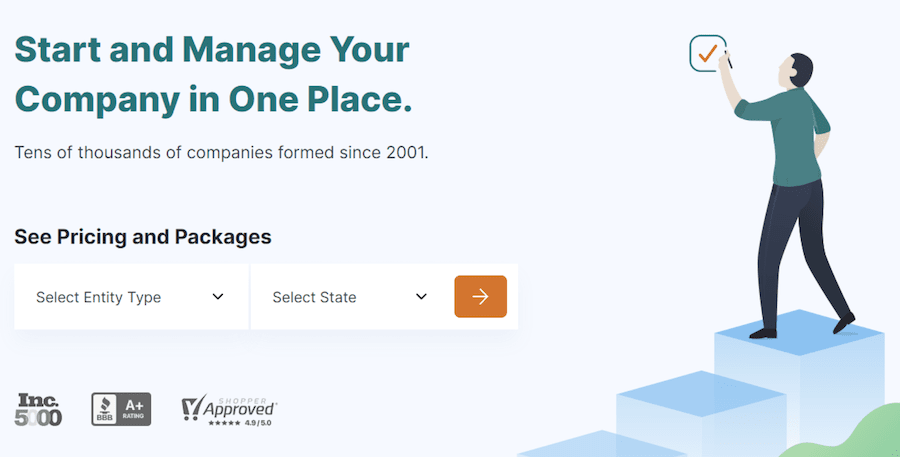 Upsells
Nearly all LLC services companies offer optional services at an additional cost, including MyCompanyWorks. They do feature these upsells prominently, including displaying them during the order process. However, they are not overly pushy and make it simple to decline these offers.
If you select the Basic Package, MyCompanyWorks offers their EIN service, business forms library, and Registered Agent service as upsells. These features are included in the Entrepreneur and Complete packages already.
Corporate Kit
MyCompanyWorks offers an LLC Kit that contains a corporate seal, binder and slipcase, and member certificates. The kit is a $69 add-on to any package.
However, you can make membership certificates for your LLC at home: Download our free LLC Membership Certificate template.
And if you want to order a business seal or other stationery items, we recommend Moo.com. You can design and fully customize everything you order from Moo.com, unlike the bundled items through MyCompanyWorks.
Business License Compliance Package
MyCompanyWorks offers users a business license compliance package through Business Licenses LLC. You will pay $99 to use the online wizard, which generates a report of what licenses your business may need.
However, the online wizard may not be as thorough as the personalized service offered by some competitors. Business Licenses LLC does offer this type of service, but it costs more.
The $99 package price only covers one business location. So if you operate in more than one city, county, or state, you will have to pay for an additional business license compliance package for each location.
MyCompanyWorks Premium
MyCompanyWorks also offers a subscription service called MyCompanyWorks Premium. This subscription costs $99 per year.
MyCompanyWorks Premium includes:
a managed Annual Report service
compliance monitoring
templates for meeting minutes and resolutions
a library of business and tax forms
5GB of cloud storage for your business forms
a digital ledger
certificates of ownership
You will still have to pay the state fee for the Annual Report, but this is a pretty complete bundle of services for the price. Many competitors charge $99 per year just for the Annual Report service, so you're getting much more for your money with MyCompanyWorks.
User-Friendly Language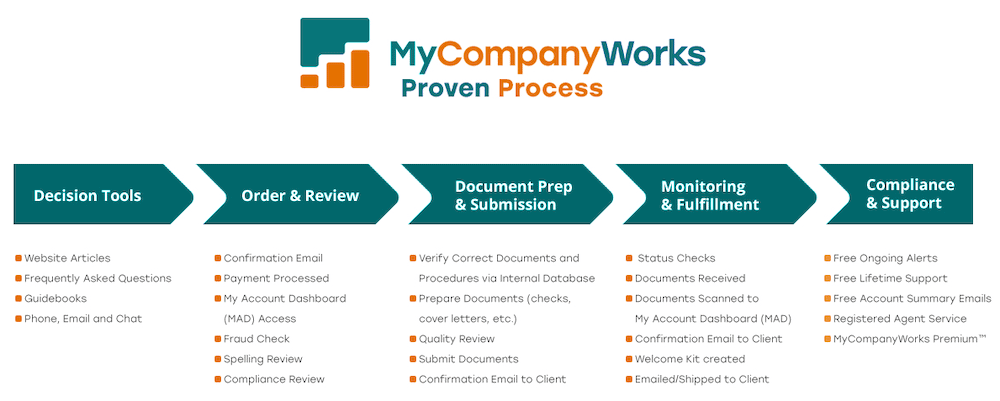 MyCompanyWorks uses clear, easy to understand language throughout its website. All of their services are explained thoroughly. It is easy to find prices for everything. Also, MyCompanyWorks' terms of service are fairly straightforward.
We didn't have any complaints or issues with the language used in MyCompanyWorks' website copy or in their formation process.
Customer Service
MyCompanyWorks offers good customer support. They offer both phone support and chat support, which makes them more accessible than competitors that only offer phone support. MyCompanyWorks customer support is available from 6am – 4pm PST. We tried out both customer support methods ourselves.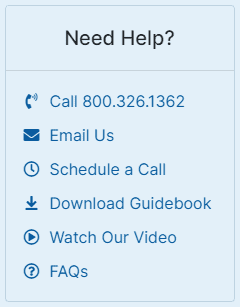 The chat support rep we spoke to wasn't overly friendly. They got our basic questions right, but provided unclear or incorrect info in response to some of our follow-up questions.
The support rep we spoke to over the phone was better. She was much more helpful, giving us useful advice and explaining things thoroughly. The rep described how MyCompanyWorks will make sure you only purchase filing products you need. They also make a point to be proactive in reviewing what you submit for filing, so you don't have to waste time fixing something that gets rejected by the state.
Customer Reviews
MyCompanyWorks generally gets excellent customer reviews and 4 or 5-star ratings on Google and other review aggregators like ShopperApproved. They have been BBB accredited since 2004 with an A+ ranking and a 4.2 star customer feedback rating.
Online customer reviews praise MyCompanyWorks for their easy to use, yet comprehensive online process. Customers also love the quick turnaround and affordable prices.
MyCompanyWorks Satisfaction Guarantee

We like that MyCompanyWorks' guarantee is simple and straightforward. They can't refund fees they already paid to a third party (like the Secretary of State), but they don't make you jump through a lot of hoops to request a refund of their service fees if you're unsatisfied. Customer reviews on the internet back this up – MyCompanyWorks has refunded several customers who had issues after their filing.
User Experience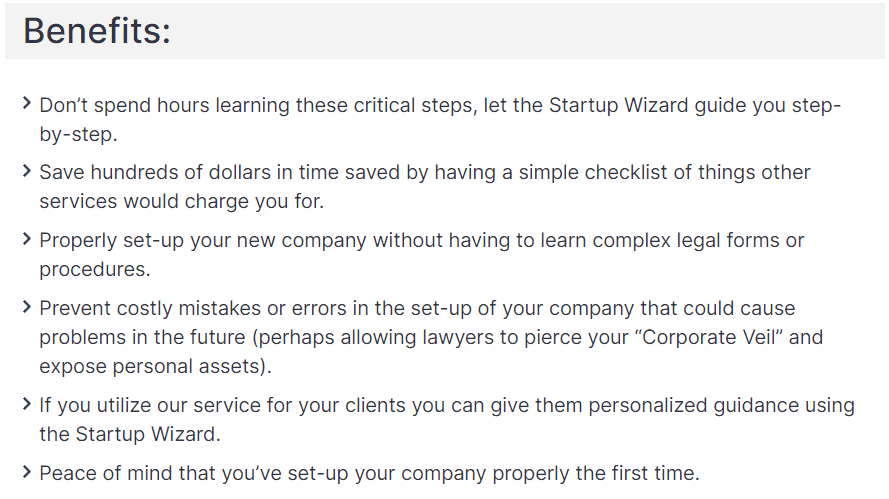 MyCompanyWorks has an informative and easy to navigate website. Their order process is not as sophisticated in design as some competitors, but it is very simple and straightforward. There are no confusing questions or misleading information.
Our MyCompanyWorks review consistently found that MyCompanyWorks offers better free explainers and resources to users than their competitors. We specifically liked that MyCompanyWorks offers clear instructions and explanations for non-US residents looking to form an LLC or corporation.
Additional Services & Features
MyCompanyWorks does offer several additional services and features that are not directly related to forming an LLC.
DBA (Fictitious Name)
MyCompanyWorks is our preferred filing company for DBAs. A DBA ("Doing Business As", or a "Fictitious Name") is just a nickname for your business. Some Sole Proprietorships operate with a DBA and no formal business entity. However, entities like LLCs or corporations may want to use a DBA for branding or other reasons.
We like that MyCompanyWorks explains the pros and cons of DBAs. Once you decide to file a DBA, they have a simple, easy to understand process and can file at the state or county level (depending on your business location).
A DBA filing with MyCompanyWorks costs $99, plus the state fee. There is only one upsell during this process where they offer to obtain an EIN for your business.
Some states require business names, including DBAs, to be distinguishable on the records. Unlike their competitors, MyCompanyWorks does a preliminary check for whether the state will accept your DBA filing before they send it. Other companies go ahead and file it, wait for it to be rejected, and then ask you for alternate names.
MyCompanyWorks offers the same quick turnaround time on DBA filings as they do on LLC formation, so you can save time and money.
Business Funding
MyCompanyWorks partners with another company to offer a business funding consultation. They will help you set up a business bank account and suggest some loans or other funding sources for your business. You can choose one of MyCompanyWorks' partners for your business bank account, but make sure to do some research yourself.
Web Hosting
Most businesses today need a good website, and MyCompanyWorks partners with a company that can help you with web hosting. Start by learning about how to get a business domain name, and assess what kind of website is best for your business.
Free Business Tax Consultation
MyCompanyWorks provides a thorough and useful Business Tax Guide on their website. But they don't advise customers on business taxes.
Instead, MyCompanyWorks partners with a third-party service to offer a free business tax consultation. In our experience, these are usually thinly veiled sales pitches for you to hire the third-party service as your accountant.
We always recommend that you hire a qualified accountant to help you pay business taxes. If you need help, check out our page on how to find an accountant.
Business Forms
MyCompanyWorks offers a product called MyCompanyForms, which is a selection of business forms like tax guides, sample Meeting Minutes, and contract templates. They charge $39 to access the forms. This $39 is a one-time fee, not a monthly subscription like LegalZoom or Rocket Lawyer. If you purchase MyCompanyWorks Premium, MyCompanyForms is included.
Registered Agent Service

Price
For $99 per year, MyCompanyWorks will serve as your business' Registered Agent. This means that they will accept legal and government mail on your business' behalf. Compared to other Registered Agent services, $99 per year is about average.
You do get one year of free Registered Agent service if you purchase the Entrepreneur or Complete packages, but it will cost $99 per year after that.
Learn more: What's an LLC Registered Agent?
Mail Forwarding
One of the most important aspects of Registered Agent service is how the Registered Agent forwards your business' mail. MyCompanyWorks will scan any mail they receive and upload it to their dashboard so that you can check it out. If they receive any service of process mail (such as legal summons related to a lawsuit), they will FedEx it to you (at no extra charge) so you get it quickly.
Is MyCompanyWorks a Good Choice for LLC Services & Registered Agent Services?
In conclusion, MyCompanyWorks is a good choice for LLC formation services, especially if you're looking to get a DBA.
Their Basic Package gives you more value than the entry-level packages offered by most competitors, even though it costs about the same. MyCompanyWorks also has very quick turnaround times, which is one of the things that many entrepreneurs look for when choosing an LLC services company.
MyCompanyWorks' Registered Agent services are very similar to those offered by competitors. So all things considered, MyCompanyWorks offers a lot of extra features for free and has some quality additional services.