IncFile is a business formation company and legal services company that also offers Registered Agent services. It was founded in 2004 in Houston, Texas. And it has helped entrepreneurs launch over 500,000 business entities since.
In addition to LLC formation and Registered Agent services, IncFile also offers accounting and compliance services (including filing Annual Reports for your business entity). However, our IncFile review will focus on the company's Registered Agent and LLC formation services.
LLC Services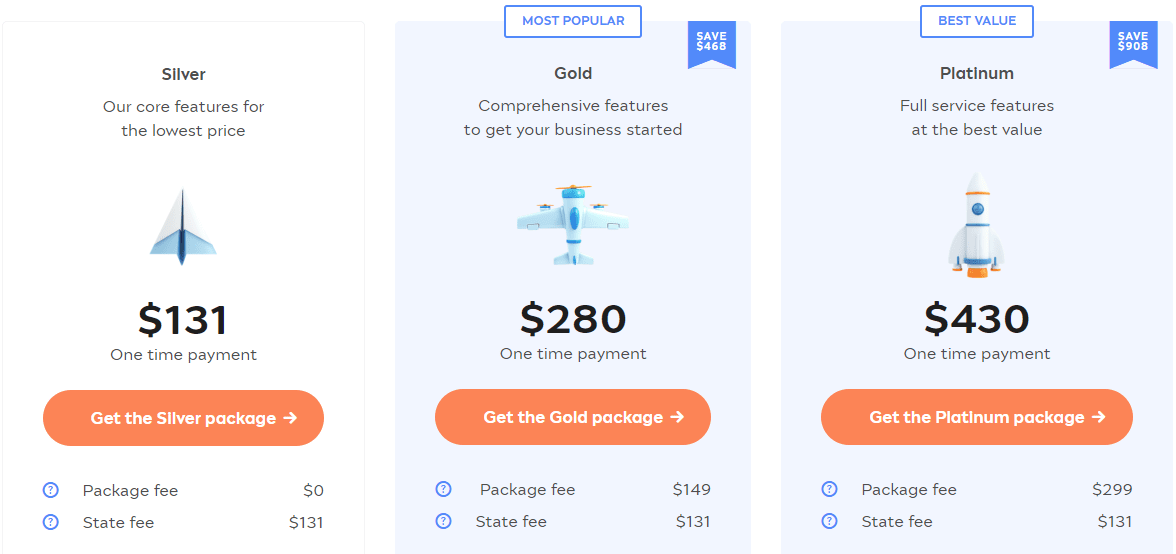 Price Points
Like most business formation companies, IncFile offers several LLC formation packages at different price points. Their packages include:
Silver package ($0)
Gold package ($149)
Platinum package ($299)
Warning! If you don't live or do business in the state where IncFile forms your LLC, you'll need to register your LLC as a Foreign LLC in your home state. This means you need to maintain two LLC filings, pay two state filing fees, and maintain two Registered Agents. Please see Best state to form an LLC to make sure you're forming an LLC in the right state.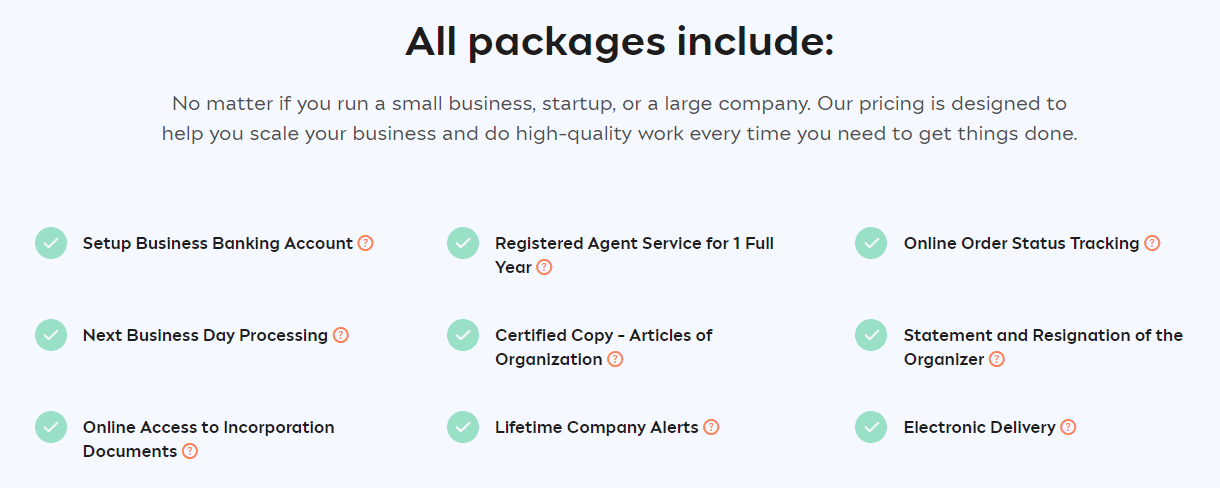 Silver Package
The Silver package is aimed at entrepreneurs looking to form a business entity on a tight budget. While this business formation package is free, it is also very limited. The Silver package offers a free name search and free LLC formation service in your state. And the Silver package does include a year of free Registered Agent service, making it a really good deal.
IncFile's Registered Agent service costs $119 per year, so getting a year of free service is a huge bonus. Out of the few competitors that offer a free bare-bones package to form an LLC, only IncFile includes a free year of Registered Agent service.
The Silver package does not include an Operating Agreement, or any of the other business operations extras included in the Silver and Gold packages.

Note that you will still have to pay the state filing fees with the Silver package. The $0 (free) price just means you don't have to pay IncFile a service fee.
Gold Package
The Gold package is IncFile's middle-of-the-road offering. It costs $149 to form an LLC (plus state fees) and the Gold package includes everything in the Silver package, plus several additions.
The Gold package includes these items:
Operating Agreement: An LLC Operating Agreement is vital to establishing your business as a separate legal entity, and ensuring your LLC operates in an organized manner. But you can create your own Operating Agreement for free using our LLC University® Operating Agreement templates.
EIN Number: You can request an Employer Identification Number (EIN number) from the IRS online for free. Learn more about getting an EIN for an LLC.
Banking Resolution: You don't need a banking resolution to open an LLC bank account. Basically, this document replaces the Operating Agreement to tell the bank that you're allowed to open the business bank account. You could just create an LLC Membership Certificate at home for free: LLC Membership Certificate template.
Compliance Alerts: This is a service that sends you an email notification when a state filing (like your LLC Annual Report) is due. You could set the same reminders on your calendar.
Unlimited Phone and Email Support: We think you should be able to contact your LLC formation company for help no matter what package you purchase.
Financial Consultation: IncFile's Gold package does offer the additional bonus of an advisor who will (during a single consultation meeting) help you set up a business bank account and discuss tax information. This information may be limited to offers from their partner financial institutions, and IncFile doesn't disclose who those banks are.
The business tax consultation that IncFile offers is outsourced to a third party. Some customers report that this tax consultation feels more like a sales presentation for the tax firm's paid services.
IncFile does not provide legal or tax advice, and they are not certified accountants.
Platinum Package
The Platinum package is priced at $299, plus state fees. It includes everything in the Silver and Gold business formation packages, plus a few extra services.
These extras include business contract templates, expedited filing of your state LLC formation documents, and a domain name with a business email.
If you need business contract templates specific to your LLC, you should hire a business attorney rather than using generic templates.
IncFile is one of several business formation companies that offer to help you start a business website. LLC University® has a guide to getting the best business domain name.
However, getting a domain name and business website email is just the first step – IncFile's Platinum package doesn't include business website creation or hosting, so you will have to work on those yourself.
We don't believe that the additional services included in the Platinum package justify the high price to form an LLC.
Turnaround Time
One of the biggest benefits of going with IncFile is the quick turnaround times. IncFile claims that your documents will be submitted to your state within one business day.
Some competitors take up to a week to send your documents to the state and form your LLC. And many competitors only send your filing the next day if you pay a fee for expedited processing. IncFile's fast processing turnaround doesn't cost anything extra.
Customer reviews of IncFile consistently complain of long turnaround times and delays in processing other services.
If you want your LLC approved faster, IncFile will help you order expedited processing from your state. You will pay an extra fee to IncFile, as well as the state's expedited fee (if your state offers the service).
However, exactly how long it takes your state to process your documents may vary. Check out our state-specific How Long Does it Take to Form an LLC? pages for more details.
Upsells
IncFile offers several upsells. IncFile promotes these optional services at various points throughout the order process. However, they are not overly pushy with these promotions.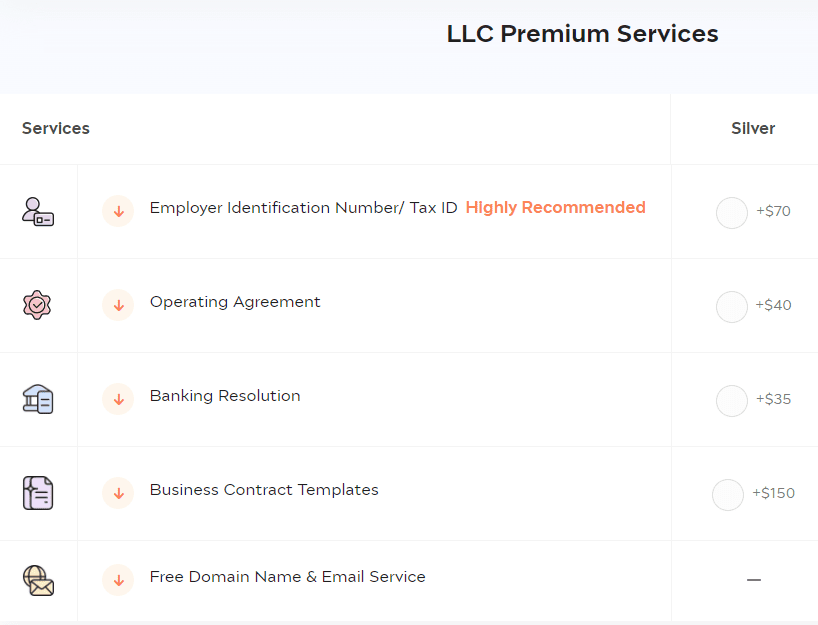 Many business formation services are very pushy and offer upsells over and over throughout the order process, or make them deceptively hard to avoid. IncFile doesn't do this.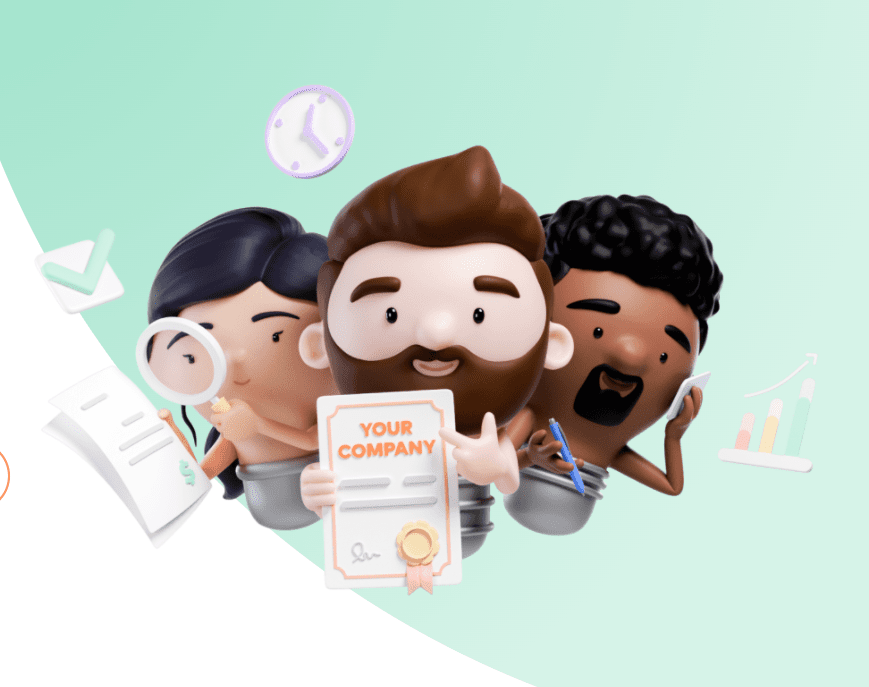 Annual Report Filing
One of the more useful upsells offered by IncFile is its Annual Report filing service. For $99 per year, IncFile will prepare and file your LLC Annual Report for you.
This ensures that your Annual Report is completed correctly, but also that it is filed on time. Not filing on time can lead to stiff fines and administrative consequences. IncFile will notify you when your Annual Report is accepted for peace of mind.
Business License Search
Another useful upsell offered by IncFile is a business license search. IncFile charges $99 for this service. They will research your state's applicable laws and figure out which licenses and permits your business may need in order to operate.
Failure to obtain the required licenses can result in fines or your business being shut down. Many competitors offer this service, but they usually charge more than $99. This makes IncFile's business license search a good value.
DBA (Fictitious Name)
IncFile will help you file a DBA ("Doing Business As") business name with your state for $99. This is roughly what competitors charge. However, you may be able to complete this paperwork yourself. And don't forget that a DBA isn't required. Read more: Do I need a DBA for my LLC?
Trademark
IncFile will help you trademark one piece of your business' IP (such as its logo or name) for $199. This is more expensive than many companies that specialize in trademark applications, so you're better off going with one of those firms.
Accounting & Bookkeeping
IncFile offers business accounting and bookkeeping services. The price for these services varies based on what your business needs.
However, you should know that IncFile contracts these services out to a partner company. You'd be better off choosing a company that you'll actually be working with for your business' accounting needs. If you need help, check out our How to Find an Accountant guide.
Dissolution
Finally, IncFile also offers dissolutions. They charge $149 for this service. If you are shutting your business down, IncFile will complete the relevant paperwork and file it with your state.
Does IncFile offer legal advice?
No, IncFile doesn't offer legal services or tax advice. They offer some specific legal document templates you can purchase and download (like an Operating Agreement, or business contracts) but IncFile doesn't give you legal advice on how to use those forms.
The only legal services IncFile offers is business formation, and filing documents associated with business operations.
Misleading Language
One of the areas in which IncFile falls short is the language used on its website.
The language used in the wording of its cancellation and refund policies is especially misleading. While IncFile will issue refunds, they will only do so if you request one before IncFile has filed the paperwork with the state (within 24 hours of placing your order, basically). They will also charge you a $30 cancellation fee.
Also, IncFile doesn't clearly state which partner companies they work with for things like accounting services. When they advertise helping you open a business bank account, they do not specify which bank it will be with.
Customer Service
IncFile claims to have stellar customer service, though they have mixed customer reviews online. We found IncFile's customer support to be middle of the road. For one, they do not offer chat support. They only offer email and phone support.
IncFile's email customer support is only accessible from a generic contact form on their website. Many customers report that it can take several days for an email to be answered.
Phone Support
We called IncFile twice to check out their phone-based customer support. The first rep we spoke to was nice enough, but didn't seem very knowledgeable. They were honest about IncFile's fees, however.
The second rep we spoke to was polite and more knowledgeable. While this customer support rep was helpful, they didn't really go the extra mile to provide any advice or insight and we had to ask follow up questions to get the information we wanted.
We had to wait on hold for a long time during both of our calls.
Hate calling customer support? Hire Northwest instead. They have great prices ($39 + state fee) and they do things right the first time, so you don't even have to experience their award-winning customer support. ;)
(Read our Northwest Registered Agent review to see why we're confident that you're in good hands.)
Customer Reviews
Although IncFile is not accredited by the Better Business Bureau, they have 4.49 out of 5 stars for their BBB customer satisfaction rating. Positive customer reviews praise IncFile for quick turnarounds and helpful customer support.
On the other hand, Trustpilot gave them a rating of 2.2 out of 5 stars. Recurring issues include long delays in getting an EIN, inability to help non-US residents obtain a business bank account or EIN, and IncFile giving inconsistent (or incorrect) information about virtual mail boxes and other PO box alternatives.
One concerning thing we saw in reviews was clerical mistakes – filing things without spaces in the names, and publishing the wrong address (home address vs. business address).
User Experience
IncFile offers one of the best user experiences in the industry. Their order process is simple and streamlined, allowing you to complete a business formation service order in 15 minutes or less. They also update the cost of your order throughout the order process, allowing you to easily track how much you will pay for your services.
IncFile even offers an excellent user experience after you place your order. Their dashboard is well-organized and easy to understand. This makes it simple for you to stay up-to-date on your business's status.
Registered Agent Services
Price
As previously mentioned, IncFile offers Registered Agent services in addition to LLC formation services. This means that they will receive legal documents for your business and forward them to you.
Learn more: What's an LLC Registered Agent?
A free year of Registered Agent service is included in each of their service packages. After this year is up, their Registered Agent service auto-renews at a price of $119 per year. This is around the average for the industry.
You could work with Northwest instead.
Northwest Registered Agent is our #1 recommendation for LLC formation. They'll take care of everything for $39 + state fees, and you'll get your first year of Registered Agent service for free.
(See why Northwest is #1 in our Northwest Registered Agent review)
Mail Forwarding
Most Registered Agent services these days will send you a digital copy of any legal documents they receive on your behalf instead of sending you the hard copies. IncFile is no different. They will scan your business' documents and upload them to your dashboard. When a new document is uploaded to your dashboard, you will receive an email notification.
Is IncFile a Good Choice for LLC Services & Registered Agent Services?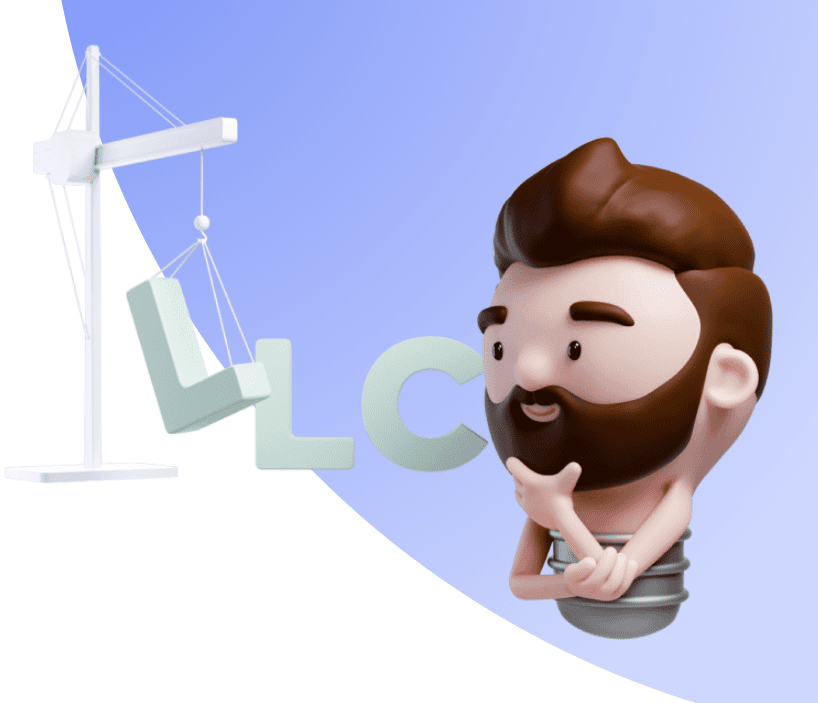 Overall, IncFile is a decent choice for Registered Agent and business formation services. In fact, their basic Silver plan is one of the best values in the industry because it comes with a free year of Registered Agent service and you don't pay IncFile any service fees (unless you purchase additional products).
So if you want to save time by having a company form your LLC, IncFile is a good, cheap option. However, IncFile's customer service isn't the best and their refund policy is pretty strict.
We prefer Northwest Registered Agent, whose subject matter experts can answer any questions you have during the formation process. Their prices are low and you get a free year of Registered Agent service.