Are you deciding between IncFile and LegalZoom for forming your LLC? We know, it can be confusing. But don't worry! Read our helpful comparison guide below, to learn which company is the best for you.
LLC service providers all seem to offer the same services, but is price the only thing you should consider? We think user experience, including friendliness of website language and customer support, are really important too. That's why we tried out their websites to see what it's like to start your LLC with IncFile or LegalZoom, and we called their customer support teams multiple times to help you select the best company to form your LLC.
Is it better to use a big company like LegalZoom, or a specialized LLC formation service like IncFile? We compared IncFile vs LegalZoom on 10 different features of their business formation services.
Winner: IncFile is the clear winner over LegalZoom. With their low prices and straight-forward options, IncFile works better for small business owners starting a Limited Liability Company (LLC).
About IncFile

IncFile is an LLC formation company and Registered Agent service. They offer compliance services like LLC Annual Report filing, as well as other business filing services like DBAs and trademark applications.
Founded in 2004, IncFile has helped start over 500,000 businesses. Their business focuses on helping small business owners, and primarily offers features for people starting new businesses.
About LegalZoom

LegalZoom is an online legal technology company that offers a wide variety of legal services, including business formation services. According to their website, LegalZoom was founded in 1999 and has launched over 4 million businesses.
LegalZoom offers LLC formation packages that include various documents as well as other legal services like templates of legal documents and consultations with attorneys. While LegalZoom is a large company, they don't always get the best customer reviews.
LLC Formation Services: IncFile vs. LegalZoom
The Basic LLC Package: What do you get?
We compared the features offered in the basic LLC formation package at each company. What else do you get besides the actual Articles of Organization filing with the state?
IncFile
The basic package (called "Silver") includes a free name search, and one free year of Registered Agent service. Nothing else.
LegalZoom
The basic package (called "Basic") doesn't include the state filing fees. It also doesn't include a year of Registered Agent service; you will have to pay $249 for that.
Winner: IncFile
Why? The free year of Registered Agent service is a better value than what LegalZoom offers.
Pricing
IncFile
IncFile offers the Silver package for $0 (you only pay state filing fees), the Gold package for $149, and the Platinum package for $299.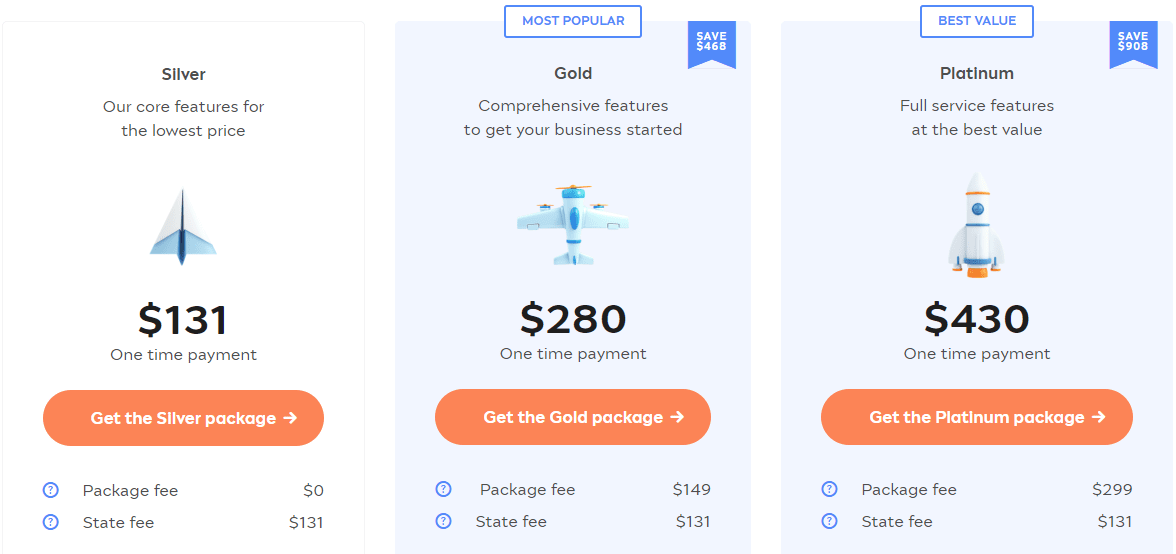 The Silver package is a great deal, since you get your LLC formed and a free year of Registered Agent service and don't have to pay any service fees. You only pay the state filing fee.
The Gold package is also pretty good value, since it includes a variety of extra features. We don't think the Platinum package is worth it. The only things you get with Platinum that you don't get with Gold are the contract templates and business website domain name.
LegalZoom
LegalZoom offers the Basic service for $0, the Pro package for $249, and the Premium package for $299.

The Basic package is an okay value for business formation, but we really can't justify the high prices for the Pro and Premium packages. Both get your LLC approved a little bit faster, and offer some extras. However, the extras aren't necessary to start your business, and you can get them cheaper with other companies – or you can do it yourself.
Winner: IncFile
Why? IncFile has cheaper prices, and offers better value for your money.
LLC Service Turnaround Time
IncFile
IncFile promises to file your documents with the state within one business day. That's one of the fastest times in the industry.
However… several customer reviews online say this claim isn't accurate and that IncFile took a long time to process their filings.
LegalZoom
Despite being a big company, LegalZoom doesn't offer very fast business formation turnaround time. Your documents will be filed within 1-2 weeks of purchasing LegalZoom's LLC service.
You can pay extra for expedited processing with the state.
Winner: IncFile
Why? IncFile has a faster turnaround time.
Upsells: Valuable Add-ons or Cost Fluffers?
IncFile
IncFile offers a variety of upsells that you can select for your new business. Some of them are easy to do yourself, but some business filings are better left to the professionals.
If you need these items, we think IncFile offers good value:
$99 Business License Search
$99 DBA (Fictitious Name) filing
$199 Trademark application filing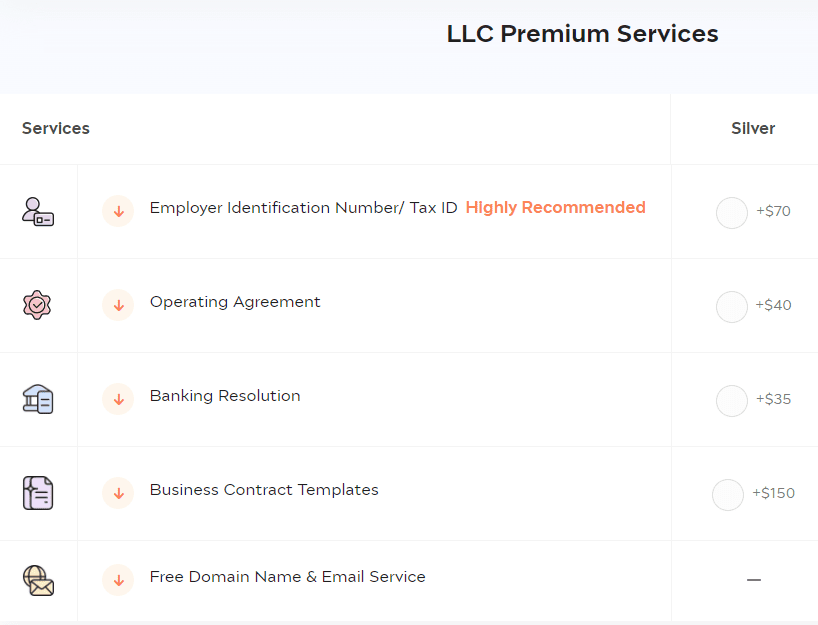 LegalZoom
LegalZoom offers a ton of upsells, but bundles them into packages. This means you end up paying more for the LLC service you want, plus some extras you may not need. We don't like that LegalZoom's upsells are intrusive and sometimes need to be declined more than once to make them go away.
You'll also be bombarded by offers for other subscriptions, like the Legal Protect Plan and Total Compliance package. Overall, LegalZoom has a lot of upsells during their business formation process and most of them aren't worth the cost.

Winner: IncFile
Why? IncFile's upsells are a better value and they aren't pushy.
Language: Misleading Information
IncFile
IncFile has some misleading language about their refund policy, and isn't clear which companies they work with to provide certain features. We like to know whether our information is being sold to other companies.
LegalZoom
LegalZoom's website has a lot of fancy language to make their services sound like you can't live without them. They hide a lot of important details about limitations of the services (in particular, the Legal Protect Plan has a lot of exclusions). And LegalZoom isn't clear about how the pricing really works on their packages.
Winner: This was a tie.
Why? Neither website did well on clarity and user-friendly language.
Customer Service: Accurate and Adequate
IncFile
IncFile offers phone support or customer service by email. When we spoke to customer support representatives, they were all helpful and honest. None really went the extra mile to give us advice or suggestions, but they did accurately answer our questions.
LegalZoom
LegalZoom offers customer support by phone or online chat. But if you're a new customer or just trying to get information, LegalZoom requires you to give them a lot of details about your business before they will even try to answer your questions.
We were disappointed to find that they were more interested in getting us to start the LLC formation process or to purchase online legal services, rather than helping us with our questions.
Winner: IncFile
Why? IncFile has better quality customer support than LegalZoom.
User Experience: A Streamlined Business Formation Process
IncFile
IncFile's user experience offers a simple, streamlined formation process that lets you get through the order quickly. We like that they show a 'live' price based on what add-ons you select.
After formation, IncFile's user dashboard is well-organized and easy to use when you need to order other filings or find documents.
LegalZoom
LegalZoom offers a sleek, modern website design. However, it sends you through a lot of different pages to get the information you need. Also, the LLC formation process uses confusing layouts that make it difficult to avoid the upsells.
Winner: IncFile
Why? IncFile wins for being simpler and more efficient.
IncFile vs LegalZoom: Registered Agent Services
Price Per Year
IncFile
IncFile charges $119 per year for Registered Agent services, which is about average for the industry. We like that IncFile includes a free year of Registered Agent service with any LLC formation package.
LegalZoom
LegalZoom charges $299 per year for Registered Agent service, which is one of the most expensive prices in the industry. In some states, LegalZoom discounts this price to $249 per year if you form your LLC with them. That's still very expensive compared to the competitors.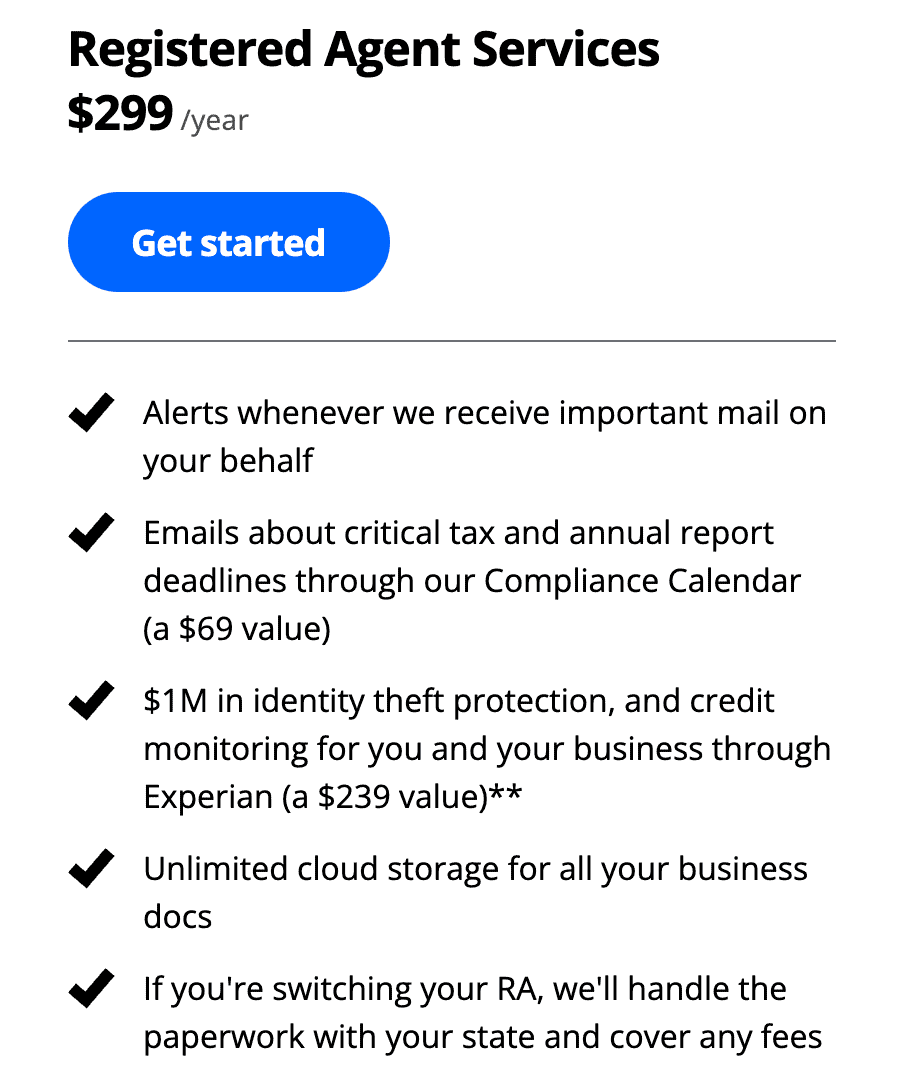 Winner: IncFile
Why? IncFile has a better Registered Agent price.
Mail Forwarding and Service of Process
IncFile
IncFile scans and uploads any legal mail they receive for your LLC. They send an email notification about any new document, which you can then access on your account dashboard.
LegalZoom
LegalZoom also scans and uploads legal mail sent to your LLC (including Service of Process). They also have an online dashboard where you can access your documents.
Winner: This was a tie.
Why? Both companies offer the same service.
IncFile vs LegalZoom: Who's the winner?
When you compare IncFile vs LegalZoom, IncFile is the clear winner.
Here's why:
IncFile has cheaper prices, much faster turnaround times, and they include a free year of Registered Agent service with their basic package. Unlike LegalZoom, IncFile doesn't have any tricky subscriptions for upsells and they aren't pushy.
While neither company's website has great language and they both have some misleading information, IncFile's site is simpler and more efficient. IncFile also has better customer support. Although it isn't amazing, they are still easier to reach than LegalZoom.
When it comes to Registered Agent services, IncFile matches LegalZoom's mail forwarding style but is much cheaper. You get more for your money with IncFile Registered Agent service.
Overall, IncFile is a decent choice for Registered Agent and business formation services if all you need is your LLC filed and someone to receive your mail.
File yourself with our free LLC guides
If neither IncFile or LegalZoom seems like the right fit, and you want to save money, you can form your LLC yourself. And we can help!
At LLC University®, we offer step-by-step guides that teach you how to form your LLC yourself. You just pay the state filing fee.
Get started here: How to start an LLC in all 50 states
The Hybrid Approach: Hire IncFile and DIY the little things
And even if you do hire IncFile or LegalZoom to file your LLC, you can still save money in other ways. There are several upsells that you can skip and DIY instead:
Instead of paying for an LLC Operating Agreement, you can download our free LLC Operating Agreement template.
If you see an upsell for LLC Membership Certificates, you can skip it. We provide free LLC Membership Certificates here.
If you see an upsell for a Banking Resolution (aka financial account authorization letter), you can ignore it. This document isn't actually needed to open an LLC business bank account. Banks will provide their own form.
If you'd rather not pay for someone to file your LLC Annual Report, you can do that yourself. Go to our LLC Annual Report page and select your state.
And you don't have to hire someone to be your LLC's Registered Agent. Instead, you can be the Registered Agent for your LLC. Check out our Registered Agent page for more details. All you need is a physical address in the state where you form your LLC. Being your own Registered Agent can save you more than $100 per year.