ZenBusiness is a business services company founded in 2015 by Ross Buhrdorf. ZenBusiness is a public benefit corporation. This means that they are a for-profit company, but they are committed to helping social causes.
ZenBusiness can help you set up an LLC in any state. In addition to their business entity formation services, they also offer registered agent services and a large collection of legal forms.

ZenBusiness' LLC Services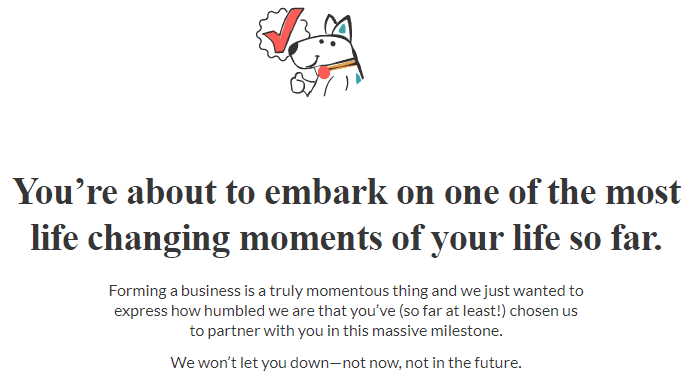 Price Points
It seems like most LLC services companies offer three service packages at different price points, and ZenBusiness follows that same model. They offer Starter, Pro, and Premium packages.
Starter Package
As the name suggests, the Starter package is the most affordable LLC formation option at $49.
The Starter package obviously includes the completion and filing of your business' articles of organization. In addition, ZenBusiness also includes an operating agreement template in the Starter package. However, unlike other LLC formation companies, this operating agreement is not personalized with your business' information. You must fill it out yourself.
The Starter package includes one free year of ZenBusiness's compliance report service, which sends you alerts whenever your LLC is due to file a state annual report. Note that the compliance report services auto-renew at $119 per year.
The Starter package also includes one year of registered agent service. Additionally, some extras like an accounting consultation and a $150 Google Ads credit are included. Once they create a business website, small business owners can use the Google Ads credit to advertise.
Pro Package
The Pro package includes all the LLC formation services in the Starter package and several additional services. For $199 (plus state fees), ZenBusiness will form your LLC, and get an EIN for your LLC.
While the Starter package includes one free year of the compliance report service (which reminds you of filing deadlines), the Pro package includes one free year of the upgraded compliance service. With this service, ZenBusiness will actually file your LLC's annual report with the state, and will file up to 2 amendments to your LLC's Articles of Organization or annual report each year.
The Pro package includes expedited filing, which means you can get your LLC approved faster. However, you will have to pay the state expedited fees on top of the state filing fee. You can learn more about expedited filings by reading How long does it take to get an LLC?
If you purchase the Pro package, ZenBusiness will obtain an Employer ID Number (EIN) from the IRS for your LLC. However, you can easily get an EIN for an LLC yourself in just a few minutes – and an EIN is free from the IRS. So this isn't a huge perk cost-wise.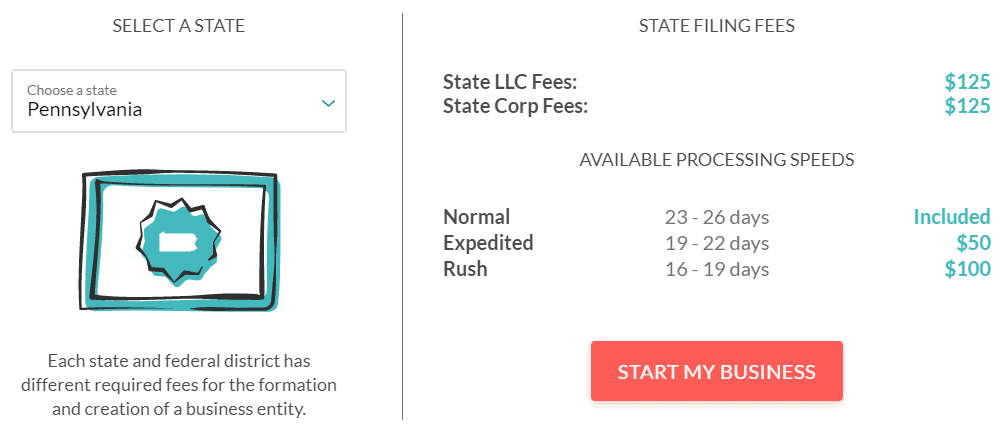 Premium Package
ZenBusiness' Premium package is priced at $299. It includes all of the services in the Starter and Pro packages. It also includes rush filing. This means that ZenBusiness will process your LLC filing faster, and will use the expedited filing option in your state (if available).
The Premium package includes a service that reserves a domain name for your business website, creating a business website, and a business email address. However, we prefer to do these things ourselves so that we have control over the design and other elements of the business website.
Turnaround Times
ZenBusiness offers turnaround times that are about average for the industry. Most customers report that ZenBusiness files their documents with their state in two business days or less. ZenBusiness offers an expedited processing option which would allow your documents to be filed more quickly if you pay extra for the Premium package.
And like other services, ZenBusiness allows you to pay extra for the expedited or rush filing option offered by the state where you form your LLC.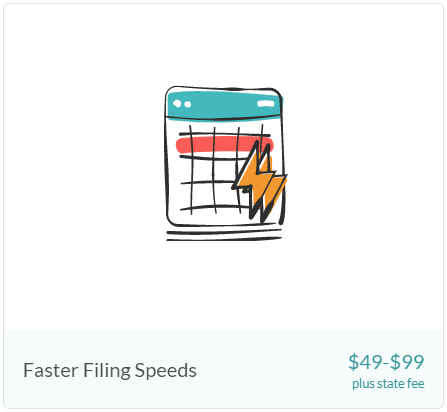 Upsells
ZenBusiness offers several additional services beyond business formation services. ZenBusiness does promote these optional services when you are going through the order process. However, they do not bombard you with non-stop pop-ups like some of their competitors. Some of these upsells are useful, while others are not a good use of your money.
EIN for your LLC
If you purchase the Pro or Premium package, ZenBusiness will request an EIN for your LLC. Otherwise, the EIN service is a $70 upsell. However, you can quickly and easily file for an EIN for your LLC yourself through the IRS website. And an EIN is free from the IRS. This means that the $70 charge for this service from ZenBusiness is definitely not worth it.
Banking Resolution
If you purchase the Pro or Premium package, ZenBusiness includes a banking resolution. Otherwise, this is a $30 upsell.
We don't think a banking resolution from ZenBusiness is a good value for two reasons:
The document itself is unnecessary. You can use your Articles of Organization and your Operating Agreement to open a business bank account for your LLC. No separate document is needed.
The ZenBusiness banking resolution is just a template. That means ZenBusiness doesn't fill out the resolution with your company's information. You could just download a free template elsewhere online.
Business Document Templates
If you purchase the Pro or Premium package, you get free access to ZenBusiness's business document templates library. Otherwise, this is a $99 upsell.
The documents available include various business contracts like a freelancer agreement and a non-disclosure agreement. Unfortunately, the library is pretty limited compared to some of the other sites that offer both business formation and legal documents.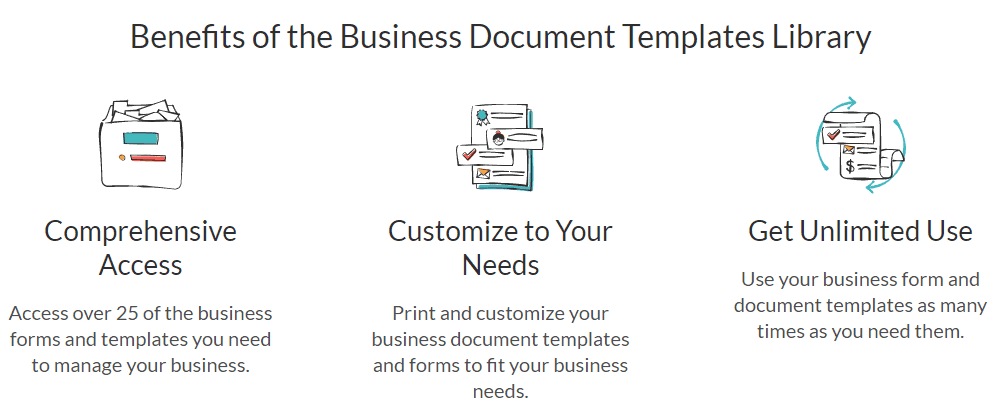 Worry Free Compliance Service
If you purchase the Pro or Premium package, you get one free year of the Worry-Free Compliance service. After that it renews at $119 per year. And you can purchase it separately for $119 if you chose the Starter package.
This is one of ZenBusiness' more expensive upsells where ZenBusiness files your LLC's annual report and up to two amendments to your Articles of Organization or your annual report.
But you can file your annual report yourself using our step-by-step LLC annual report guides. And since you will still have to pay the state fees when you use ZenBusiness's Worry Free Compliance service, you don't really save any money.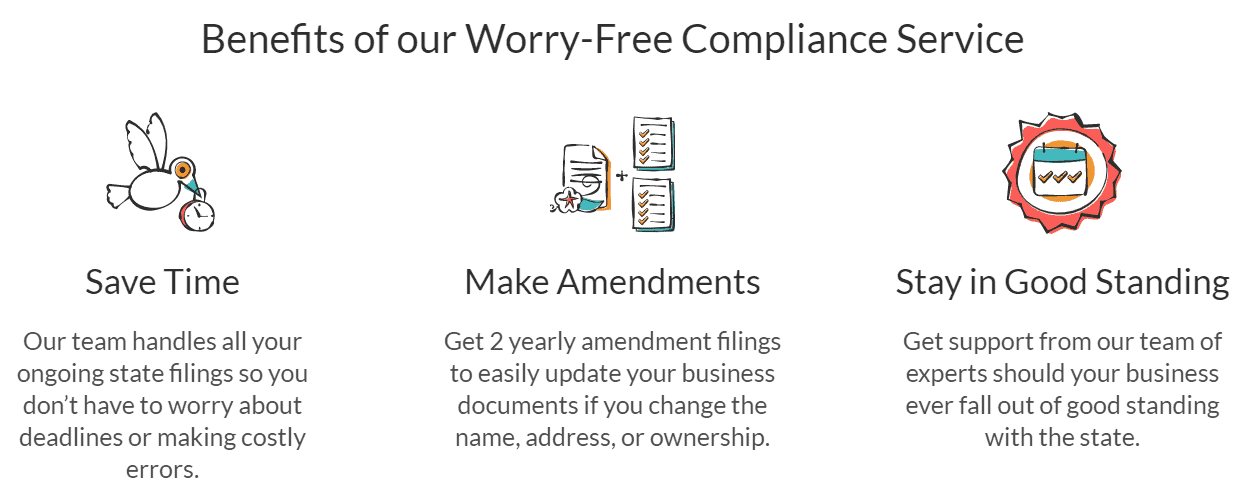 Business Insurance and Bank Accounts
ZenBusiness partners with the Commercial Insurance Center to offer you a quote for a business insurance package. The price will vary based on your business. We recommend that you compare quotes from several insurers.
Finally, ZenBusiness offers a business banking account in partnership with Radius Bank. We don't recommend this – the bank account has high annual fees, and you should use a bank with local branches where you do business.
Clear, Helpful Language
ZenBusiness clearly explains their products and services. They make everything very easy to understand, even if you have never formed a business before. We liked how ZenBusiness describes the services' purposes and importance (even if we sometimes disagree).
However, they do fall short when it comes to presenting the pricing of their services with clarity.
All of ZenBusiness' business formation packages contain services that are free for one year, and then renew. For example, the Starter package renews at a cost of $119 (because of the included compliance service), which is much more than the initial cost of $49. ZenBusiness does not explain their renewal process clearly enough for our liking. Many customers will assume that these packages do not renew after the business has already been formed.
Also, ZenBusiness may or may not charge you a $25 cancellation fee if you decide to discontinue any of their services. Their website is unclear about when this fee applies.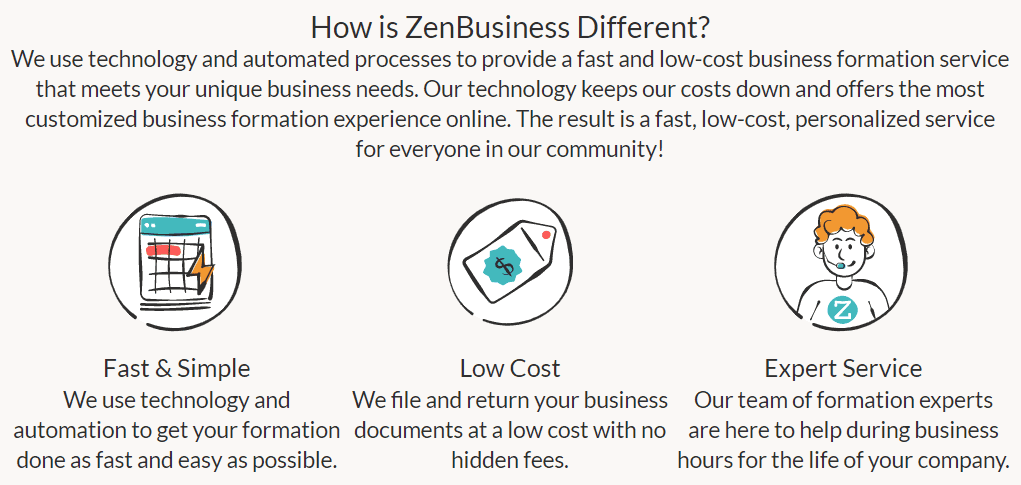 Customer Service
ZenBusiness offers a solid customer service experience. They offer both chat and phone-based customer support.
ZenBusiness' chat support is decent. The rep we interacted with answered our questions promptly and correctly. This is better than the copy and paste answers that we've seen from some competitors. However, the chat support did not go the extra mile to offer us extra insight or assistance.
ZenBusiness has excellent phone support. The rep we spoke to was friendly and very knowledgeable about the company's services. Also, they did not upsell additional services, which is something that we've experienced from other company's customer support reps. Instead, we got an honest assessment of what package we needed.
User Experience
The simple user experience offered by ZenBusiness is one of their biggest pros. They take you through the formation process step by step while offering plenty of helpful information. ZenBusiness currently uses a robot chat feature for this.
We really liked their old business formation survey, which used fill-in-the-blank and clever graphics to make it both easy to understand and enjoyable visually. The new robot-run chat is less elegant and can be too time-consuming.
The new chat is still a clever solution. The robot asks you questions about your business so that you get the correct formation package, and offers you relevant upsells.
While we didn't enjoy the chat feature's fake "typing" and extra explanations before and after each question, it is a user-friendly method that will put new business owners at ease. In contrast, many competitors have stuffy, formal websites that only increase the anxiety of starting a new business.
We did note that ZenBusiness asks a lot of questions that aren't part of the Articles of Organization filed with the state, and suspect that the extra information might be used to match you up to upsells or service offers.
ZenBusiness continues to offer an excellent user experience after you've submitted your order. They offer their customers access to a well-designed dashboard. You can check on the progress of your business formation through this dashboard. You will get notifications at each step of the process.
Additional Services and Features
Like their competitors, ZenBusiness offers several additional services and features that are not directly related to forming an LLC. These additional services include website creation, a Google Ads credit, an accounting assessment, and a virtual business guide.
Business Websites
For $125 a year, ZenBusiness offers a website, business domain name, and business email. If you purchase the Premium package, you get one free year of this service.
However, you can definitely get all of these things more cheaply if you go directly to a web hosting company, so we do not recommend this upsell. The website ZenBusiness creates is pretty basic, and you don't get to make a lot of customization choices.
LLC University® offers a free step-by-step guide for how to get a business domain name.
Google Ads Credit
ZenBusiness includes a $150 Google Ads credit with all of their formation packages. However, this isn't just a $150 gift card for free ads. Instead, ZenBusiness will match the money your business spends on advertising, up to the $150 limit. So it's basically "spend $150, get $150".
Accounting Assessment
ZenBusiness will connect you with a CPA, who will assess your business and determine what sort of accounting services you will need. These free assessments are often simply sales pitches for the CPA's services.
We recommend you do your own research to find a trusted business accountant to help you with business taxes and other obligations. LLC University® can help you with this research: How to find an accountant for your LLC.
ZenBusiness' Registered Agent Services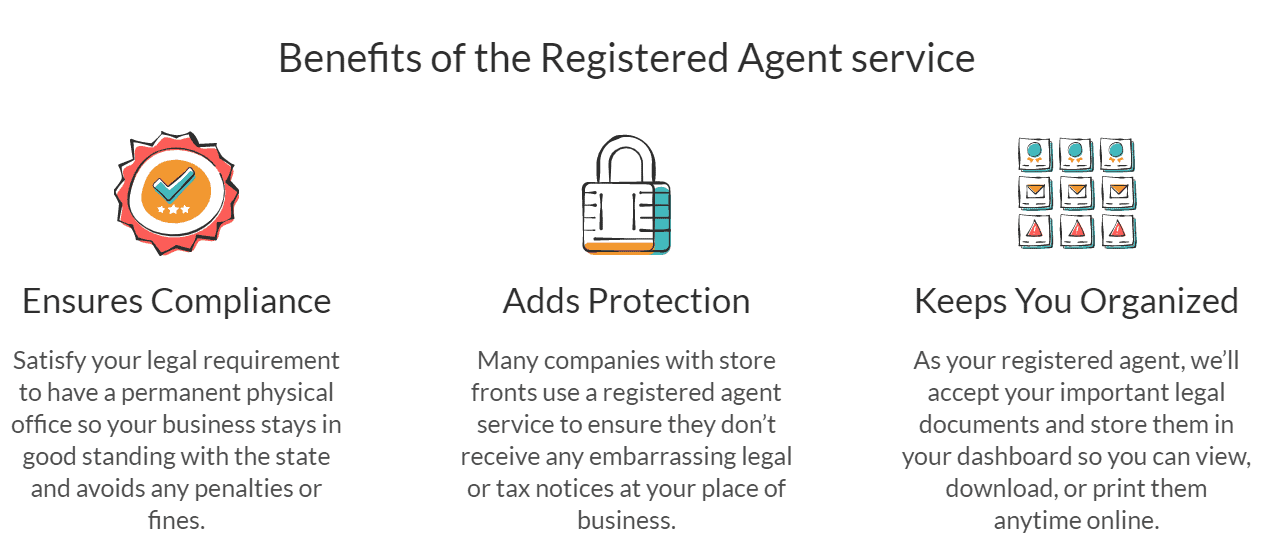 Price
ZenBusiness has a Registered Agent Service which will receive legal documents sent to your business. They offer two registered agent service packages.
In 2022, ZenBusiness drastically increased the prices of their Registered Agent packages.
ZenBusiness's Standard Coverage registered agent service package is $199 per year, and the Complete Coverage package is $398 per year. (You do get a discount for the first year, but it renews at those prices) The only difference between the two is that Complete Coverage includes the compliance package to file your LLC's annual report with the state.
Be careful – if you purchased the Pro or Premium packages to form your LLC, this worry-free compliance package is already included. Don't pay for it twice!
These packages are pretty expensive compared to the industry average of between $100 and $300 per year. And although ZenBusiness' LLC formation service packages include one year of registered agent service, it renews at a high price.
Mail Forwarding
One of the most important aspects of any registered agent's services is how they forward your legal documents. ZenBusiness does this by scanning the legal documents they receive and uploading them to your business dashboard on their site. You will also receive a notification when ZenBusiness has received a new legal document on your business' behalf.
Our ZenBusiness LLC Review Verdict
Is ZenBusiness a good choice for LLC services and registered agent services? All things considered, yes. Their services offer many pros, and only one real con (the confusing pricing of their auto-renewing subscriptions). We are concerned that some ZenBusiness customers may accidentally purchase things more than once because of the confusing packages. We especially don't like the fact that the Starter package auto-renews at a much higher price.
Besides this, however, ZenBusiness is a good choice. Their packages offer plenty of features at reasonable initial prices. And you can avoid certain upsells by doing some filings yourself.
ZenBusiness offers good customer service, which is more than can be said about some of their competitors. And their Registered Agent service makes things convenient by uploading scans of any documents they receive to their dashboard. We especially like the fact that ZenBusiness themselves run their registered agent service, which means that you don't have to deal with a separate company.