Swyft Filings is one of the newer LLC formation service companies out there. They have only been in business since 2015.
However, Swyft Filings has gained a great deal of popularity for their Limited Liability Company formations in this short period. Search the internet and you'll find mostly positive customer reviews.
Swyft Filings' selection of LLC services are similar to those of more established competitors like Northwest Registered Agent and LegalZoom. They can form an LLC for your business in all 50 states.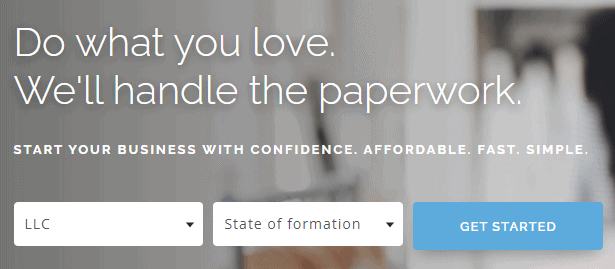 They also offer Registered Agent services, though these services are actually provided by a partner company and not Swyft Filings themselves.
Swyft Filings sets themselves apart from competitors through speedy processing times, as you might have guessed from the company's name. They also strive to offer industry-leading customer service, which would be a big advantage for the company as many competitors are lacking in this area.
Read on to learn more about the LLC formation services that Swyft Filings offers and decide whether it's the best LLC service for you.
Swyft Filings LLC Formation Services
As with all of the companies that we review, we have evaluated Swyft Filings' LLC services based on seven different criteria, including:
price points
turnaround time
upsells that the company offers
clarity of the language on the company's website
quality of customer service they provide
their Registered Agent service
and any additional services or features that they offer
This thorough Swyft Filings review is intended to help you differentiate Swyft Filings from its competitors, many of whom offer very similar services.
Warning! If you don't live or do business in the state where Swyft Filings forms your LLC, you'll need to register your LLC as a Foreign LLC in your home state. This means you need to maintain two LLC filings, pay two state filing fees, and maintain two Registered Agents. Please see Best state to form an LLC to make sure you're forming an LLC in the right state.

Price Points
As with most LLC services companies, Swyft Filings offers several different formation packages at different price points. And unlike most of their competitors, Swyft Filings lets you pay your LLC formation costs in 2 installments rather than all at once.
The Swyft Filings packages include Basic, Standard, and Premium. Optional add-on services are also available.
Basic Package
As the name suggests, Swyft Filings' Basic package is its most affordable. The Basic package will run you $49 for Swyft Filings' service fees (plus the state filing fees). This is roughly in line with the price points of competitor's base level service packages.

The Basic package includes basic LLC formation and a business name check. This check ensures that your business name has not already been taken by another company in your state.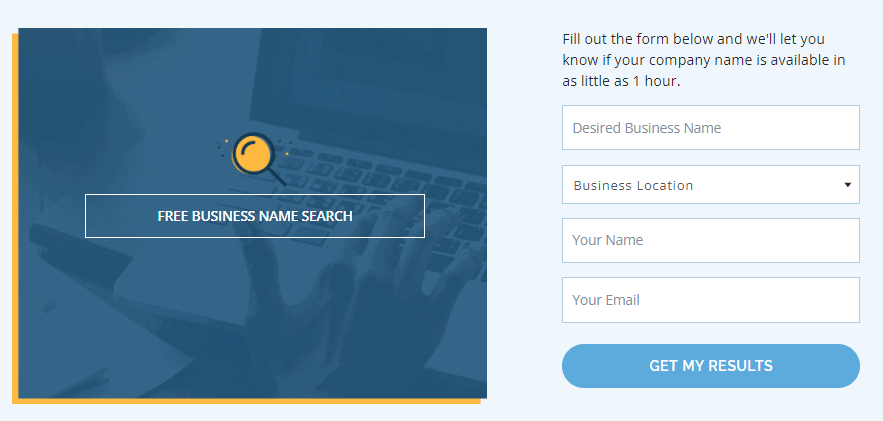 Standard Package
Swyft Filings' Standard service package costs $149. This includes the basic LLC filing process and business name check services offered with the Basic package.

In addition, the Standard package includes an EIN, an Operating Agreement, and banking resolution services.
Note: With this package, Swyft Filings will request an Employer Identification Number (EIN) for you through the IRS website. However, you can easily get an EIN for an LLC yourself in just a few minutes – and an EIN is free from the IRS. So this isn't a huge perk cost-wise.
Premium Package
The Premium service package costs $299. This includes everything from the Basic and Standard tiers, plus a free business website and web hosting services.

Expedited service is also included for LLCs in most states.
Optional Services for an Additional Fee
Customers who select a lower tier package can add services included in the higher tiers for an additional fee if they want.
For example: Let's say you'd like Swyft Filings to get an EIN for you, but you aren't interested in the Operating Agreement or banking resolution components of the Standard Package ($149). You could just purchase the Basic Package at $49, and the separate EIN add-on for $79.
The only exception to the a-la-carte add-ons is the website building and hosting service, which is only available to Premium customers.
Turnaround Time
Turnaround time is important for many people looking to register an LLC. Swyft Filings offers turnaround times that are about average for the industry.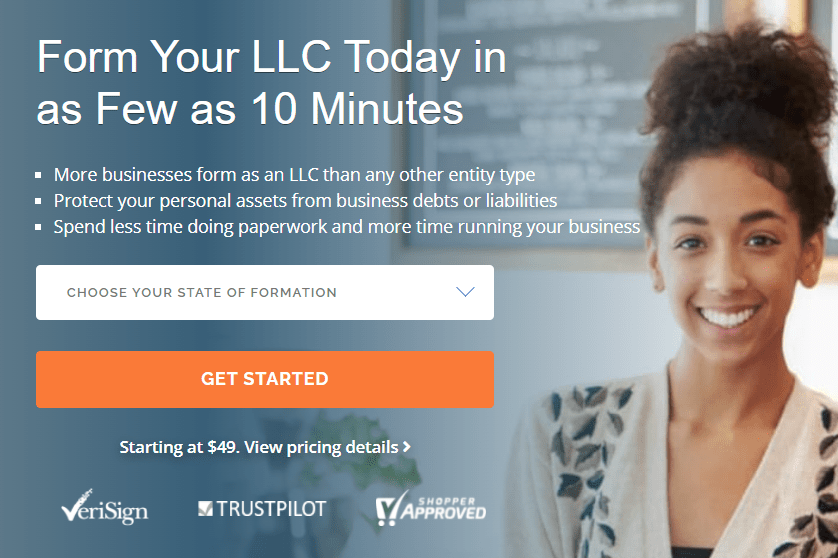 If you don't select expedited processing, it will take between 5 and 10 business days for your business to be formed in most states.
If you do select expedited processing or you select the Premium service package (which includes expedited processing), then your business will be formed in three to five business days in most states.
Note: This LLC formation timeframe is for Swyft Filings' processing times.
Filing approval times may take longer due to government delays. For the most up-to-date LLC processing times, check How Long Does it Take to Get an LLC.
Upsells
Swyft Filings offers many optional services not included in certain tiers of their standard service packages. The company will remind customers of these options throughout the checkout process, which is why we term them upsells.
Swyft Filings offers a barrage of upsells instead of including them in their service packages. Also, many of the upsells with real value are included in the standard service packages offered by other formation companies. This is one of the areas in which Swyft Filings does not perform as well as some of its competitors.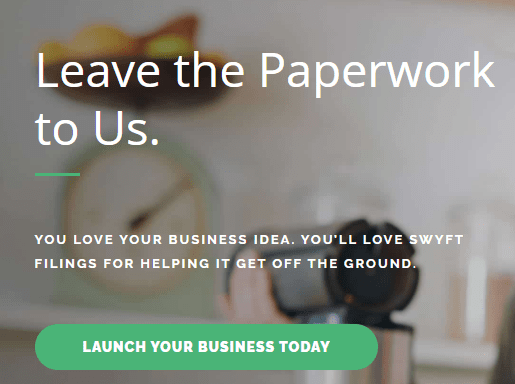 LLC University Analysis: EIN Number
Many LLC services companies, including Swyft Filings, offer EIN filing as an optional service.
However, you can get an EIN easily and for free without the assistance of a company like Swyft Filings. Not only is the EIN filing service unnecessary, it is quite pricey at $70. Most LLC services companies charge less than $50 for this service.
LLC University Analysis: Operating Agreement
Swyft Filings also offers an Operating Agreement as an optional extra for customers who select their Basic service package. An LLC Operating Agreement is a document that details the number of people in your LLC, how it is managed, and the rules that will govern it.
Like other LLC services companies that offer an Operating Agreement, Swyft Filings' price of $35 is about average. However, LLC University offers free Operating Agreement templates you can use.
LLC University Analysis: Custom Banking Resolution
Swyft Filings also offers a custom banking resolution as an optional extra. Swyft Filings charges $30 for this service to help you get a business bank account.
A banking resolution is a document that tells a bank that the person trying to open business bank accounts for your LLC is authorized to do so.
However, all you need to open an LLC bank account is:
You would only need a banking resolution if:
You did not have an Operating Agreement
and/or your Articles of Organization did not list the person opening the LLC bank account
Instead of paying Swyft Filings for a banking resolution, you can just make an LLC Membership Certificate at home. Simply download our free LLC Membership Certificate template, and take the signed Certificate to the bank with you.
LLC University Analysis: Expedited Processing
Swyft Filings, like all LLC formation service companies, offers expedited processing. Swyft Filings offers two types of expedited filing: 5 day turn-around or next-day.
The expedited service cost varies based on the state where you want to register your LLC, because each state government has a different expedited fee. Swyft Filings' service fees are variable, usually between $50 and $150 for expedited filings.
You can find out more about expedited filings in your state on our How Long Does it Take to Get an LLC? page.

Misleading Language
One of the biggest downsides of using Swyft Filings is the unclear and even misleading language found throughout the website.
For example, many of the services that they advertise are actually provided by third parties. This is the case for both the tax consultation and Registered Agent service. However, you have to comb the fine print of the Swyft Filings website to see which companies provide these services.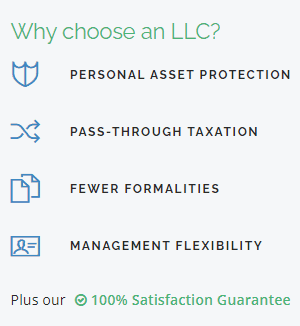 Swyft Filings promotes their 100% money back guarantee all over their website. However, a look at the fine print reveals that this guarantee only applies when Swyft Filings makes an error when filing your documents with your state.
You cannot request a refund simply because you are unhappy with their services. Also, you must request a refund within 60 days to get your money back. Any state fees are non-refundable, though this makes sense as Swyft Filings will already have paid these fees to your state.
You could work with Northwest instead.
Northwest Registered Agent is our #1 recommendation for LLC formation. They'll take care of everything for $39 + state fees, and you'll get your first year of Registered Agent service for free.
(See why Northwest is #1 in our Northwest Registered Agent review)
User Experience
Swyft Filings offers a decent user experience. As you would expect from a newer company, they have a slick, modern website. They also make the process of ordering services very simple. Their website will guide you step-by-step through the process, though you will have to deal with constant upsell attempts.
As long as you do not stray out of the designed order process, everything is easy to follow. The main drawback of the user experience (in addition to the constant upselling) is the lack of clarity that you will find if you try to dig into the fine print of the company's terms of service.
Not only is the Swyft Filings order process streamlined, but the services offered by partner companies are well-integrated. This makes it easy to take advantage of some of the optional services, particularly the web hosting. The Registered Agent service, though offered by a partner company, is also well-integrated into the Swyft Filings website.

Additional Services & Features
Swyft Filings offers numerous additional services and features that are not always offered by LLC services companies. These additional services include a tax consultation, a free URL for your business' website, alerts to help your business comply with your state's reporting requirements, and web hosting.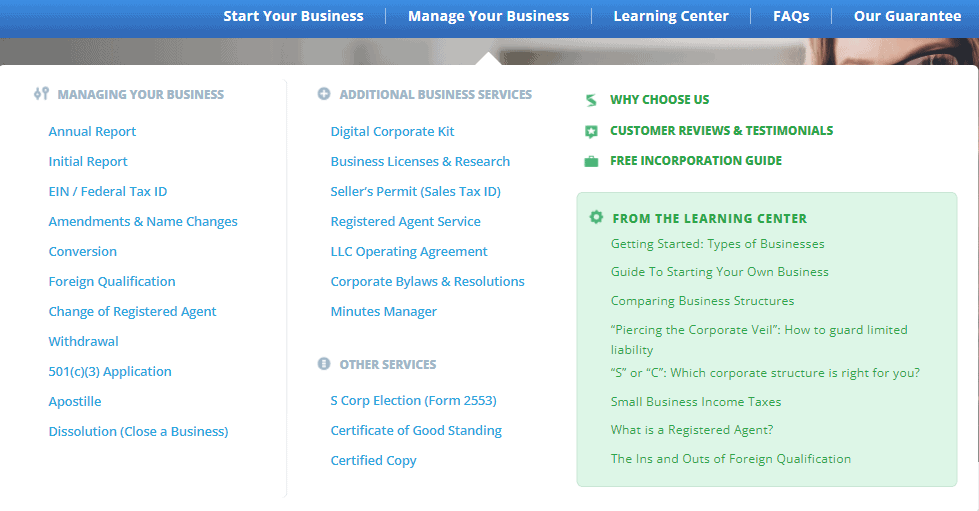 Tax Consultation. A 30-minute tax consultation is offered for free with all of Swyft Filings' service packages. This service is offered by 1-800Accountant. While 30 minutes is not long enough for an in-depth look at your LLC's potential tax situation, you will learn the basics of LLC tax requirements.
Compliance Alerts. One of the most important additional services that Swyft Filings offers is its Compliance Alert feature. Each state requires your LLC to file certain documents on specific deadlines. Swyft Filings will provide you with alerts to ensure that you do not miss any of these deadlines.
Website. All of Swyft Filings' service packages also include a free URL. This free registration lasts for one year. You must pay for subsequent years.
Finally, Swyft Filings offers website creation and registration through their site. As you might expect, they do not administer this service themselves. Rocketbuildr offers this service through Swyft Filings. It is included in the Premium service package, and it cannot be added to any other package as an optional extra. Only the first three months of hosting are included in the Premium package. After this, you will need to pay to keep your website online.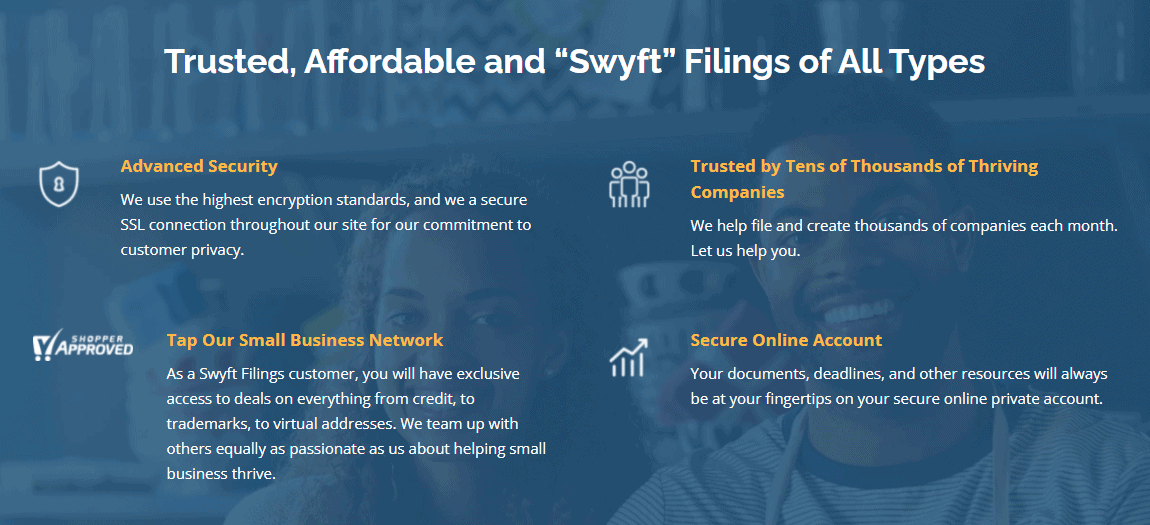 Customer Service
Swyft Filings boasts about its customer support. Many LLC filing companies are lacking in this department, but Swyft Filings seeks to stand out by offering excellent customer service. While their customer service team may not be quite as good as the company would have you believe, it is solid.
Swyft Filings offers very good customer support over the phone. Phone calls are answered from 9 AM to 6 PM CST. Their reps are friendly and knowledgeable, though they do seem a bit rushed. They will explain everything you need to know and answer all of your questions in detail. They may try to upsell some services, but they aren't too pushy. This is fairly standard for customer service from an LLC filing company.
Swyft Filings supposedly offers an online chat for customer service, but all you can do is leave your email in the chat for a rep to contact you that way. This is misleading, but it is the only major downside of Swyft Filings' customer service offerings.
Hate calling customer support? Hire Northwest instead. They have great prices ($39 + state fee) and they do things right the first time, so you don't even have to experience their award-winning customer support. ;)
(Read our Northwest Registered Agent review to see why we're confident that you're in good hands.)
Customer Reviews
Most customer reviews for Swyft Filings are positive, praising their quick turnaround times and the easy-to-use online dashboard.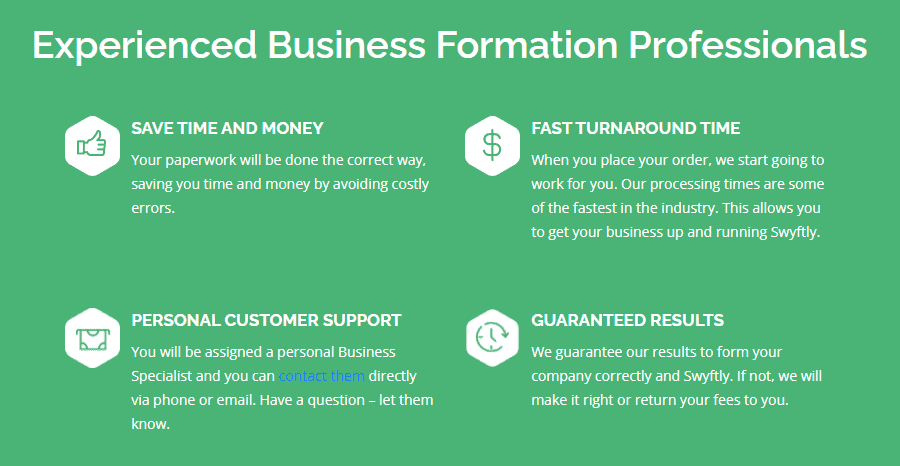 Swyft Filings reviews earned them 4.7 out of 5 stars on Trustpilot and their customer review rating on the Better Business Bureau website is 4.33 out of 5 stars. They do not have a BBB accreditation rating yet, though.
On the other hand, their Google reviews rating is currently just 1.6 stars.
Negative reviews include issues related to difficulty canceling their services, hidden fees, and selling your information to third parties.
Problems Cancelling Registered Agent Service
Several negative reviews remark on the inability to cancel Swyft Filings' Registered Agent Service unless you register another Registered Agent with your state beforehand. This is a common clause for any business formation service provider and is not specific to Swyft Filings.
This is because it's actually a state requirement to keep a Registered Agent on record in order to keep your LLC open and in compliance with state law. You can't just remove a Registered Agent entirely. You must replace your current one (like Swyft Filings) with another Registered Agent.
To keep things simple, you can be your own Registered Agent if you'd like. You just have to replace the Swyft Filings Registered Agent Service with your own information before you can cancel your Registered Agent service contract.
Conclusion
For the most part, it seems that customers are happy with Swyft Filings' services overall, and the company's attempts to resolve any issues.
Swyft Filings Registered Agent Service
Swyft Filings, like nearly all LLC services companies, offers Registered Agent services. Some LLC services companies run their own Registered Agent service, while some (like Swyft Filings) contract this service out to a third party called LegalCorp.
You must have a Registered Agent, but you don't have to hire one. Registered Agents receive legal documents and state notices for your business.
Learn more: What's an LLC Registered Agent?
Hiring a Registered Agent service is a good option if you:
travel
do not live in the state where you formed your LLC
or if you plan on moving in the near future
The two most important things to look at when evaluating Registered Agent services are price and mail forwarding.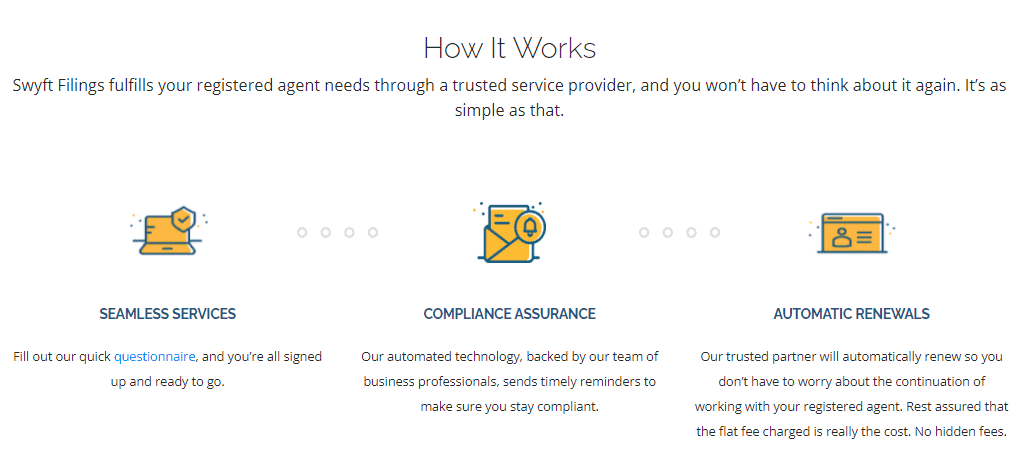 Registered Agent Service Price
Swyft Filings' Registered Agent service costs $149 per year. This is a bit on the pricey side, as the average for a Registered Agent service is around $100 per year. Several competitors offer the first year of Registered Agent service for free.
However, Swyft Filings uses LegalCorp as their Registered Agent service provider. The LegalCorp contract lets them automatically increase the yearly price of your Registered Agent service when auto-renewing after the free first year.
Warning: Negative reviews of Swyft Filings often mention issues with the 'automatic renewals' by their Registered Agent partner.
Mail Forwarding Service
These days, it is vital for a Registered Agent to offer scanned digital versions of any legal documents or state notices they receive. This ensures that you will have access to any mail well before your Registered Agent forwards the actual documents to you.
LegalCorp does scan legal documents and upload them to the online portal. They will also send email notifications to ensure that you don't miss any vital documents.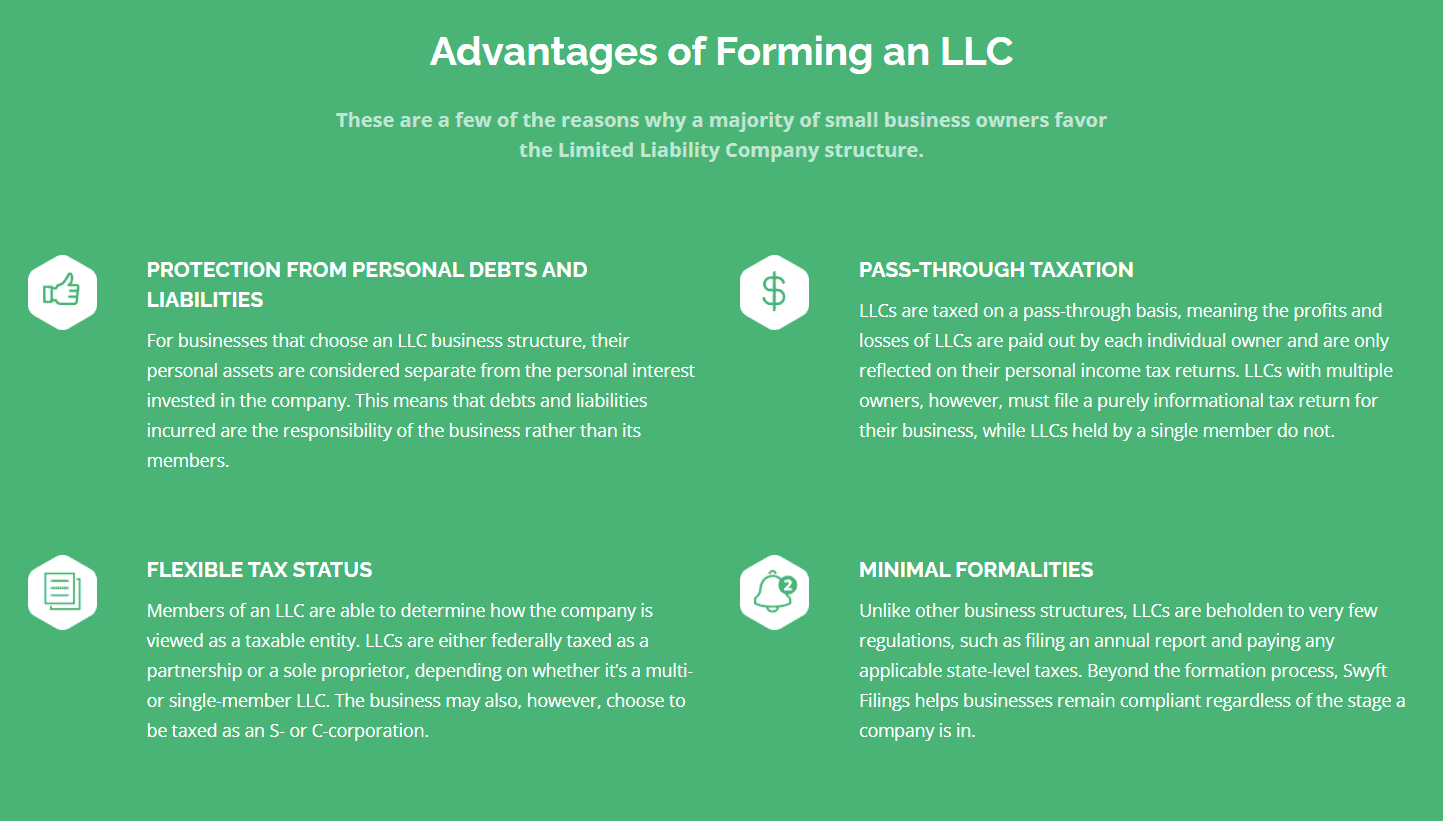 You should read the terms of service contract for your Swyft Filings business formation service before purchasing any packages.
Is Swyft Filings a Good Choice for LLC Formation Service & Registered Agent Service?
All things considered, our Swyft Filings research determined they are a decent choice overall for LLC formation services and Registered Agent services. The services they offer are fairly standard for the industry, and so are their prices.
The biggest benefits of choosing Swyft Filings include their quick processing times and solid customer service.
The biggest drawbacks include their constant upselling and their misleading terms of service.
If you want service packages that include many standard features and dislike pushy sales techniques, there are better options out there. We also disliked how many partner companies Swyft Filings uses for its services, as dealing with many companies is more complicated and time-consuming than dealing with a single firm.
Swyft Filings is a good choice if you want to form your LLC quickly and you value good customer service. Even so, we still prefer Northwest Registered Agent for their simple, honest business practices.