In this lesson, we will discuss the newspaper publication requirement for a Nebraska LLC.
Section 21-193 of the Nebraska Revised Statutes requires that:
Your LLC must publish an ad (called a "Notice of Organization")in a legal newspaper
The newspaper ad must run for 3 weeks
The newspaper needs to have general circulation
The newspaper needs to be located near your LLC's Designated Office
After the 3 weeks, the newspaper will send you Proof of Publication
You then must file that with the Secretary of State
If you don't comply, it can be interpreted that, until your LLC publishes, the acts of your LLC may be invalid, and the LLC owners may be exposed to personal liability
Note: Some newspapers use the term "Proof of Publication" and other newspapers use the term "Affidavit of Publication". They have the same meaning. We'll be using the term "Proof of Publication".
Requirements for your LLC Notice of Organization
Note: The term "Notice of Organization" means the same thing as a newspaper ad. We may use these terms interchangeably.
The purpose of the Notice of Organization is to inform and notify the public that your LLC has been created in the state of Nebraska.
Your Notice of Organization must include certain information about your LLC, as spelled out in section 21-117 (see 'b') of the Nebraska Revised Statutes:
The name of your Nebraska LLC
The name and street address of your LLC's Initial Agent for Service of Process (your Nebraska Registered Agent)
The street address of your Initial Designated Office (principal place of business)
If your company offers professional services (and is forming a professional LLC), you must state the professional services your LLC offers
Example Ad for Notice of Organization
Below are 2 versions of example newspaper ads for your Nebraska LLC's Notice of Organization.
These meet the statutory requirements of section 21-193, as mentioned above.
Which Example Ad Should I Use?
Some newspapers may ask for just the basic information (LLC name, initial designated office, Registered Agent name, and Registered Agent address). If that's the case, you can use Example Ad #1 (Basic).
Other newspapers may ask for more information. In addition to the basic information list above, they will also want to know whether your LLC is Member-managed or Manager-managed and the business purpose of your LLC. If that's the case, you can use Example Ad #2 (Extended).
Notes:
An Initial designated office is a street address in Nebraska where your LLC is located. This can be a home address, a friend or family's address, an office address, or the address of your Registered Agent.
An Initial agent for service of process is the same thing as your LLC Registered Agent; a person or company who agrees to accept legal mail on behalf of your LLC.
Your initial designated office and the address of your initial agent for service of process may have a different address, or they can be the same.
Example Ad #1 (Basic):
Notice is hereby given that ABC Widgets, LLC, a Nebraska Limited Liability Company, has been organized under the laws of the state of Nebraska, with its initial designated office at 123 Main Street, Lincoln, NE 68522. The initial agent for service of process of the Company is John Doe, 456 Baker Street, Omaha, NE, 68102.
Example Ad #2 (Extended):
Notice is hereby given that ABC Widgets, LLC, a Nebraska Limited Liability Company, has been organized under the laws of the state of Nebraska, with its initial designated office at 123 Main Street, Lincoln, NE 68522. The initial agent for service of process of the Company is John Doe, 456 Baker Street, Omaha, NE, 68102. The company is member-managed. Nature of the Company is manufacturing.
What's the cost to publish a Notice of Organization?
Most legal Nebraska newspapers charge "per line". And prices will vary depending on the newspaper:
Legal newspapers in larger counties usually charge more; for example, $100 to $250
Legal newspapers in smaller counties are usually cheaper; for example, $40 to $70
What makes a newspaper a legal newspaper?
As per section 25-523 of the Nebraska Revised Statutes, a newspaper is considered a
legal newspaper (for purposes of publishing legal and official notices) if it meets the conditions below.
The newspaper must:
Have 300 paid readers (with weekly subscriptions)
Have its paper published every week of the year (52 straight weeks)
Have its paper printed in the county where the newspaper's office is located (not in an outside county)
However, those are the rules; the easiest thing for you to do is simply call the newspaper and ask, as mentioned below.
How do I place my order with the newspaper?
Publishing your Nebraska LLC Notice of Organization in a legal newspaper is a bit of an "old school" process.
Here are the steps:
See the table of newspapers listed below
Find a newspaper that is located in the same city or same county as your LLC (based on your LLC's Initial Designated Office)
Call and ask if they are a legal newspaper and if they publish LLC notices
If they are a legal newspaper, ask to speak to someone who can help you publish your ad (if not, call another newspaper)
Take out a pen and pad and ask:
a. "How should I send you my Notice of Organization ad text? Do you have an email address you'd like me to send it to?"
b. "Regarding the Proof of Publication, do I need to pay extra for that, or is that included in the price for running the ad?"
c. "Regarding the Proof of Publication, would you like my address for where to mail it?"
d. "How do you take payment? Can I pay with a credit card or do you prefer a check?"
e. "When will I receive my Proof of Publication?"
Tip: If you speak to someone who isn't helpful or friendly, thank them for their time, hang up, then call right back. Hopefully you'll get someone who is more helpful.
Nebraska LLC Newspapers
Below is a list of newspapers in Nebraska that have general circulation.
Below is a list of newspapers in Nebraska that have general circulation.
There are more than 180 newspapers in this table. By default, you're seeing 35 at a time.
Desktop: To see more, use the "show entries" drop down (top) or use the "Next" and "Previous" links (bottom).
Mobile: To see more, use the "Next" and "Previous" links (bottom). You can also slide the table left and right with your thumb.
In addition to the table below (which comes from the Nebraska Press Association), they also provide a helpful Newspaper Locator Map, which may be easier to use.
City
County
Paper
Phone
Frequency
Address
Ainsworth
Brown
Star-Journal
402-387-2844
Weekly
921 E. 4th
Ainsworth, NE
69210
Albion
Boone
News
402-395-2115
Weekly
328 W. Church
Albion, NE
68620
Alliance
Box Butte
Times-Herald
308-762-3060
Daily
114 E. 4th St.
Alliance, NE
69301
Alma
Harlan
Harlan Co. Journal
308-928-2143
Weekly
711 West Main
Alma, NE
68920
Arapahoe
Furnas
Public Mirror
308-962-7261
Weekly
420 Nebraska Ave.
Arapahoe, NE
68922
Arlington
Washington
Citizen
402-426-2121
Weekly
Arlington, NE
68002
Arnold
Custer
Sentinel
308-848-2511
Weekly
113 So. Walnut
Arnold, NE
69120
Arthur
Arthur
Enterprise
308-764-2402
Weekly
411 Fir Street
Arthur, NE
69121
Ashland
Saunders
Gazette
402-944-3397
Weekly
1510 Silver
Ashland, NE
68003
Atkinson
Holt
Graphic
402-925-5411
Weekly
207 E. State St.
Atkinson, NE
68713
Auburn
Nemaha
Nemaha Co. Herald
402-274-3185
Weekly
830 Central Ave.
Auburn, NE
68305
Aurora
Hamilton
News-Register
402-694-2131
Weekly
1320 K Street
Aurora, NE
68818
Bassett
Rock
Rock Co. Leader
402-684-3771
Weekly
118 Clark St.
Bassett, NE
68714
Battle Creek
Madison
Enterprise
402-675-5333
Weekly
407 S. 2nd St.
Battle Creek, NE
68715
Bayard
Morrill
Transcript
308-586-1313
Weekly
336 Main St.
Bayard, NE
69334
Beatrice
Gage
Daily Sun
402-223-5233
Daily
200 N. 7th
Beatrice, NE
68310
Bellevue
Sarpy
Leader
402-444-1242
Weekly
604 Ft. Crook Rd. N
Bellevue , NE
68005
Benkelman
Dundy
Post & News-Chronicle
308-423-2337
Weekly
513 Chief
Benkelman, NE
69021
Bertrand
Phelps
Herald
308-472-3217
Weekly
615 Minor
Bertrand , NE
68927
Blair
Washington
Washington Co. Enterprise
402-426-2121
Weekly
138 No. 16th St.
Blair, NE
68008
Blair
Washington
Washington Co. Pilot-Tribune
402-426-2121
Weekly
138 No. 16th St.
Blair, NE
68008
Bloomfield
Knox
Monitor
402-373-2332
Weekly
110 N. Broadway
Bloomfield, NE
68718
Blue Hill
Webster
Leader
402-756-2077
Weekly
565 W. Gage St.
P.O. Box 38
Blue Hill, NE
68930
Bridgeport
Morrill
News-Blade
308-262-0675
Weekly
801 Main
Bridgeport, NE
69336
Broken Bow
Custer
Custer Co. Chief
308-872-2471
Weekly
305 So. 10th
Broken Bow, NE
68822
Burwell
Garfield
Tribune
308-346-4504
Weekly
757 H Street
Burwell, NE
68823
Butte
Boyd
Gazette
402-775-2431
Weekly
Butte, NE
68722
Callaway
Custer
Courier
308-836-2200
Weekly
204 E. Morse
Callaway, NE
68825
Cambridge
Furnas
Clarion
308-697-3326
Weekly
706 Patterson St.
Cambridge, NE
69022
Central City
Merrick
Republican-Nonpareil
308-946-3081
Weekly
802 C Ave.
Central City, NE
68826
Chadron
Dawes
Record
308-432-5511
Weekly
248 West Second
Chadron, NE
69337
Chadron
Dawes
Eagle
308-432-6303
College
227 Kline
Chadron, NE
69337
Chappell
Deuel
Register
308-874-2207
Weekly
273 Vincent Ave.
Chappell, NE
69129
Clarkson
Colfax
Colfax Co. Press
402-892-3544
Weekly
242 Pine
Clarkson, NE
68629
Clearwater-Ewing
Antelope
Record-News
402-887-4840
Weekly
419 Main St.
Neligh, NE
68756
Coleridge
Cedar
Blade
402-283-4267
Weekly
107 West Broadway
Coleridge, NE
68727
Columbus
Platte
Telegram
402-564-2741
Daily
1254 27th Ave.
Columbus, NE
68601
Cozad
Dawson
Tri-City Tribune
308-784-3644
Weekly
320 W. 8th
Cozad, NE
69130
Crawford
Dawes
Clipper/Harrison Sun
308-665-2310
Weekly
435 2nd St.
Crawford, NE
69339
Creighton
Knox
News
402-358-5220
Weekly
816 Main
Creighton, NE
68729
Crete
Saline
Doane Owl
402-826-8657
College
Doane College
Crete, NE
68333
Crete
Saline
News
402-826-2147
Weekly
1201 Linden Ave.
Crete, NE
68333
Crofton
Knox
Journal
402-388-4355
Weekly
108 W. Main
Crofton, NE
68730
Curtis
Frontier
Fontier County Enterprise
308-367-4144
Weekly
208 Center Ave.
Curtis, NE
69025
David City
Butler
Banner-Press
402-367-3054
Weekly
339 E St.
David City, NE
68632
Deshler
Thayer
Rustler
402-365-7221
Weekly
704 4th St.
Deshler, NE
68340
Dodge
Dodge
Criterion
402-693-2415
Weekly
140 Oak St.
Dodge, NE
68633
Doniphan
Hall
Herald
402-756-2077
Weekly
Doniphan, NE
68832
Elgin
Antelope
Review
402-843-5500
Weekly
116 So. Second St.
Elgin, NE
68636
Elkhorn
Douglas
Douglas Co. Post-Gazette
402-289-2329
Weekly
117 Hillrise Center
Elkhorn, NE
68022
Elm Creek
Buffalo
Beacon-Observer
800-323-3929
Weekly
209 N. Tyler
Elm Creek, NE
68836
Elwood
Gosper
Bulletin
308-785-2251
Weekly
308 Smith
Elwood, NE
68937
Fairbury
Jefferson
Journal-News
402-729-6141
Weekly
516 5th St.
Fairbury, NE
68352
Falls City
Richardson
Journal
402-245-2431
Weekly
1810 Harlan St.
Falls City, NE
68355
Franklin
Franklin
Co. Chronicle
308-425-3481
Weekly
707 15th Ave.
Franklin, NE
68939
Fremont
Dodge
The Midland
402-721-5480
College
Fremont, NE
68025
Fremont
Dodge
Tribune
402-721-5000
Daily
135 N. Main
Fremont, NE
68025
Friend
Saline
Sentinel
402-947-2391
Weekly
108 Main
Friend, NE
68359
Fullerton
Nance
Nance Co. Journal
308-536-3100
Weekly
416 4th St.
Fullerton, NE
68638
Geneva
Fillmore
Nebraska Signal
402-759-3117
Weekly
131 N. 9th
Geneva, NE
68361
Genoa
Nance
Leader-Times
402-993-2205
Weekly
524 Willard Ave.
Genoa, NE
68640
Gering
Scotts Bluff
Courier
308-436-2222
Weekly
1405 Broadway
Scottsbluff, NE
69361
Gering
Scotts Bluff
Citizen
308-633-6397
Weekly
1447 10th St.
Gering, NE
69341
Gibbon
Buffalo
Reporter
308-647-5158
Weekly
113 C St.
Shelton, NE
68876
Gordon
Sheridan
Sheridan Co. Journal-Star
308-282-0118
Weekly
210 No. Main St.
Gordon, NE
69343
Gothenburg
Dawson
Times
308-537-3636
Weekly
406 10th St.
Gothenburg, NE
69138
Grand Island
Hall
Independent
308-382-1000
Daily
422 West 1st
Grand Island, NE
68801
Grant
Perkins
Tribune-Sentinel
308-352-4311
Weekly
327 Central
Grant, NE
69140
Greeley
Greeley
Citizen
308-428-2915
Weekly
207 W. O?Connor
Greeley, NE
68842
Gretna
Sarpy
Guide & News
402-332-3232
Weekly
620 N. Hwy. 6
Gretna, NE
68028
Gretna
Sarpy
Breeze
402-444-1242
Weekly
604 Ft. Crook Road
Bellevue , NE
68005
Hartington
Cedar
Cedar Co. News
402-254-3997
Weekly
102 W. Main
Hartington, NE
68739
Hastings
Adams
Tribune
402-462-2131
Daily
908 West Second
Hastings, NE
68901
Hastings
Adams
Collegian
402-461-7399
College
7th & Turner
Hastings, NE
68901
Hayes Center
Hayes
Times-Republican
308-286-3325
Weekly
607 Tate
Hayes Center, NE
69032
Hebron
Thayer
Journal-Register
402-768-7214
Weekly
318 Lincoln Ave.
Hebron, NE
68370
Hemingford
Box Butte
Ledger
308-487-3334
Weekly
714 Box Butte Ave.
Hemingford, NE
69348
Henderson
York
News
402-723-5861
Weekly
1021 N. Main St.
Henderson, NE
68371
Hickman
Lancaster
Voice News
402-792-2255
Weekly
108 Locust St.
Hickman, NE
68372
Holdrege
Phelps
Citizen
308-995-4441
Daily
418 Garfield
Holdrege, NE
68949
Hooper-Scribner
Dodge
Rustler-Sentinel
402-664-3198
Weekly
310 Depot Rd.
Hooper, NE
68031
Howells
Colfax
Journal
402-986-1777
Weekly
122 N. Third
Howells, NE
68641
Humboldt
Richardson
Standard
402-862-2200
Weekly
317 West Square
Humboldt, NE
68376
Humphrey
Platte
Democrat
402-923-1400
Weekly
310 Main St.
Humphrey, NE
68642
Hyannis
Grant
Grant Co. News
308-458-2425
Weekly
206 S. Grant Ave.
Hyannis, NE
69350
Imperial
Chase
Republican
308-882-4453
Weekly
622 Broadway
Imperial, NE
69033
Kearney
Buffalo
Antelope
308-865-8488
College
University of Nebr.-Kearney
Kearney, NE
68845
Kearney
Buffalo
Hub
308-237-2152
Daily
13 E. 22 St.
Kearney, NE
68847
Kimball
Kimball
Western Nebr. Observer
308-235-3631
Weekly
118 E. 2nd
Kimball, NE
69145
Laurel
Cedar
Advocate
402-256-3200
Weekly
106 East Second St.
Laurel, NE
68745
Leigh
Colfax
World
402-487-2218
Weekly
216 Main St.
Leigh, NE
68643
Lexington
Dawson
Clipper-Herald
308-324-5511
Weekly
114 W. 5th St.
Lexington, NE
68850
Lincoln
Lancaster
Journal Star
402-475-4200
Daily
926 P St.
Lincoln, NE
68508
Loup City
Sherman
Sherman Co. Times
308-745-1260
Weekly
822 ?O? St.
Loup City, NE
68853
Lyons
Burt
Mirror-Sun
402-687-2616
Weekly
205 N. 2nd St.
Lyons, NE
68038
Madison
Madison
Star-Mail
402-454-3818
Weekly
211 South Main
Madison, NE
68748
McCook
Red Willow
Gazette
308-345-4500
Daily
West 1st & E
McCook, NE
69001
Milford
Seward
Times
402-761-2911
Weekly
510 First St.
Milford, NE
68405
Minden
Kearney
Courier
308-832-2220
Weekly
429 N. Colorado Ave.
Minden, NE
68959
Mitchell
Scotts Bluff
Index
308-623-1322
Weekly
1448 Center Ave.
Mitchell, NE
69357
Mullen
Hooker
Hooker Co. Tribune
308-546-2242
Weekly
306 NW 1st St.
Mullen, NE
69152
Nebraska City
Otoe
News-Press
402-873-3334
Weekly
823 Central
Nebraska City, NE
68410
Neligh
Antelope
News & Leader
402-887-4840
Weekly
419 Main
Neligh, NE
68756
Nelson
Nuckolls
Nuckolls Co. Locomotive Gazette
402-225-2301
Weekly
63 East 4th
Nelson, NE
68961
Newman Grove
Madison
Reporter
402-447-6012
Weekly
509 Hale St.
Newman Grove, NE
68758
Niobrara
Knox
Tribune
402-857-3737
Weekly
254-4 Park Ave.
Niobrara, NE
68760
Norfolk
Madison
Daily News
402-371-1020
Daily
525 Norfolk
Norfolk , NE
68701
North Bend
Dodge
Eagle
402-652-8312
Weekly
730 Main St.
North Bend, NE
68649
North Platte
Lincoln
Telegraph
308-532-6000
Daily
621 N. Chestnut
North Platte, NE
69101
North Platte
Lincoln
Bulletin
308-696-0052
Weekly
1300 E. Fourth St.
North Platte, NE
69101
O'Neill
Holt
Holt Co. Independent
402-336-1220
Weekly
114 North 4th
O?Neill, NE
68763
Oakland
Burt
Independent
402-685-5624
Weekly
217 N. Oakland Ave.
Oakland, NE
68045
Ogallala
Keith
Keith Co. News
308-284-4046
Weekly
116 West A
Ogallala, NE
69153
Omaha
Douglas
World-Herald
402-444-1000
Daily
1314 Douglas St.
Omaha, NE
68102
Omaha
Douglas
Creightonian
402-280-4059
College
Omaha, NE
68101
Omaha
Douglas
The Gateway
402-554-2471
College
MBSC 116
Omaha, NE
68182
Omaha
Douglas
Daily Record
402-345-1303
Daily
3323 Leavenworth St.
Omaha, NE
68105
Omaha
Douglas
Catholic Voice
402-558-6611
Weekly
6060 NW Radial Hwy.
Omaha, NE
68104
Omaha
Douglas
Jewish Press
402-334-6448
Weekly
333 S. 132nd St.
Omaha, NE
68154
Orchard
Antelope
Orchard News
402-887-4000
Weekly
110 E 4th Street
Neligh, NE
68756
Ord
Valley
Quiz
308-728-3262
Weekly
305 South 16 St.
Ord, NE
68862
Oshkosh
Garden
Garden Co. News
308-772-3555
Weekly
204 Main
Oshkosh, NE
69154
Osmond
Pierce
Republican
402-748-3666
Weekly
312 State St.
Osmond, NE
68765
Oxford
Furnas
Standard
308-824-3582
Weekly
104 W. S. Railway
Oxford, NE
68967
Palmer
Merrick
Journal
308-894-3025
Weekly
916 Commercial St.
Palmer, NE
68864
Papillion/LaVista
Sarpy
Times/Sun
402-444-1242
Weekly
604 Fort Crook Rd. N.
Bellevue , NE
68005
Pawnee City
Pawnee
Pawnee Republican
402-852-2575
Weekly
600 G St.
Pawnee City, NE
68420
Pender
Thurston
Times
402-385-3013
Weekly
313 Main
Pender, NE
68047
Peru
Nemaha
Times
College
600 Hoyt Stree
Peru, NE
68421
Petersburg
Boone
Press
402-386-5384
Weekly
123 Main St.
Petersburg, NE
68652
Pierce
Pierce
Pierce Co. Leader
402-329-4665
Weekly
109 E. Main St.
Pierce, NE
68767
Plainview
Pierce
News
402-582-4921
Weekly
508 W. Locust Ave.
Plainview, NE
68769
Plattsmouth
Cass
Journal
402-296-2141
Weekly
410 Main
Plattsmouth, NE
68048
Ponca
Dixon
Nebr. Journal-Leader
402-755-2203
Weekly
110 East St.
Ponca, NE
68770
Ralston
Douglas
Recorder
402-444-1242
Weekly
604 Fort Crook Rd. N.
Bellevue , NE
68005
Randolph
Cedar
Times
402-337-0488
Weekly
121 W. Broadway
Randolph, NE
68771
Ravenna
Buffalo
News
308-452-3411
Weekly
322 Grand Ave.
Ravenna, NE
68869
Red Cloud
Webster
Chief
402-746-3700
Weekly
322 N. Webster
Red Cloud, NE
68970
Sargent
Custer
Leader
308-346-4504
Weekly
757 H Street
Burwell, NE
68823
Schuyler
Colfax
Sun
402-352-2424
Weekly
1112 C St.
Schuyler, NE
68661
Scottsbluff
Scotts Bluff
Star-Herald
308-632-9000
Daily
1405 Broadway
Scottsbluff, NE
69361
Scottsbluff
Scotts Bluff
Business Farmer
308-635-3110
Weekly
22 West 17th
Scottsbluff, NE
69361
Seward
Seward
The Sower
402-643-7307
College
Concordia University
Seward, NE
68434
Seward
Seward
Seward Co. Independent
402-643-3676
Weekly
129 S. 6th St.
Seward, NE
68434
Shelton
Buffalo
Clipper
308-647-5158
Weekly
113 C St.
Shelton, NE
68876
Sidney
Cheyenne
Sun-Telegraph
308-254-2818
Daily
817 12th Street
Sidney, NE
69162
South Sioux City
Dakota
Dakota County Star
402-494-4264
Weekly
1000 West 29th, Suite 116
South Sioux City, NE
68776
Spalding
Greeley
Enterprise
308-497-2153
Weekly
140 S. Cedar St.
Spalding, NE
68665
Spencer
Boyd
Advocate
402-589-1010
Weekly
100 S. Thayer
Spencer, NE
68777
Springview
Keya Paha
Herald
402-497-3651
Weekly
102 S. Main St.
Springview, NE
68778
St. Edward
Boone
Advance
402-678-2771
Weekly
105 N. 3rd St.
St. Edward, NE
68660
St. Paul
Howard
Phonograph-Herald
308-754-4401
Weekly
406 Howard
St. Paul, NE
68873
Stanton
Stanton
Register
402-439-2173
Weekly
907 Ivy Street
Stanton, NE
68779
Stapleton
Logan
Enterprise
308-636-2444
Weekly
238 Main Street
Stapleton, NE
69163
Stromsburg
Polk
Polk Co. News
402-764-5341
Weekly
205 E. 4th
Stromsburg, NE
68666
Superior
Nuckolls
Express
402-879-3291
Weekly
148 E. Third Street
Superior, NE
68978
Sutherland
Lincoln
Courier-Times
308-386-4617
Weekly
824 1st St.
Sutherland, NE
69165
Sutton
Clay
Clay Co. News
402-773-5576
Weekly
207 North Saunders
Sutton, NE
68979
Syracuse
Otoe
Journal-Democrat
402-269-2135
Weekly
123 W. 17th St.
Syracuse, NE
68446
Tecumseh
Johnson
Chieftain
402-335-3394
Weekly
241 Clay St.
Tecumseh, NE
68450
Tekamah
Burt
Burt Co. Plaindealer
402-374-2226
Weekly
707 So. 13th
Tekamah, NE
68061
Thedford
Thomas
Thomas Co. Herald
308-636-2444
Weekly
Thedford, NE
69166
Tilden
Madison
Citizen/Meadow Grove News
402-368-5315
Weekly
Tilden, NE
68781
Trenton
Hitchcock
Hitchcock Co. News
308-334-5226
Weekly
346 Main
Trenton, NE
69044
Valentine
Cherry
Midland News
402-376-2833
Weekly
146 W. 2nd St.
Valentine, NE
69201
Verdigre
Knox
Eagle
402-668-2242
Weekly
202 Main St.
Verdigre, NE
68783
Wahoo
Saunders
Newspaper
402-443-4162
Weekly
564 N. Broadway
Wahoo, NE
68066
Wakefield
Dixon
Republican
402-287-2323
Weekly
224 Main St.
Wakefield , NE
68784
Wauneta
Chase
Breeze
308-394-5389
Weekly
324 Tecumseh Ave.
Wauneta, NE
69045
Wausa
Knox
Gazette
402-586-2661
Weekly
603 E. Broadway
Wausa, NE
68786
Waverly
Lancaster
News
402-786-2344
Weekly
14210 Kenilworth
Waverly, NE
68462
Wayne
Wayne
The Wayne Stater
402-375-7488
College
111 Main Street
Wayne, NE
68787
Wayne
Wayne
Herald
402-375-2600
Weekly
114 Main
Wayne, NE
68787
West Point
Cuming
News
402-372-2461
Weekly
134 E. Grove
West Point, NE
68788
Wilber
Saline
Republican
402-821-2586
Weekly
115 W. 3rd
Wilber, NE
68465
Wisner
Cuming
News-Chronicle
402-529-3228
Weekly
1014 Avenue E
Wisner, NE
68791
Wolbach
Greeley
Messenger
308-754-4401
Weekly
408 Howard Ave
Saint Paul , NE
68882
Wood River
Hall
Sunbeam
308-647-5158
Weekly
113 C St., Shelton
Wood River, NE
68876
Wymore
Gage
Arbor State
402-645-3344
Weekly
PO Box 327
Wymore, NE
68466
York
York
News-Times
402-362-4478
Daily
327 Platte Ave.
York, NE
68467
Receive your Proof of Publication from the newspaper
After your Notice of Organization has run for 3 consecutive weeks, the newspaper should send you back a Proof of Publication.
Most newspapers will automatically send your Proof of Publication (or Affidavit of Publication) after your newspaper ad runs.
If you don't get yours in 1 week after the ad runs, you can call the newspaper and request it.
LLC University® recommendation:
Make two copies of this document and keep it with your business records.
Here's what a Proof of Publication/Affidavit of Publication may look like: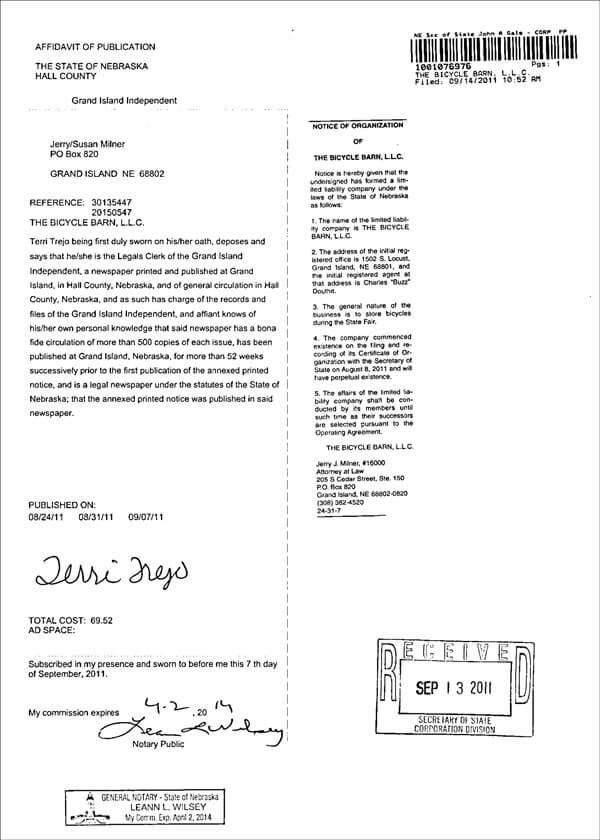 File your Proof of Publication with the State
After you receive the Proof of Publication, you need to submit a copy to the Nebraska Secretary of State.
After the Secretary of State receives it, they will upload it to your LLC's permanent record and it can be seen by doing a business search.
Note: Some newspapers automatically file your Notice of Publication with the Secretary of State. Make sure to call the newspaper and ask. If they don't, you can follow the instructions below.
There are two ways you can file your Proof of Publication with the State:
By mail: $30
Online: $27
LLC University® recommendation:
We recommend filing online if you're comfortable with scanning PDF documents
We recommend filing by mail if you don't have a scanner or aren't "tech comfortable"
How to file Proof of Publication (online instructions)
Scan your Proof of Publication and save it to PDF format (the state only accepts PDF files)
Go to the Corporate Document eDelivery page
Under Select Filing Type, select "filing for an existing entity/trade name"
Enter your LLC's Business Services Account Number (do a business search to find it)
Leave the Client Memo line blank
Click "Continue"
Select Proof of Publication and click "Continue"
Upload your PDF and click "Continue"
Under Required to Submit, check the box to agree to the terms
Enter your email address to receive notifications for your LLC (optional)
Leave the Note to SOS Filing Office blank and click Submit
Enter your billing and credit card info, click Verify Information, and finalize your payment
How to file Proof of Publication (mail instructions)
Prepare a check or money order
Make it payable to "Secretary of State"
Mail your Notice of Publication and check or money order to:
Secretary of State
PO Box 94608
Lincoln, NE 68509-4608
Download a filed copy of Proof of Publication
After you file your Notice of Publication with the State, you'll want to download a copy from their website.
This copy is important because it will be stamped by the Nebraska Secretary of State.
This is proof that you've properly met the newspaper publication requirement.
How long before the Secretary of State reviews and scans?
The Secretary of State will scan your Notice of Publication into your LLC's record within 1-2 business days.
How can I download a stamped copy?
Do a business search
Click on your LLC name
Scroll down to Filed Documents and look for Proof of Publication
You'll need to pay $0.45 to download a copy
Next Step: LLC Biennial Report
Once you have published your Notice of Organization, received back an Affidavit/Proof of Publication and filed it with the Nebraska Secretary of State, you can then proceed to the next Lesson: Nebraska LLC Biennial Report.
Nebraska Secretary of State Contact Info
If you have any questions, you can contact the Nebraska Secretary of State at 402-471-4079.
NEBRASKA LLC GUIDE
Follow the lessons below to form your Nebraska LLC.