You can get an LLC in Virginia in 2-3 business days if you file online (or 2 weeks if you file by mail). If you need your Virginia LLC faster, you can pay for expedited processing.
Virginia LLC Processing Times
[table id=104 responsive=scroll /]
What is LLC processing time? Processing time is the time it takes for the state of Virginia to review your LLC filing and enter it in their system. After your LLC is approved, the state sends back your approved documents electronically or by mail.
Virginia LLC Approval Times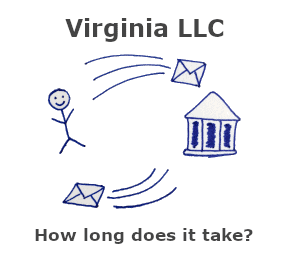 Mail filings: In total, mail filing approvals for Virginia LLCs take 2 weeks. This accounts for the 2-3 business day processing time, plus the time your documents are in the mail.
Online filings: In total, online filing approvals for Virginia LLCs take 2-3 business days. Since you can download your documents as soon as they're approved, there is no extra transit time.
What is LLC approval time? This is the total turnaround time to get your LLC approved from start to finish. It includes the processing time plus any transit time to and from the state.
Virginia expedited LLC
Virginia has one expedited option for mail and online filings:
Next day processing for $100 extra (must be received by 1pm)
Note: Expedited fees are in addition to the LLC filing fee.
What's the fastest way to get an LLC in Virginia?
The fastest way to start an LLC in Virginia is to file it yourself online, and pay for expedited filing. This option has the fastest approval time.
How much does an LLC cost?
LLC costs vary by state and are between $40 and $500. Please see how much does an LLC cost for details.
How to start an LLC in Virginia?
Here are the steps to starting an LLC in Virginia:
Should I hire an LLC filing service in Virginia?
Hiring an LLC filing service isn't going to get your LLC approved any faster. Filing companies still have to wait for the state to approve your LLC.
However, the benefit of hiring a filing company isn't to reduce LLC approval time. It's to have someone else take care of the paperwork for you (and make sure it's filed correctly).
If you want to hire someone to form your LLC, we recommend
Northwest Registered Agent ($39 + state fee).
Check out our Northwest Registered Agent review for more info.
Northwest Registered Agent has been in business for over 20 years and they have the best customer support.
Our favorite thing about Northwest is that you can use their address throughout your LLC filing. This can provide you with additional privacy by keeping your address off public records. No other filing company offers this.
How long does it take to get an LLC in every state?
Important: Just because one state is faster than another doesn't mean you should form your LLC there. If you form your LLC out-of-state, you'll need to register it as a foreign LLC in your home state. For more information, please see the best state to form an LLC.