Learn what is an LLC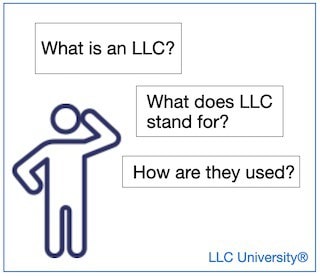 LLC means Limited Liability Company.
A Limited Liability Company, most commonly called an LLC, is a legal business structure that protects your personal assets (your home, car, and personal bank accounts) in the event your company is sued.
An LLC is most often used to operate a business (you can have multiple businesses in one LLC), but LLCs can also be used to take title to assets.
For example, an LLC can be created to own real estate (when should I form an LLC for real estate?), vehicles, boats, and aircraft.
LLC University® video: What is an LLC?
What is an LLC? - Form an LLC (1/11)
(After you watch this video, check out our "What is an LLC" Youtube playlist)
The owners of an LLC are called "Members"
The owners of an LLC are called "Members".
An LLC can be owned by one person (called a Single-Member LLC).
Or an LLC can be owned by two or more people (called a Multi-Member LLC).
The LLC is created by a filing form (called an LLC Articles of Organization) with your state's Secretary of State office, or similar government agency, and paying a one-time filing fee.
You can find out how much it costs to form an LLC in each state by clicking here: LLC University: LLC filings fees by state.
Why do people form an LLC?
The primary reason to form an LLC is for personal asset protection.
By forming an LLC you create a "protective wall" between your business and your personal assets.
Your personal assets include everything that you own: your home, cars, trucks, bank accounts, investment properties, boats, jewelry, etc.
A creditor cannot go after your personal assets
If your LLC is sued, creditors can only attack the assets of your LLC to settle those business debts and liabilities.
Your personal assets are safe and secure.
They are not considered a part of the business.
Again, without forming an LLC, your personal assets are at risk if your business is sued.
Speaking the (correct) LLC language
There are two common mistakes people make when talking about LLCs:
"I want to form a Limited Liability Corporation."
You cannot form a Limited Liability Corporation. There is no such thing. An LLC is a Limited Liability Company.
"I'm going to LLC myself."
Again, this is incorrect. You cannot do that. You can't "LLC yourself".
But, you can form an LLC for your business. An LLC is "separate and apart" from you. It is not you.
You form the LLC. Then you own and manage that LLC.
It's important that you understand the difference in these terms so you don't sound like an idiot and can speak intelligently about your business.
What's better: an LLC or a Corporation?
A lot of people ask us if they should form an LLC or form a Corporation?
Let's discuss the major differences.
LLCs don't have to elect a board of directors; Corporations do.
LLCs don't need to hold board meetings; Corporations do.
LLCs don't have to keep records of all their meetings; Corporations do.
LLCs are not subject to double taxation; Corporations are.
LLCs can distribute profits however they want; Corporations can't.
In short, LLCs are the most popular and the most flexible business structure for business owners, entrepreneurs and real estate investors.
LLCs are affordable to set up
You'll pay a one-time filing fee to form your LLC.
The setup fee is cheap compared to forming other types of business entities (like a Corporation).
Losing your personal assets is much more expensive than setting up your LLC.
And even if your state has higher filing fees, they are well worth the assurance of knowing your assets are fully protected.
LLCs are low maintenance
Once your LLC is setup, there are only a couple requirements to keeping it active.
The first requirement is sending your LLC Annual Report to the state.
(Note: Not all states require Annual Reports.)
And the second requirement is to file your state and local taxes.
Other than that, the only additional "work" you'd need to do is file a simple form if you change your address.
LLCs are easy to maintain.
An LLC can be used to run multiple businesses
You can use one LLC for multiple business activities. Or you can create multiple LLCs.
For more information, please see can you have two businesses under one LLC.
How do I form an LLC?
1. Pick a name for your LLC.
2. Prepare your Articles of Organization, Certificate of Organization, or Certificate of Formation. File by mail or file online with the Secretary of State and pay the state filing fee.
3. Wait a few business days for your LLC to be approved.
That's how to form an LLC. Yes, there are few more steps, like Operating Agreement, Federal Tax ID Number (EIN), and Annual Report, but these are the basic steps to getting your LLC started.
If you're ready to get started, select the state where you are forming an LLC: