As of July 1, 2023, this program is now over.
You can no longer get a free California LLC.
LLCs in California are now their regular price at $70.
To learn more about filing fees and costs, see California LLC costs.
Note: The information below is no longer applicable. Consider it historical reference.
California's Budget Act of 2022 Waives the Filing Fee for LLCs
Forming a California LLC is free until July 1, 2023!
California passed a new Budget Act (Senate Bill 154) that waives the registration fees for California LLCs formed between July 1st, 2022 and June 30, 2023.
That means instead of $70 to form a California LLC, you can start an LLC for free in California!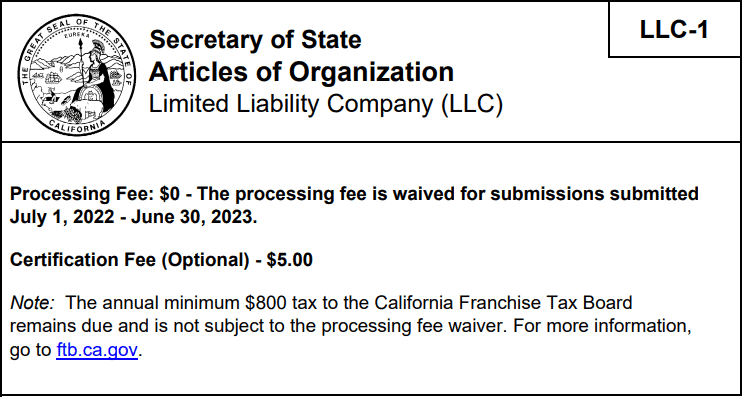 If I already formed an LLC, can I get my money back?
No, unfortunately not. If you already formed a California LLC, there is no refund. Senate Bill 154 only affects newly formed LLCs in California.
Is a Certified Copy of my Articles of Organization free?
To start an LLC in California, you'll file a form called the California Articles of Organization. Once the Articles of Organization is approved by the state, your LLC officially goes into existence.
If you'd like a Certified Copy of your approved Articles of Organization, this will cost $5.
Senate Bill 154 didn't waive this $5 fee. It only waived the $70 fee to file the Articles of Organization. Said another way, you'll still have to pay $5 for a Certified Copy of your Articles of Organization. We recommend obtaining this document when forming an LLC in California.
What other fees are there to form an LLC?
After your California LLC is formed, there are some other fees to be aware of.
Within 90 days of your LLC being approved, you'll need to file an initial California Statement of Information. Then every 2 years, you'll need to file a Statement of Information for the life of your LLC.
Then there is the California Annual Franchise Tax. This is $800 and is due every year by April 15th.
The two fees above were not changed via Senate Bill 154. They are still $20 for the Statement of Information and $800 per year for the Annual Franchise Tax.
CALIFORNIA LLC GUIDE
Follow the lessons below to form your California LLC.