InCorp Services, Inc. is a well-known business formation service and Registered Agent service company. They are best known for their national Registered Agent services. Their Limited Liability Company (LLC) formation offerings are established but may not be familiar to entrepreneurs.
It's the other way around for most LLC formation companies. Other competitors usually focus on their business formation services and offer to act as your LLC's Registered Agent as a secondary option.
InCorp has been in business since 1998, and they have helped form over 250,000 LLCs throughout the country. So while they focus on Registered Agent services, InCorp has plenty of experience forming LLCs as well.
In our InCorp review, we will thoroughly evaluate various aspects of their LLC formation services online, including:
price points
turnaround times
upsells
clarity of the language on their website
customer service
and the user experience
We will also take a look at the additional LLC services that InCorp offers. Finally, we will evaluate InCorp's Registered Agent service and customer reviews.
InCorp's LLC Formation Services
Price points
Unlike most LLC formation companies, InCorp does not offer a selection of service packages with different prices. InCorp offers one service package at $99. They do offer optional add-ons with extra fees.
Warning! If you don't live or do business in the state where InCorp forms your LLC, you'll need to register your LLC as a Foreign LLC in your home state. This means you need to maintain two LLC filings, pay two state filing fees, and maintain two Registered Agents. Please see Best state to form an LLC to make sure you're forming an LLC in the right state.

This $99 package includes bare-bones LLC formation. It does not include InCorp serving as your LLC's Registered Agent or any other add-ons.
Note: You should know that the base rate for this service package is really $117, as the $99 price does not include a mandatory $18 shipping fee.
You may be able to take advantage of InCorp's price-match guarantee. They might beat the price from another LLC formation company, and many LLC formation companies out there charge less than $117 for bare-bones LLC filing.
However, some of the company's customer reviews note that InCorp goes to great lengths to avoid actually matching the lower prices of competitors. Here's the FAQ about the price-match guarantee, which includes a lot of conditions:

Turnaround Time
One of the biggest pros of InCorp is its fast turnaround time. InCorp will process most LLC filing orders within one business day. Once they submit your paperwork to the state of your choosing, the approval times will vary based on the state.
You can order expedited processing through InCorp, but the cost and turnaround times will also vary based on the state where you are registering your LLC.
nd after you form an LLC, InCorp offers standard 2-day shipping for items and documents that are sent directly to you. That includes the documents from the state, and any extras you have ordered. You can upgrade to overnight shipping for $6.
Upsells
InCorp specializes in offering bare-bones LLC formation services, instead of confusing packages with high prices. InCorp does offer a wide variety of optional add-ons, but these are purchased separately and not part of any package deals.
These additional services include managed report filing, corporate item kits, IRS filing, and a business license research service. Here's the full list of additional services InCorp offers.
Things InCorp will file for you:
Federal EIN

InCorp fills out the form with the IRS to get an EIN for your LLC.

DBA (also called Fictitious Name)

InCorp generates the document and files it with the state or municipality.

Foreign Qualification

InCorp generates the document to register your LLC in other states where you do business.

Article of Amendment

InCorp generates the document to amend your Articles of Organization and files it with the state. You still pay the state fees.

Managed Reports Service

InCorp files your Annual Report with the state. You still pay the state fees.

Corporate Dissolution

InCorp generates and files this form. But dissolving an LLC is uncommon.
Things InCorp will request from the state:
Certified Copies

InCorp requests this from the state for you. You still pay the state fees

Certificate of Good Standing

InCorp requests this from the state for you. You still pay the state fees.

Apostille Service

InCorp can create these certified copies for use in other countries.
Research/Advice InCorp will do:
Business Licensing

InCorp's partner researches what licenses your business needs. Then you complete the license filings on your own and pay any fees.

Trademark

InCorp helps you check that your business name and logo aren't already trademarked, and can help you register a trademark for your business name or logo.

Copyright

InCorp helps you file copyright for your business name or logo, or your intellectual property – like an invention.
Corporate Kit
As with many LLC formation companies, InCorp offers a Corporate Kit. These kits contain optional materials that your business may find useful like: seals, business ledgers, stock certificates, and business binders.
InCorp offers several different designs for the items. Each kit (regardless of the design you choose) costs $69, plus $18 for standard shipping. None of the items in these kits are necessary to run your LLC, so we don't feel that this is a good value for your money.
Pro tip: You can make membership certificates for your LLC at home: Download our free LLC Membership Certificate template. And if you want to order a business seal or other stationery items, we recommend Moo.com. You can design and customize everything you order from Moo.com, unlike the bundled items through InCorp.
Managed Report Service
One of Incorp's most interesting and useful upsells is their Managed Report Service. If you order this service, InCorp will prepare and file your LLC Annual Report for you.
Every state requires that LLCs file Annual Reports. If you order InCorp's managed report filing service, they'll make sure you file your Annual Report correctly and on time. Managed Report Service costs $49 per year. You also still pay the state's Annual Report fee, which varies from state to state.
But since the state usually sends a reminder, and filing Annual Reports is usually simple and straightforward, you can easily do this yourself. LLC University walks you through Annual Report filings in our LLC Formation courses.
EIN Number
InCorp offers various IRS form filing services. They will file for an Employer Identification Number (EIN) for you through the IRS website for $69. Or they will prepare a hard copy EIN application form for $35, which you can mail or fax to the IRS.
However, you can easily get an EIN for an LLC yourself and an EIN is free from the IRS – so none of these services are worth it.
License Search
Finally, InCorp offers a license research service through LicenseLogix. For $139, they will research your state's applicable laws and provide you with a list of licenses or certifications your business may need to operate legally. The license packages can get pretty expensive, and we don't think they're worth it.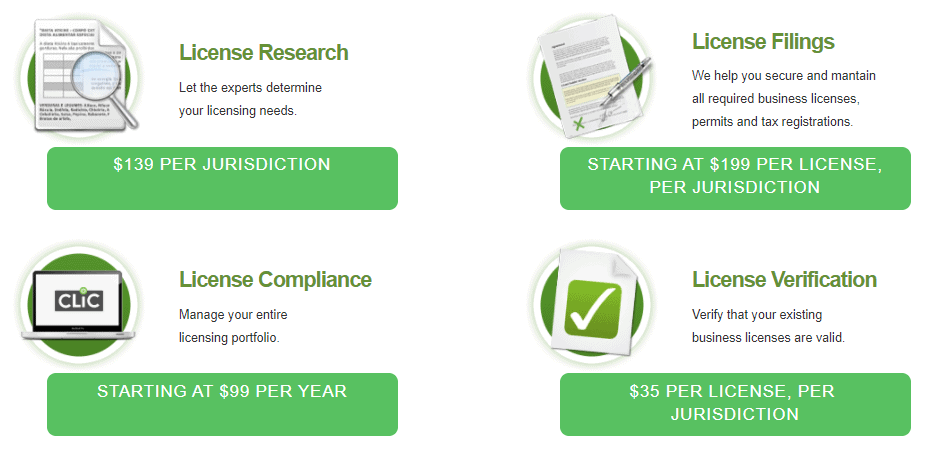 Tip: Save time by hiring an expert. We recommend using IncFile ($99) to handle the business license research for you.
User Experience and Confusing Language
Website quality and information is one area where InCorp falls behind their competitors.
The InCorp website doesn't offer very much information about their services. After the initial mention of a service, it takes several clicks to find any details.
InCorp does have an FAQ section, but it is disorganized and hard to follow.
They also have some misleading information on their website. For example, they advertise that their basic LLC filing service is only $99. This is misleading because the $18 shipping fee is mandatory, meaning their bare-bones LLC filing service actually costs a minimum of $117.
Customer Service
InCorp claims to offer great customer service. In reality, their customer service is just okay.
Unlike some competitors, InCorp does offer chat support. However, the chat interface can be confusing, and isn't visually pleasing. When we asked questions in chat, the answers were clearly scripted. This means that InCorp's chat support is only useful if you are asking a common question. Otherwise, you'd be better off giving them a call.
InCorp offers decent phone-based customer service. Their reps are not particularly warm or friendly, but they are quite knowledgeable. They were even able to anticipate the follow-up questions we were planning to ask and answer those questions preemptively. The customer support rep we spoke to was also very honest and up-front about the prices of InCorp's services and exactly what was included.
Hate calling customer support? Hire Northwest instead. They have great prices ($39 + state fee) and they do things right the first time, so you don't even have to experience their award-winning customer support. ;)
(Read our Northwest Registered Agent review to see why we're confident that you're in good hands.)
User Experience
InCorp offers a satisfactory user experience when ordering their LLC formation service. Their website is old-fashioned and not aesthetically pleasing.

However, they don't have a lot of pop-ups pushing optional services like many competitors. Also, users who wish to order an LLC formation service are taken straight to the order page. Many competitors will direct users to page after page of upsells.
The order page itself looks like it's from the 1990s. On the other hand, it is functional and easy to understand. Some of the competitors' slick, modern order pages can be confusing.
InCorp Reviews
Negative InCorp reviews on the Better Business Bureau website seem to be mostly from customers who haven't read the InCorp Terms of Service. However, InCorp still seems to offer satisfactory resolutions, resulting in an overall Better Business Bureau score of A+. Make sure you read the paperwork before you sign and you should be fine.
InCorp reviews on Google average 3.9 out of 5 stars and their Trustpilot score is 4.2 out of 5 stars. The positive reviews praise InCorp's customer support team for being thorough, friendly, and great at helping new small business owners easily navigate the confusing business formation process.
InCorp's Registered Agent Service

Registered Agent Service Pricing
InCorp is best known for their Registered Agent service, which forms the core of its business. They offer the first year of service for $129, which is about the average rate in the industry.
However, InCorp offers volume discounts if you order more than one year of Registered Agent services. If you purchase more than one year of Registered Agent service, you get a discount on the yearly fee. However, you have to pay for all the years upfront (you don't pay the lower yearly rate each year).
For example, if you purchase 5 years of Registered Agent service, InCorp says you only pay $87 per year. That's true – but you're paying $434 when you purchase, which covers 5 years of service.
Most Commercial Registered Agents do not offer volume discounts, so InCorp has a unique offer. Most companies instead just offer the first year for free and charge their regular rate for every year after that. If you can afford to pay for a couple years up front with InCorp, you can save up to $200.

Price Match Feature
InCorp also has a price match guarantee for their Registered Agent service. If you give their customer support team a link to competitors offering a lower price, they'll check it out.
If it's a legitimate Registered Agent service with comparable features, InCorp claims they will match or beat the price.
Learn more: What's an LLC Registered Agent?
Mail Forwarding
InCorp's Registered Agent Service will scan legal documents that have been sent to your LLC, and upload them to your account. InCorp calls this online portal an "entity management system". This portal allows you to access all of the information about your LLC online, including any Service of Process they receive for your business entity.
You will receive an email notification when a legal document or a notice from the state arrives for your LLC. Your Registered Agent will also forward the hard copies to your address.
You could work with Northwest instead.
Northwest Registered Agent is our #1 recommendation for LLC formation. They'll take care of everything for $39 + state fees, and you'll get your first year of Registered Agent service for free.
(See why Northwest is #1 in our Northwest Registered Agent review)
Is InCorp the Best LLC Service & Registered Agent Service?
InCorp is not the best choice for LLC formations. They only offer one bare-bones service package, and it is more expensive than the equivalent packages from many competitors. And any additional services you might want each come with an additional fee.
However, InCorp is a good choice for Registered Agent services because they have over 20 years of experience in this field. They upload documents sent to your LLC to an online portal, which is easy to use and means you get notified about important documents quickly. Also, InCorp offers multi-year discounts that many competitors can't match.
Our Recommendation: If you want to save time and have your LLC formation and Registered Agent services taken care of by the same company, we recommend Northwest Registered Agent. Their customer support is second to none, and their pricing is very competitive. You get high quality service on both the filings and Registered Agent Service.
Alternatively, if you want to save as much money as possible by forming your LLC yourself and being your own Registered Agent, check out our free step-by-step lessons on How to Start an LLC in every state.