MaxFilings is an LLC services company that's best known for helping entrepreneurs form LLCs. Unlike many competitors, MaxFilings can help you form a non-profit company as well as other online incorporation services. They also offer Registered Agent services.
MaxFilings operates by three core principles: convenience, competitive and transparent pricing, and ease of use. We evaluated their Limited Liability Company (LLC) formation offerings on those three things.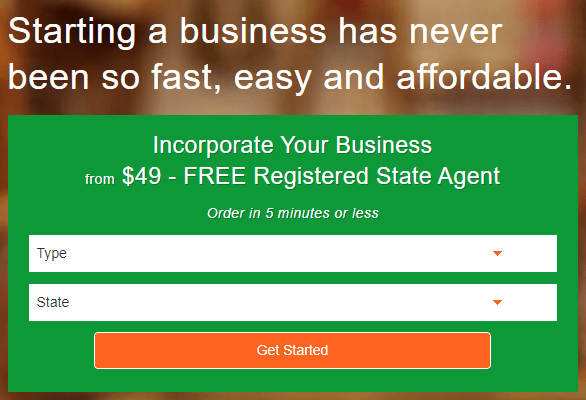 MaxFilings' LLC Services

Price Points
MaxFilings has three different LLC formation service packages: Silver, Gold, and Platinum. As promised, MaxFilings shows you honest prices for each LLC formation package. You select the state where you want to form your business entity, and MaxFilings gives you the total price.

Silver Package
The Silver package costs $49 plus state fees. This is a competitive price for the basic LLC formation service.
In the Silver package, MaxFilings will conduct a business name availability search and prepare and file your LLC Articles of Organization. It also includes one year of free Registered Agent service. After that, the Registered Agent service renews at $99 per year.
Finally, the Silver package also includes an hour-long tax consultation and a business bank account. Most competitors don't include these extras in the basic level package. However, be aware that these consultations are usually just sales pitches by the bank or tax company. That means MaxFilings won't give you any advice about taxation and business structure, they just connect you to other companies.
Gold Package
The Gold service package is the next level up and costs $149 plus state fees. Everything in the Silver package is included, plus these extras:
an Operating Agreement
a banking resolution

But this is unnecessary. You only need your Articles of Organization and Operating Agreement to open a business bank account.

an Employer Identification Number (EIN) for your LLC

But you can easily get an EIN for an LLC yourself in just a few minutes – and an EIN is free from the IRS.

and express shipping
Since everything here (except express shipping) can be done for free at home, we think the Silver package is a better value than paying $100 more for Gold.
Platinum Package
MaxFilings' premium LLC formation option is its Platinum package, which costs $299 plus state fees. Everything in the Silver and Gold packages is included, plus 25 legal document templates and a business website through MaxFilings' web hosting partner.
We don't think this is worth the price. Legal document templates are easy to find online. And if you need a contract or agreement specific to your business, you should hire a qualified business attorney for help.
You can get a better deal on a business website by creating it yourself, plus you get more options in the design and functionality of the site. We have a step-by-step guide to getting a business domain name that can help you get started.
Turnaround Time
MaxFilings offers next business day turnaround times for their LLC service. This makes MaxFilings among the fastest options in the industry. Most competitors take two to three business days to file your documents.
MaxFilings also offers you the opportunity to select the expedited processing options offered by the state you are filing in. You will have to pay whatever fees your state charges for expedited processing, plus an additional service fee. These fees can vary widely, as can the processing times. Check out How long does it take to get an LLC for more information.
Upsells
MaxFilings offers many upsells. These upsells are displayed when you enter the LLC formation order process, but you do not have to deal with annoying popups like you do with some competitors.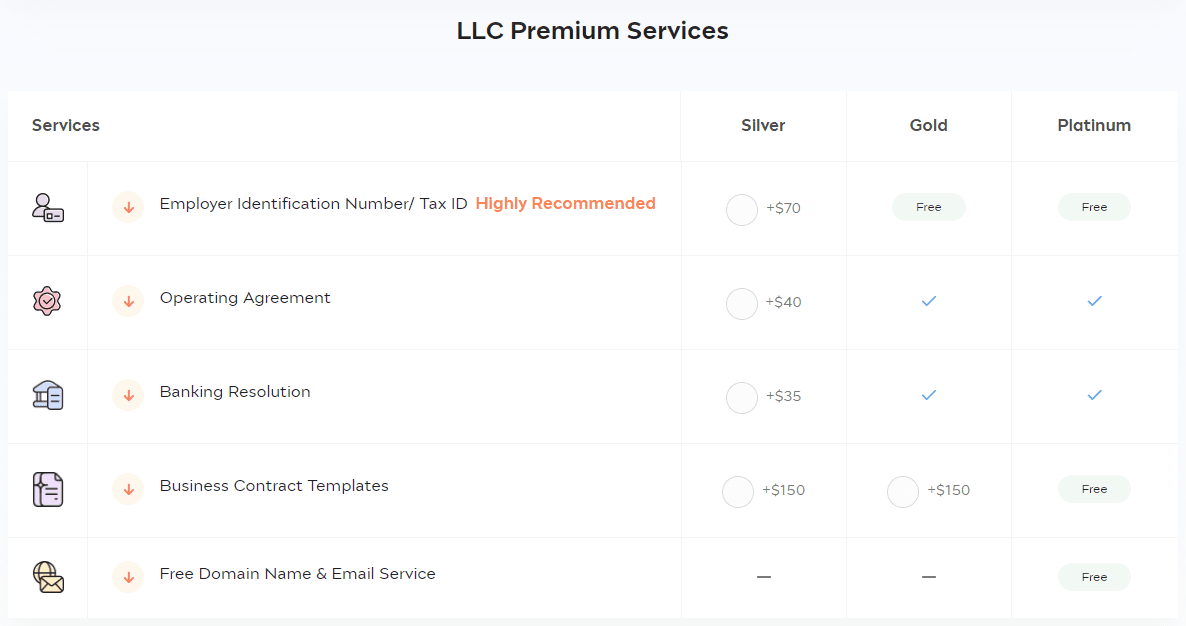 If you choose the Silver package or the Gold package, there is a separate screen during the formation process that shows you all the other upsells you could be getting for free with the Gold or Platinum package respectively. We don't like that this screen uses the deceptive "continue with upsell" button vs the much smaller "no thanks" link.

Bank of America Account
MaxFilings partners with Bank of America for small business bank accounts, and there is a screen during the formation process about this offer.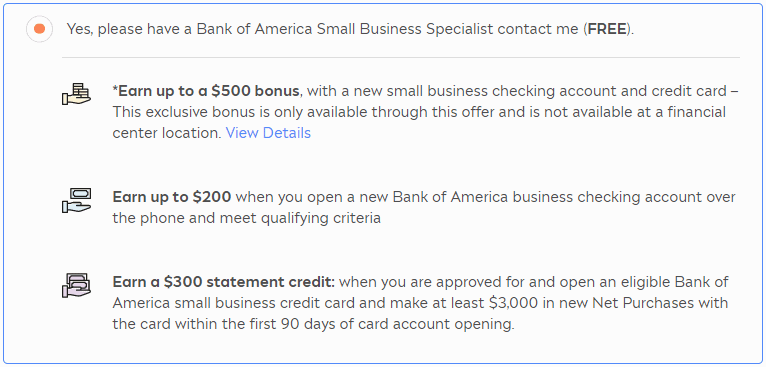 While Bank of America is a reputable US national bank, you should be sure to research your options thoroughly to make sure you're choosing the right financial institution for your business. A good bank can help you protect your business assets.
EIN Number
An EIN is a $70 upsell if you choose the Silver package. This is not a good value, as you can easily get your own EIN for an LLC for free by submitting a form on the IRS website.
Operating Agreement
An Operating Agreement is a $40 upsell if you choose the Silver package. An Operating Agreement is very important, because it lays out the rules that the members of your LLC have to follow when running the business. $40 is a competitive price, but you can draft an LLC Operating Agreement for free using our template.
Banking Resolution
A banking resolution is a $35 upsell if you go with the Silver package. However, this document is unnecessary. You can open a business bank account for your LLC using just your Articles of Organization and Operating Agreement. Read more here: LLC Bank Account.
Legal Document Templates
If you chose the Silver or Gold packages, you can purchase the 25 business document templates for $150. The templates are included with the Platinum package.
If you need contracts, though, you should consider having them drafted specifically for your business by an attorney. Otherwise, you can find simple business document templates for free online.
Business License Research
For $99, MaxFilings will help you with business license research. This is an important step in figuring out what licenses or permits your LLC needs to operate. $99 is the average price in the industry for this service, so this is a good value. It's also convenient to purchase the business license research package from MaxFilings at the same time you're paying them to form your LLC.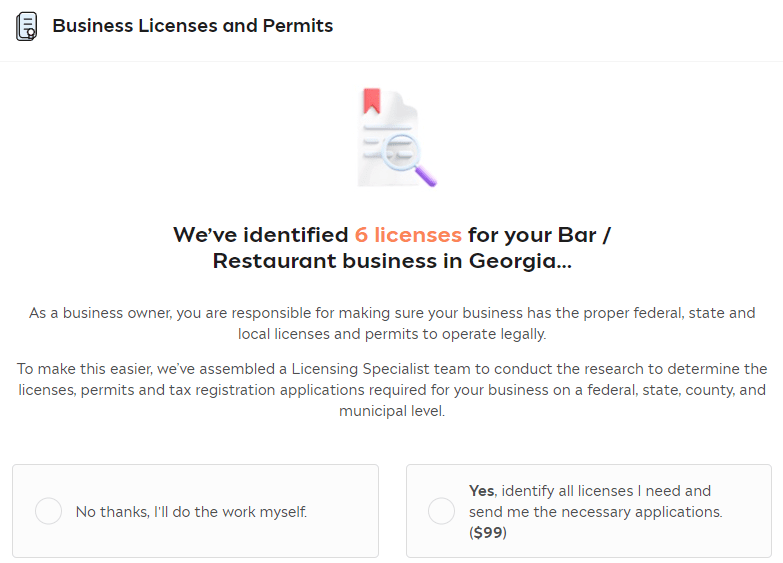 Transparent Language
Most of MaxFilings' website is filled with vague, salesy language. This is standard for the industry. However, MaxFilings' website does have a page that clearly lists the fees for their packages and all of their upsells. This matches their principle of competitive, transparent pricing.
The business formation process itself is clear and easy to use. We didn't have any complaints there.
Customer Service
We tried out MaxFilings' customer service for ourselves, and we weren't impressed. While some competitors offer both chat and phone support, MaxFilings only offers phone-based customer support.
MaxFilings' phone service is supposed to be available from 9 AM-6 PM Central Time, but there was no answer when we called at 10 AM CT. We called again at around 2 PM CT, and we were placed on hold for roughly 10 minutes. When we finally did get through the rep we spoke with only provided basic answers that were clearly read from a script. He didn't seem to fully understand our questions.
MaxFilings doesn't have stellar customer reviews on the Better Business Bureau or Google. We couldn't find any MaxFilings LLC reviews on Trustpilot. It seems that other customers may be having similarly negative experiences with the customer support at MaxFilings.
User Experience

MaxFilings makes placing an LLC formation order easy. Their website claims that you can finish your order in about five minutes. While this might be a bit of an overstatement, their simple and straightforward order process can be completed in around 10-15 minutes.
Some features of their website don't function, however. The FAQs on the actual formation order pages don't open, for example. That's a problem, since if you have questions about the order process you can't read the FAQs and customer service isn't very helpful.
Money-Back and Price Match Guarantee
MaxFilings offers a 60-day money-back guarantee, but they won't refund state fees or "out of pocket costs". We're not sure what exactly they will refund.
MaxFilings also offers a price-matching guarantee where they will refund the difference between their price and a competitor's price plus an additional 10%.
Additional Services & Features
Like other popular LLC formation services, MaxFilings offers a few additional services and features that are not directly related to forming an LLC or hiring a Registered Agent
Business Address
One unique offering is the business address service. MaxFilings offers you a 'company address' that you can put on state filings to protect your privacy. This is not the same as your Registered Agent's address, and it isn't included if you hire MaxFilings as your Registered Agent. The company address feature costs $29 per month.
This feature can help you avoid getting spam mail or having your address on public record. If you don't want to pay an extra $29 per month for that, our favorite Registered Agent and LLC formation company, Northwest Registered Agent, will let you use their address on state filings. They include this in the cost of Registered Agent service, so there's no extra monthly charges.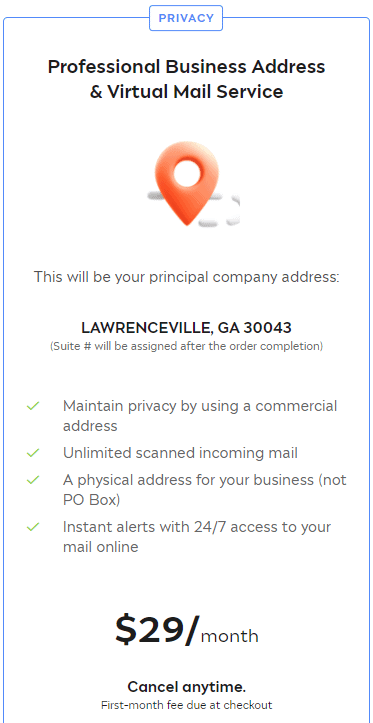 Web Hosting
MaxFilings partners with Snap Web to offer a web hosting package. The pricing for this depends on which package you selected, and includes reserving your domain name and a very basic website.
We think it's better to work directly with a web hosting service of your choice. You can save money and get a lot more options to design your website, including getting business email services. Check out our business domain name guide for more ideas.
Tax Consultation
MaxFilings also offers an hour-long tax consultation. They do not offer any additional details about this service. However, most tax consultations offered by LLC services companies tend to be more about selling the services of the tax preparation company rather than actually providing helpful advice.
Registered Agent Services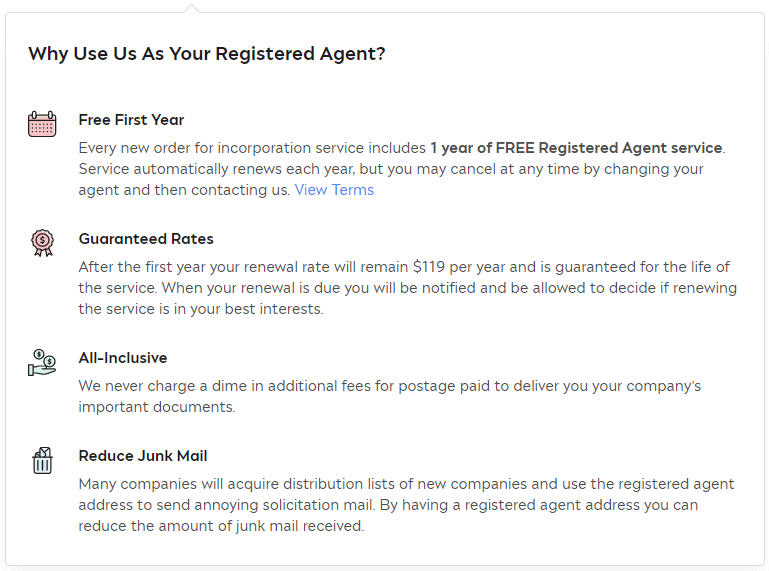 Price
One year of free Registered Agent service is included with all of MaxFilings' service packages. This means that they will receive mail sent to your limited liability company and forward it to you. The service renews at $99 per year. That's a competitive price for Registered Agent services, which range from $50 to $300 per year.
Mail Forwarding
MaxFilings will scan all mail that they receive for your business and upload it to your account. You will receive an email notification for each new piece of mail. They do not forward anything by physical mail, which is increasingly common in the industry.
MaxFilings LLC Service Review
We think MaxFilings's Silver package is a good deal. You get all the essential LLC formation services for a good price, and their website is easy to use. However, their customer service was pretty disappointing so if you think you will need help, we can't recommend them.
MaxFilings offers the usual other LLC services beyond the formation filing, but you can do most of those things at home for free. If you're looking for basic online incorporation services to start a limited liability company, MaxFilings is a good choice as long as you stick to the Silver package.
If you're new to LLCs and want an LLC service that offers good customer service at every step of the process, we encourage you to check out Northwest ($39 + state fee) instead.