So you've decided to start an LLC for your business. And you've been looking at the different LLC formation companies you could hire to file the paperwork with the state.
You've probably seen lots of websites talking about LegalZoom. That's because they are one of the biggest legal services companies in the business formation industry. But you may be shocked at how expensive it is to hire LegalZoom for legal services.
We explore some LegalZoom alternatives that offer cheaper business formation services.
About LegalZoom

LegalZoom is an online legal services company that offers a wide variety of legal forms and business formation services, including Limited Liability Company (LLC) formation services.
According to their website, LegalZoom was founded in 1999 and has launched over 4 million businesses. LegalZoom is well-known as a legal and business service provider. They offer LLC formation packages that include various legal documents as well as other LLC services and business advice.
LegalZoom offers three LLC formation packages: Economy ($79), Standard ($329), and Express Gold ($349). These prices don't include the LLC state fees required to form an LLC.

While LegalZoom is a big online legal services company, they may charge more than you want to spend when starting your business. That's why we wrote this article to help you compare some LegalZoom alternatives.
5 Cheaper Alternatives to LegalZoom for Starting Your LLC
Our #1 pick for an LLC formation company that is cheaper and provides better service than LegalZoom is Northwest Registered Agent.
Or, instead of hiring a company, you can file your LLC yourself and save money.
The other LLC formation companies that are good alternatives to LegalZoom are:
Northwest Registered Agent

Northwest Registered Agent includes one free year of Registered Agent service (when you use our special link), lifetime customer support, LLC annual report reminders, and an online document dashboard.
Simple Business Formation Services
Northwest decided to keep things simple and not offer several different LLC formation packages. Many competitors' packages have unnecessary items bundled with the formation services. Often the extra services they include can be done at home for free, or are just plain unnecessary. Sometimes we wonder if the competitors add these extra items to justify charging more for the packages.
Northwest does offer extra services that you can purchase as you need them. For example, Northwest will obtain an EIN for your LLC. They even offer this service for non-US residents, for an extra fee.
Best for Privacy
Northwest is the only LLC formation service that lets you use their address on your LLC paperwork, which can keep your address off public records. An address is required to form an LLC with the state. Instead of using your home address, Northwest lets you use their address instead (they have offices in all 50 states).
This helps keep your address off of public records and online searches. It'll also reduce the amount of spam and junk mail you'll receive. If privacy is important to you, then we definitely recommend Northwest.
Streamlined Website
Northwest Registered Agent has a well-designed, modern website that uses a streamlined interface so you don't get lost. The LLC formation process is simple and easy to understand. We like that Northwest uses honest, clear language everywhere on their site.

Best LLC Formation Service
Overall, we think Northwest Registered Agent is the best LLC service out there. They don't have confusing packages or a long list of upsells. We also love that Northwest doesn't sell your personal information to other companies. (Unfortunately, this is a common practice in the LLC formation industry.) Northwest takes privacy very seriously and they protect your personal information.
Best of all, they let you use their address on your Articles of Organization to protect your privacy. You also get LLC Annual Report reminders, and an online document dashboard.
Best Customer Service
Northwest has excellent customer support and lots of experience with LLC formation. We like that Northwest's customer service representatives are all subject matter experts and are available to help. Many competitors are more focused on getting you to buy their services, instead of just answering your questions. This can be especially stressful for new business owners.
Bottom line, we feel Northwest is the best LLC service on the market.
Northwest Registered Agent vs. LegalZoom
Northwest's LLC formation packages have simple pricing and offer the best value. They also have faster turnaround times than LegalZoom, so your LLC gets opened sooner. Northwest doesn't have aggressive upsells or pop-ups you need to keep closing, like LegalZoom does. And unlike LegalZoom, Northwest Registered Agent has user-friendly language and a simple, easy-to-use website.
Northwest's customer service is the best in the industry. They have friendly subject-matter experts who pick up the phone when you call. And they don't have tricky subscription packages that are confusing to figure out. Their pricing is simple and straightforward. Northwest Registered Agent offers much better service at a lower price than LegalZoom.
LLC University®: Do it yourself
If you want to save money, you can actually file your LLC yourself! This way, the only fees you'll pay are the state filing fees. And, you don't have to wait for a formation company to process your paperwork before sending it to the state. This can save you both money and time.
At LLC University, we walk you through filling out your Articles of Organization, the document which forms your LLC with the state. And we provide a free Operating Agreement template too.
Note: The state doesn't care who files your LLC paperwork. Meaning, you don't have to hire a filing company or an attorney to form your LLC. You can do it yourself.
ZenBusiness

ZenBusiness is a good LLC service if you want an interactive chat-based process to form your LLC. They also offer many LLC services that can help your business stay compliant with state law.
ZenBusiness has a convenient user dashboard for business compliance documents and Registered Agent services.
New Chat-Based Business Formation Service
Recently, ZenBusiness introduced a new interface that uses an automated "chat" where you have a simulated conversation with a robot. It's meant to gather all the information needed for your Articles of Organization.
We found this version very slow and time-consuming compared to just filling out a form. But it does still give helpful explanations for the different topics, and it is a user-friendly interface.
LLC Service Website
ZenBusiness has a simple, well-designed website. We like that ZenBusiness has clear, helpful language when explaining their LLC services. However, it can be a little difficult to figure out which prices are auto-renewing subscriptions versus one-time fees. Overall, their website is very informative.
The ZenBusiness LLC packages give you many business services and features at reasonable prices.

They also offer a Worry-free Compliance Package. If you purchase this, ZenBusiness will file your LLC Annual Report for you each year. This is a great feature if you want someone else to handle the annual LLC filing with the state.
However, watch out for subscription services that start out free but renew at a higher annual price. Overall, ZenBusiness offers good value for a business formation service. And their website is pleasant to use.
ZenBusiness vs. LegalZoom
ZenBusiness has a faster turnaround time than LegalZoom, which means you'll get your LLC sooner. ZenBusiness has more affordable prices and their packages have better value than LegalZoom.
ZenBusiness has more helpful language on their website than LegalZoom. And their website is visually appealing without any tricky or frustrating layouts – whereas LegalZoom is sometimes hard to navigate.
We found ZenBusiness's customer service much easier to get a hold of, and more helpful as well. If you're looking to purchase additional services when starting your LLC, ZenBusiness has better prices for their add-ons.
IncFile

$0 Service Fee
The IncFile Silver Plan ($0 + state fee) offers a bare-bones service where they'll form your LLC and be your Registered Agent (free for the 1st year). The only thing you pay up front is the state filing fee. However, this service is just for filing the Articles of Organization with the state, and doesn't include an EIN or Operating Agreement.
This means that many people who start with the Silver Plan end up upgrading to the Gold or Premium packages to get those other LLC services. Or they purchase additional services individually, and end up paying more than they expect.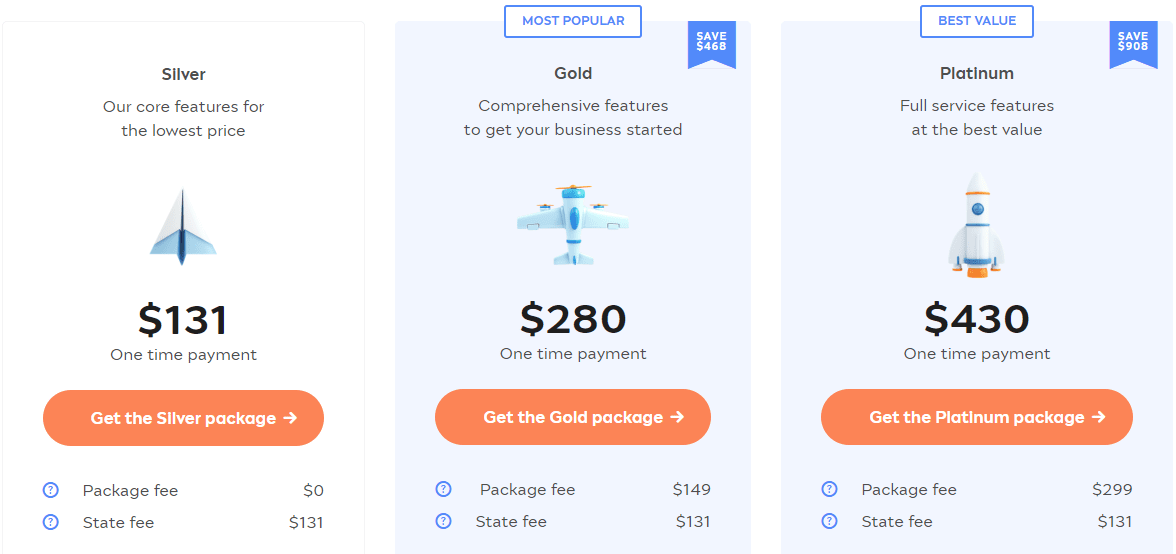 And companies usually don't offer something for free unless there's a catch. IncFile markets a lot of additional services to you by email, phone, and text after you sign up.
Also, if you have questions, IncFile's customer support staff aren't as knowledgeable as competitors. They also don't "go the extra mile" like other companies do to offer suggestions and tips.
Business License Research
Your business may need licenses and permits to operate. Sometimes figuring out exactly which business licenses you need can be confusing. You can hire IncFile to research what licenses your business needs in the state(s) where you operate. They will also link you to the correct application forms.
You can add Business License Research to your LLC formation order. Or, if you decide to hire another company, or form your LLC yourself, you can also purchase IncFile's business license research service as a stand-alone item.
Their business license research service is competitively priced, and we like that you can order the business license research as a separate item. Other competitors don't offer the business license service as a stand-alone.
Confusing Language but Simple Website
Some of the language on IncFile's website can be confusing. We had trouble figuring out their refund policy, and identifying exactly what company provides the services they advertise.
IncFile handles your LLC formation, but some services are outsourced to other companies. And be careful of tax and accounting consultations that aren't a real "consultation". Sometimes these are just connecting you to another company for a sales pitch.
However, the IncFile website itself is well-designed and easy to use. The LLC formation process is streamlined and simple, while still having many useful features.
IncFile vs. LegalZoom
IncFile has cheaper prices and offers better value when purchasing LLC formation services. They offer a faster turnaround time than LegalZoom, which means you'll get your LLC opened sooner.
Unlike LegalZoom's pushy upsell tactics, IncFile offers additional services that are more valuable and aren't presented with deceptive, aggressive language. IncFile has better customer support than LegalZoom, and has a simpler website.
MyCompanyWorks

Good Value
We like that the MyCompanyWorks Basic LLC formation package includes a lot of free documents and services (where competitors charge extra).
MyCompanyWorks also has very fast turnaround times when compared to other LLC formation services companies, which is important for small business owners.
Easy to Use Website
MyCompanyWorks uses clear, easy to understand language on their website. They explain everything thoroughly and are straightforward. The MyCompanyWorks website is informative and easy to navigate. On the other hand, LegalZoom's website uses legal jargon to give you a certain impression about their services. And their website is too busy and full of extra information.
Unlike LegalZoom's slick order process, MyCompanyWorks is easy to use and doesn't hide any pitfalls/catches/fine print. We like that MyCompanyWorks offers high quality explainers and other resources to their customers, including information tailored to non-US residents.
We like that MyCompanyWorks gives you good value for your money and doesn't have any pushy sales tactics. They also keep things simple, without offering a lot of extra features you don't need.
Helpful Extras
MyCompanyWorks offers quality advice in articles and explainers throughout their site. Because they offer a wide variety of LLC services, MyCompanyWorks is one of the best LLC services if your business needs help after filing your LLC. We like their DBA (Fictitious Name) filing service, Trademark application service, and Business License research package.
MyCompanyWorks vs. LegalZoom
MyCompanyWorks offers better value in their LLC formation packages, especially in the Complete package. Their turnaround times are much faster than LegalZoom.
MyCompanyWorks also has a much less intrusive upsell style than LegalZoom and keeps their offers pretty simple. LegalZoom can't keep up with MyCompanyWorks' quality of customer service or website clarity.
Frequently Asked Questions
What is Free Registered Agent Service?

There's no such thing as free registered agent services. Some companies offer the first year of registered agent service for free when you hire them to form your LLC, but after the first year the service renews for between $90 and $300 per year.

If you want to save money, you can be your own Registered Agent! A Registered Agent's job is to receive legal mail and notices from the state about your LLC, which they then send to you via snail mail, email, or an online portal. If you don't mind your address being on public records, you live in the state where your LLC does business, and you're there to receive the mail in a timely fashion, being your own Registered Agent can save you about $100/year. Plus, you cut out the middle man, which means you receive important legal mail right away instead of waiting for notification from your Registered Agent company.

However, if you either don't live in the state where your LLC does business, run an LLC in multiple states, or travel a lot, we recommend Northwest Registered Agent. They're the only one of the Registered Agent services that allows you to use their name throughout your formation paperwork, which will keep your address off public records. They're also the Registered Agent service we use for our own LLCs.
What is the best state to start an LLC?

The best state to start a limited liability company is the one where you'll be doing business. For most people, this will be the state where you live.

If you don't live or do business in the state where you form your LLC, you'll need to register your LLC as a Foreign LLC in your home state. This means you'll need to maintain two LLC filings, pay two state filing fees, and maintain two Registered Agents.

Please see Best State to Start an LLC to make sure you're forming an LLC in the right state.
Do I have to hire an LLC Formation company?

No, you don't have to hire an LLC Formation service. And no, you don't have to hire an attorney to start your LLC.

The state doesn't care who files the paperwork to form an LLC. If you'd like to save money and time, you can file your LLC yourself!

Read our free and easy-to-understand guides on How to Start an LLC in all 50 states!
How much does an LLC cost?

The one-time cost to start an LLC varies by state. The average LLC filing cost is $132.

There are also LLC Annual Fees to maintain your business that vary by state. The average LLC Annual Fee is $91.